Post Ranch Inn, Big Sur, CA
This restaurant is so gorgeous and is in such an amazing location that it feels like a temple where culinary devotees embark on a pilgrimage for fabulous food and wine. The journey begins once you turn off the main road past the gate and the guard station up to the parking lot. From there you pass through a hall with a blazing fireplace and sculptures, ascend up carpeted steps and continue to an outside staircase which leads to a path through the woods, then up another level of steps and you are at the top of a hill overlooking an expanse of dazzling blue ocean and sky. To the left is the restaurant that is constructed of organic shapes of wood and metal enclosed with glass walls and slate floors.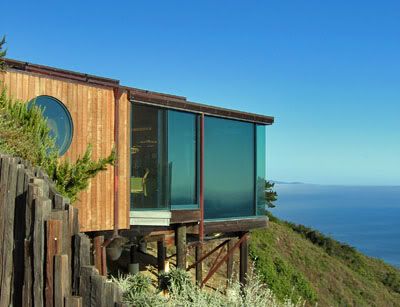 All of the tables have views and there are several balconies that open out to small decks that beckon you to come out and breathe the fresh ocean air. We went in the late summer and were mesmerized by the sunlight sparkling on the surface of the ocean, and followed the progression of stunning colors as the sun set below the waterline. You feel like you have somehow landed in the olympic realms where gods and goddesses dwell.
We both ordered the tasting menu of four courses, which started with a half dozen succulent briney oysters with sambucca mignonette,
and Achiote roasted lobster with Pico de Gallo and Cilantro butter.
Next came roast beets with horseradish creme fraiche, walnut pesto and bitter greens, which was a crisp, crunchy assemblage drizzled with a tangy dressing.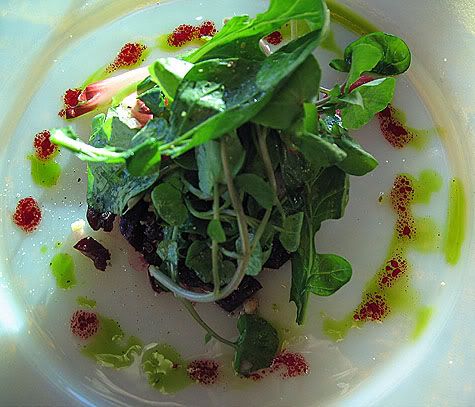 The Crab bisque had splobs of vanilla oil, which was so amazing. You could see the black seeds of the vanilla bean suspended in a very light oil, which gave off an amazing fragrance and added an extra dimension of flavor to the dish.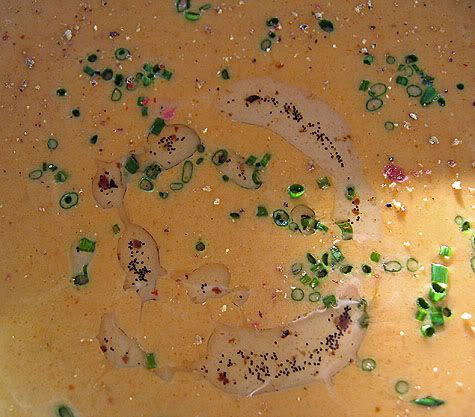 Our entrees were Grilled Rib Eye Steak with Gruyere Potato Gratin, Bordelaise Sauce and Choron Sabayon
and the sesame Crusted Rare Ahi Tuna with Shallot Soy Sauce, Wasabi Butter and Crispy Wonton Salad, both were excellent. I probably should have ordered something more exciting than the Ahi – it was a fine rendition of an old standard, just not as thrilling as the other dishes. (Unfortunately the pix of the Tuna was out of focus and unusable…)
The desserts were also quite worthy, Chilled Mango Soup with Gingered Raspberries and Coconut Sorbet was so full of luscious fruit flavors,
and I also cleaned the plate of the Valrhona Chocolate Mousse with Almond Nougatine and Cherry Compote.
Absurdly full, I nibbled at a small plate of beautiful petit fours that were brought as a final treat.
The patio in the back offers expansive views to the south and we enjoyed looking through a telescope after dinner at the night sky with an astronomer nearby who was very happy to point out celestial items of interest and answer questions.
We've come here several times and the food is always amazing and the views even better.