This restaurant has been on my list for a while, so when the planets aligned correctly I jumped at the chance to eat there. It is on Lighthouse Avenue in Pacific Grove.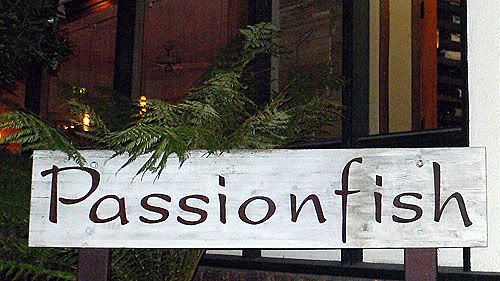 Passionfish is a sedate and self-assured restaurant, composed of 3 or 4 separate dining areas laid out in a vertical stretch. The interior has graceful arched doorways contrasting against geometric architectural elements along the corners of the room. The lighting shimmers down in diffused spotlights and the muted hues of the walls combine to flatter and enhance how beautiful the food is as well as the people eating it.
Our server was professional and very enthusiastic about the menu, and checked in with us often to make sure we were happy. She did forget to bring Mr. K's beverage, but he also had forgotten it while we were eating, so shame on both of them… She was very apologetic and we forgave her.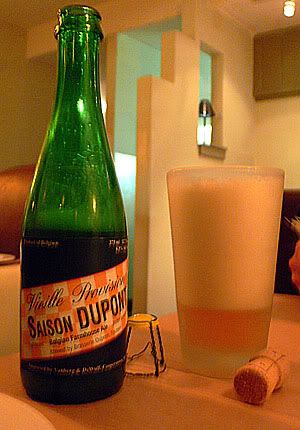 We started with the crab and avocado salad with a roasted jalapeno vinaigrette, which was a perfect balance of flavors and textures. The sweet succulent crab, creamy chunks of avocado, crisp leaves of spring greens blended well with the vinaigrette which was enhanced by the darker flavor of the roasted jalapeno.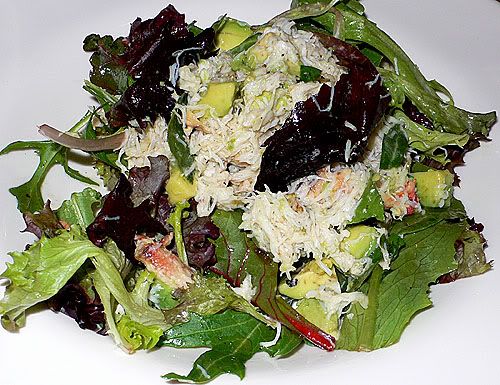 We also tried the shucked raw oysters that were poured into a martini glass, swimming in a deliciously tart and sweet carrot ginger vinaigrette and garnished with kaiwara (daikon sprouts). I really liked this dish, but it was a very small appetizer. Some nicely warmed bread was served in a cloth along with butter that was a rare pleasure because it was whipped and so spreadable. The crust was crisp and chewy and the inside was soft frothy – it was the perfect kind of bread to dip into the soup and sauces.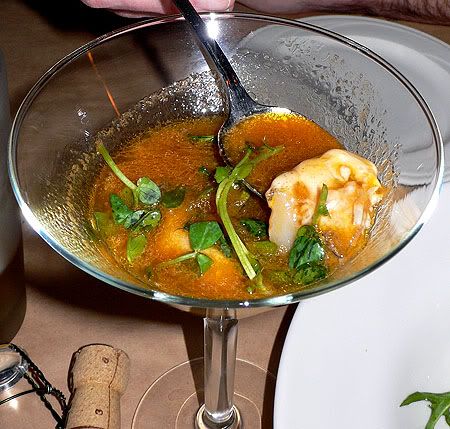 Grilled tilapia with a garlic balsamic vinegar butter served over thyme mashed potatoes was perfectly cooked – tender and flakey, lightly charred and super fresh. A generous handful of Edamame topped it off and added a bright green visual element.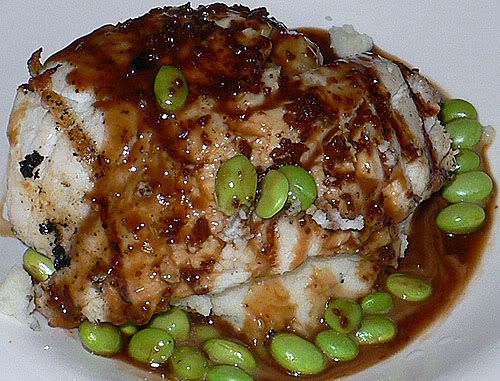 I had the Fish Stew, a saffron-lime scented tomato fish broth loaded with chunks of sablefish, salmon, trout and cod and plump potato gnocchi. The bread was gorgeous dunked into this!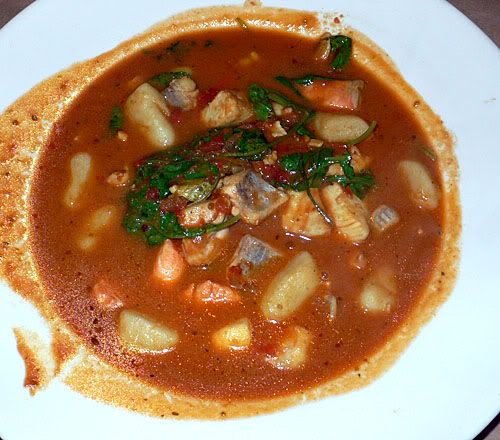 Unfortunately I was really too full to think about dessert. I can't appreciate anything after a certain point of satiety, and I hate to waste a good dessert. Next time… as I'm sure we will come back! It was very reasonable, $72 for the two of us.
A very cool thing about this restaurant is the prices for the wine. They charge slightly more than retail for a bottle and have a very good winelist. The wines by the glass are a very reasonable $6.