1833 Willow Pass Rd, Concord, CA 94520 (925) 677-2131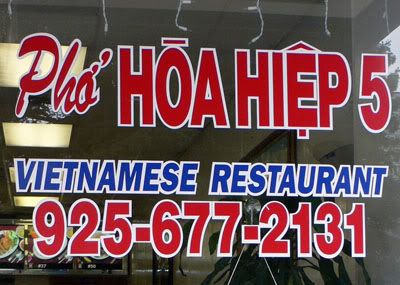 otherwise known as Kevin's Noodle House…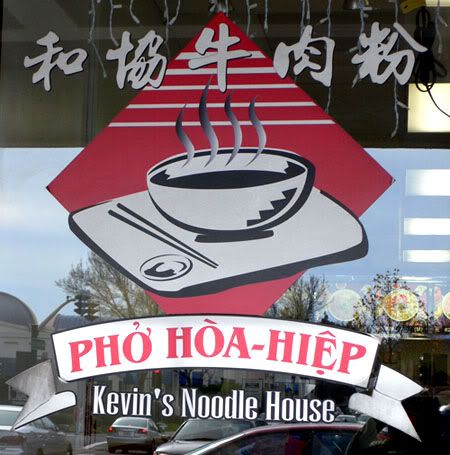 This is a very utilitarian little restaurant tucked away in a strip mall in far away Concord. Fortunately we were able to look it up on-line to figure out how to get there. It is bustling and the clientele is predominantly asian families in for the large bowls of gorgeous Vietnamese noodle soup.
The tables are equipped with the requisite tools for eating pho: a lazy susan with a squeeze bottle of hoisin sauce, another of Sriracha chili sauce, vietnamese garlic chili sauce, fish sauce), a napkin dispenser of sheer napkins that are ridiculously not up to the job of sopping up the various disasters inherent with slurping very hot soup and eating with long slippery noodles (with chopstix), a container of aforementioned long plastic chinese chopsticks, another filled with ceramic chinese soup spoons, and a stack of small bowls in which to squirt a blob of both hoisin and sriracha chili sauce so you can dip things into it for additional flavor.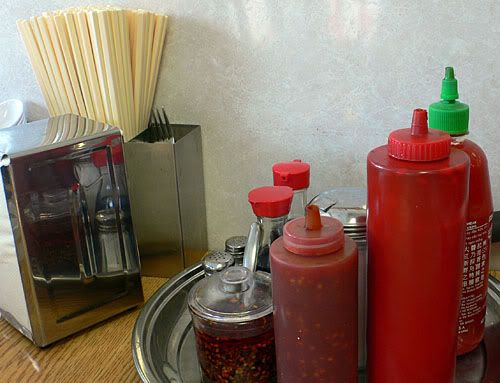 The server flew by and dropped off the plate of vegetable condiments for pho: uncooked bean sprouts, fresh cilantro and basil leaves, slices of jalapeno peppers and quarters of lime to complement the soup.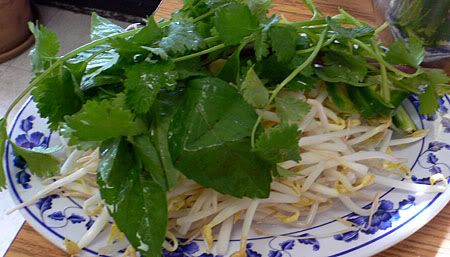 I ordered a medium special (which came with flank, brisket, tripe, meatballs and tendon). It was very tasty and arrived steaming and full of meat and gristle, exactly how I like it. The broth was flavorful, though not as complex and aromatic as my favorite restaurant, Le Soleil. Very good, and they have an excellent selection of tapioca boba drinks that I can never imagine eating after a big bowl of pho…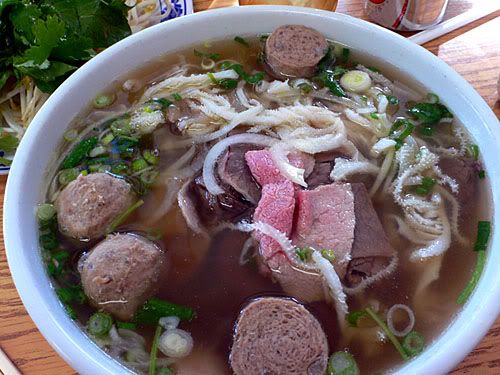 click here to read about the spicy beef stew