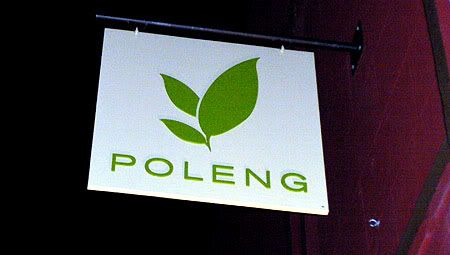 Went for happy hour with a buncha people, it's got a very groovy modern asian thing going and is in the recently coined NoPa (north off the panhandle) area on Fulton near Masonic. Along the back was a textural rock wall face dramatically lit with copper accents and spiky planty things along the bottom.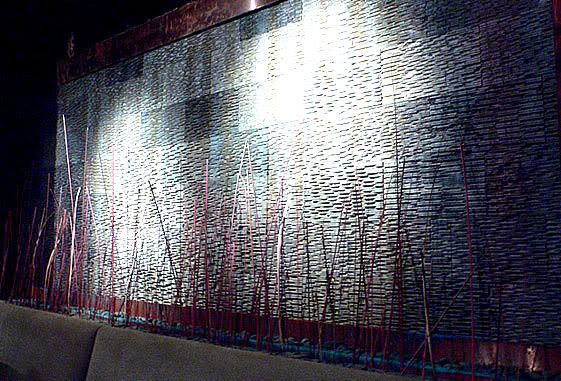 There are some very interesting Balinese masks hanging on the walls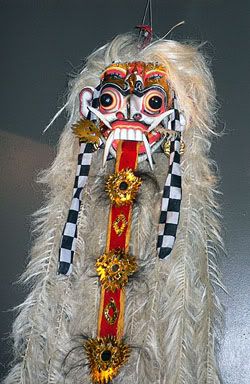 We started out in the front sitting on little stools made from stumps and had an assortment of appetizers. My impression is that Poleng seemed to be more of a bar/club serving food than a restaurant with a bar.
MT had an unfiltered sake that was peculiarly served in a glass within a wooden box (that is typically used to serve sake).
I really liked the sweet potato fries, they had some sort of a seasoning or batter on the outside that was very good and I couldn't stop eating them. I helped eat several bowls of these. Notice the flecks of sea-salt.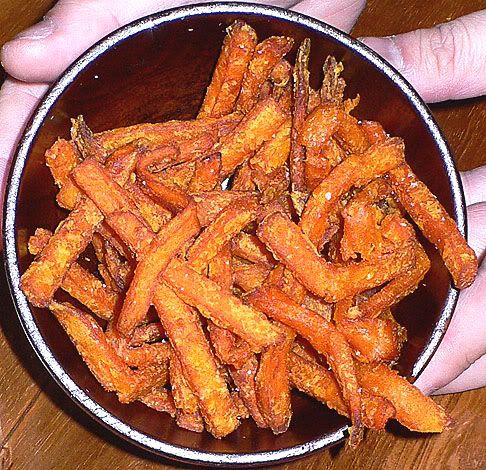 The shanghai lumpia seemed very dainty and a little bland, especially after last week's torridly primal imperial rolls at TuLan. The filling didn't have much texture either, but they are redeemed merely by the fact of being fried.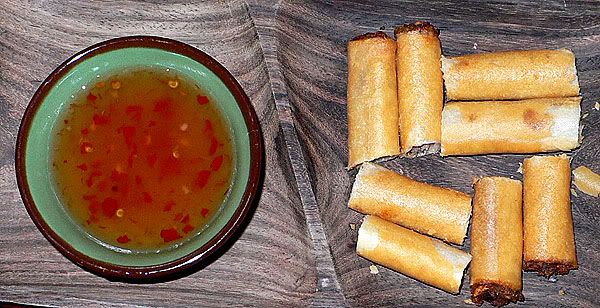 I really liked the garlic noodles with crab, the noodles were chewy and seemed hand made, and were garlicky and flavorful without being greasy. There was very little crab, but since the price is very reasonable, I wasn't disappointed.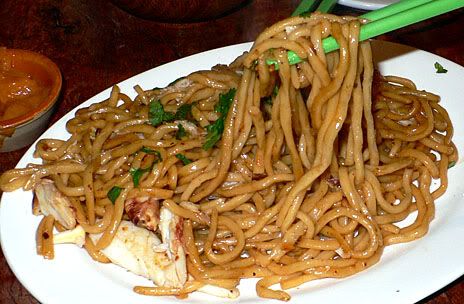 Bernt had a bowl of chicken curry with eggplant that was rich and pretty high up on the scovilllian scale of heat measurement (hot pepperwise). I had a taste and it was beyond my comfort level and chunks of pineapple that were really too big.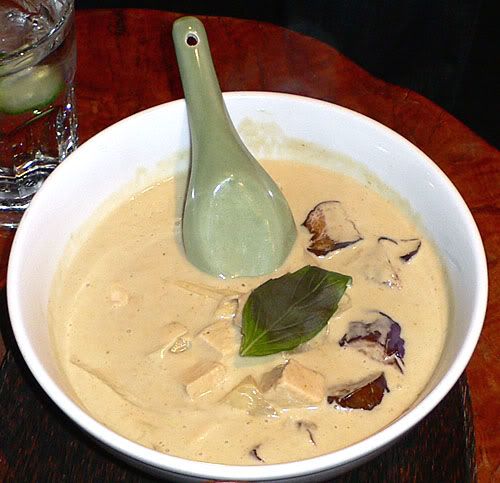 The crispy adobo chicken wings were very good, but nowhere near the level of San Tung; however we were lounging in way cooler surroundings listening to much better music than they play at San Tung (not to mention drinking cocktails). They were served with a swirl of refreshing crisp and chewy green papaya and carrot salad.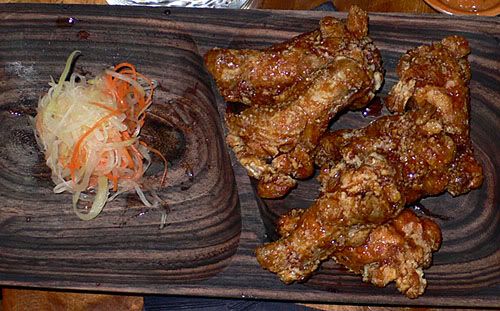 The Emperor's bok choy was a little overdone, but had yummy fried onions scattered overall. I love bok choy, but it is a really difficult thing to eat an entire bok choy using long plastic chopstix! The yummy fried onions slipped immediately off onto my lap, and well, I think these should come with a knife and fork!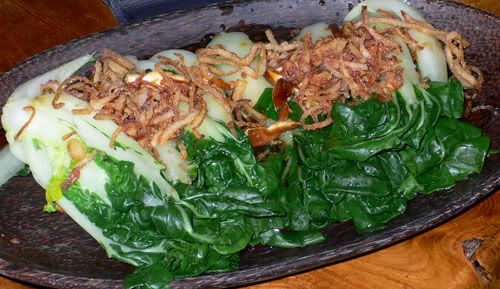 Someone ordered these dumplings served with lotus root chips on top. We had more than 10 people total with no reservation (hello, we were just hanging out in the bar, who needs a reservation for the bar?), so we got kicked out to make room for a group with a reservation. In the chaos, I didn't get to try the dumplings. Once we were kicked out of our squatter camp, we migrated to the Templeroom in back.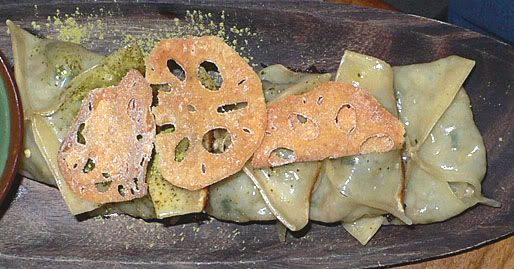 The Temple Room is where they have a performance/private space and another bar counter.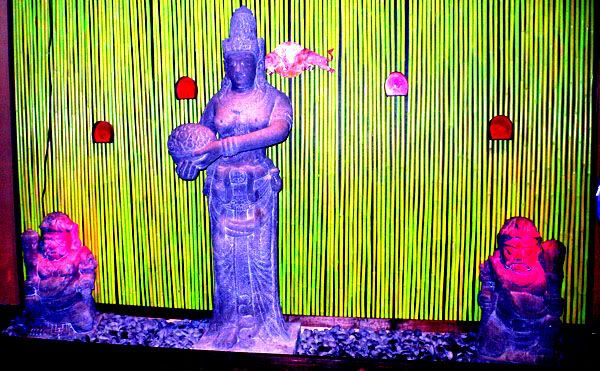 I would go back to try other things from the menu, but with a smaller group, they didn't seem geared for large parties of eaters, although it would be fine for a large group of drinkers…. (I definitely fall into the category of eater more than drinker).
An end note: CE and MT who were giving me a ride to Bart got an urge to go to San Tung after trying the adobo wings, which was not really on the way, but I certainly didn't complain! We gorged on dry fried chicken and green beans… just what I needed after yet another day of gluttony.