They completely revamped the menu, it is now modern and they no longer serve combo plates of teriyaki and tempura. The new menu is from a totally different perspective – I think it's brilliant! We were very impressed – everything was super fresh and my anticipation to try each new dish was high. According to their website, the new chef, Shotaro Kamio, is from Ozumo and will eventually be working out of the new Yoshi's Fillmore location when it opens later this year.
Our friends CDR and Mank were already seated and had an order of edamame, which is now served as a duo, one side is garlic soy and the other is chili lime. Conceptually nice, but the portion has been downsized and the price went up, and honestly I'd rather just have a nice plain bowl of edamame…
Our first course was ohitashi-san (spinach done three ways) which was cooked spinach that was put through the ringer and packed into dense tube shapes, on top of a razor thin slice of lemon, with a dollop of vinegar miso with yuzu, black sesame, and tofu walnut puree respectively.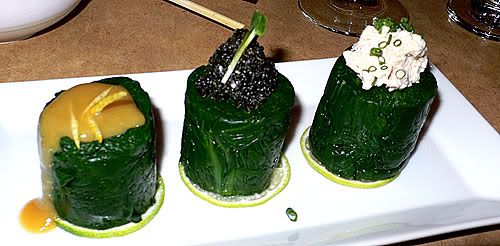 We all ordered sendai miso soup, which is dark brown and salty. I could taste the smoky flavor of dried bonito, and as I held up the bowl to sip, I breathed in the fragrant aroma – mmmm!
The gyu sashi were luscious slices of smoked kobe beef served with pickled wasabi flowers and a dusting of shichimi (7 flavor) chili powder. This was fantastic, but difficult to eat with chopsticks, as the beef resisted all attempts to remove it from the plate and when the suction finally did release, all of the topping would tumble off… Nevertheless, this was how kobe beef should taste, you can see the rich fat still marbling through the slices, but the exterior is lightly cooked, giving it substance and texture.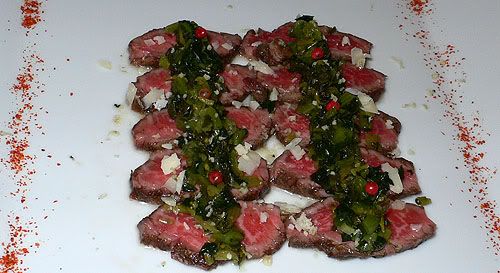 The grilled seasonal veggies served with fleur de sel and tamari balsamic oil were perfectly cooked and seasoned and the opposing blobs of miso aioli(?) and the miso-y hoisin(?) were the perfect accompaniments.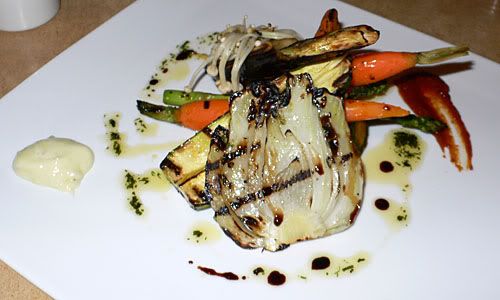 The buri kama, hamachi collar served with a warm ponzu and daikon sauce was a classic preparation, and came with dressed tatsoi and frisee greens.
Crispy spicy hamachi roll was tempura fried and served over a spicy chili sauce and a splash of unagi sauce. Very good although I know that Mr. K abhors tempura rolls.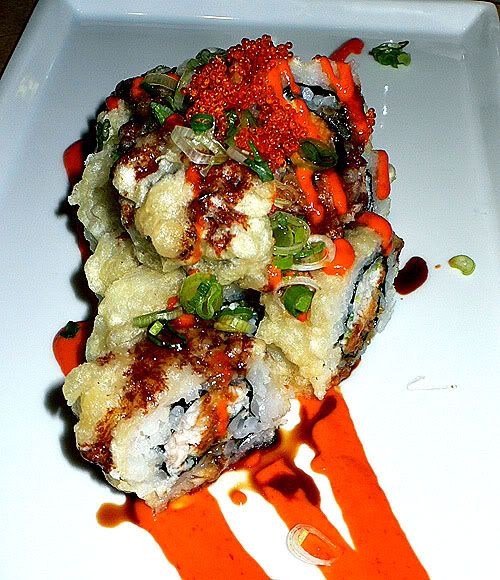 We ordered some sushi which was served in long plates that were difficult to fit on the table. The quality of the fish was top notch and this was served with fresh wasabi. We asked for more and were given regular wasabi 🙁

We enjoyed a couple of desserts: the trio of ice creams because Mr. K really likes the green tea ice cream,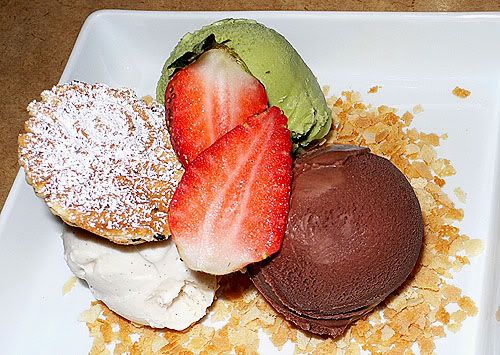 and then something that I only remember was a phyllo wrapped something with persimmon, pomegranate and possibly sweet adzuki red beans with a vanilla bean sauce. It was crunchy and buttery and very very good, whatever it was!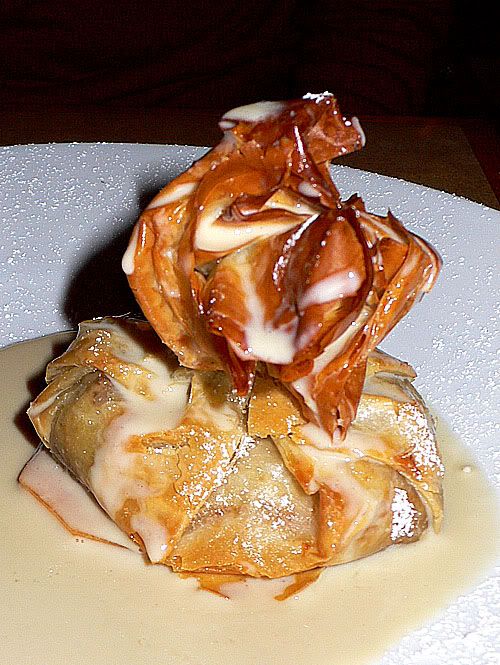 Will definitely be back, there were many interesting sounding dishes to try. The restaurant itself along with the bathroom now could use a bit of updating…