This restaurant is tucked into a little food mecca corner just off 4th Street. I am serious! Check this out – it is:
1. adjacent to the Berkeley post of the Pasta Shop
2. kitty corner to Tacubaya, the taqueria of Dona Tomas
3. across from Sur la Table.
Hidden in a little annex between the pasta shop and at the back of the restaurant is their fabulous meat counter that sells restaurant quality prime grade meats, and my very favorite thing that they sell are their brined pork chops… They are big, flavorful and juicy with a hint of apple cider that gives it a nice sweetness as well as a bit of zip, and are just so good grilled! Anyways I digress… the meat counter is a portal to the cool stuff: the kitchen is right behind it, and there is a sizable rotisserie flaming away and roasting chickens.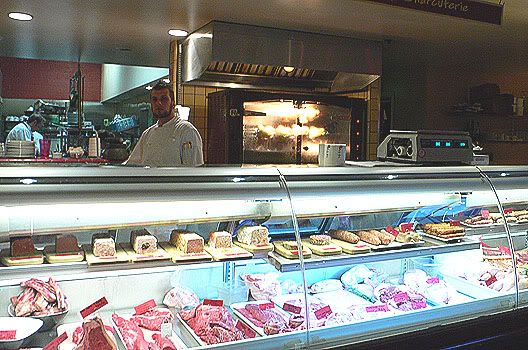 Mr. K and I ventured here to enjoy their Wednesday $1 Oyster Happy Hour, which happened to fall on Valentine's day this year. We got there just as they opened and scored the very last two seats at the bar. The $1 oysters were from Fanny Bay up in Vancouver, BC.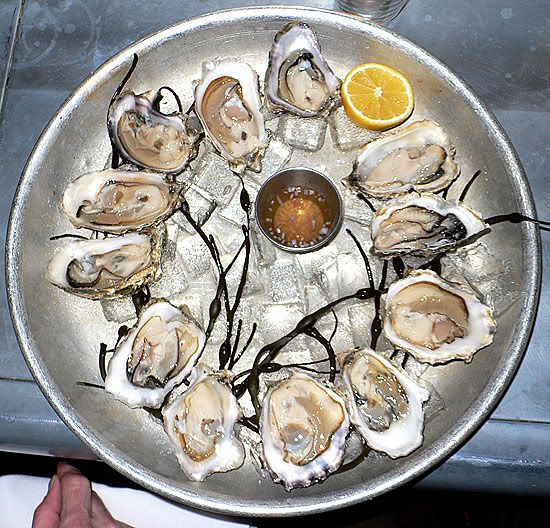 and were very good, large and plump and bursting with the freshness of the sea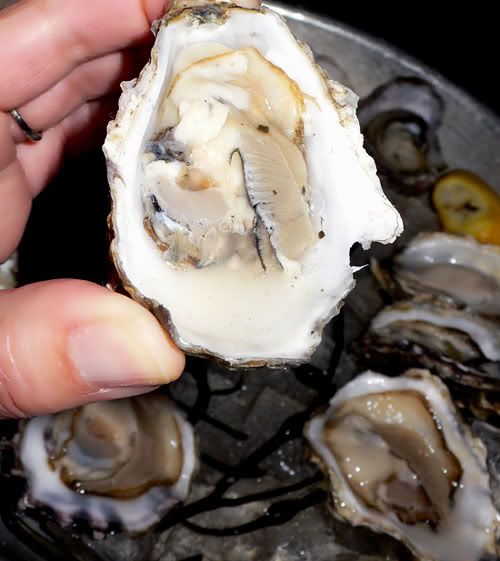 They were served with lemon slices, a basic mignonette, and a small plate of bread with butter, and we were soon clamoring for another dozen not long after this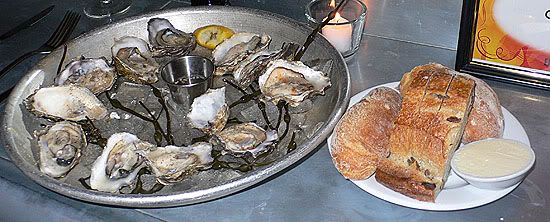 We also had a cheese plate, which came with grilled flatbread, a date, some crunchy almonds, sliced apple, and 3 different cheeses, a gloriously stinky gorgonzola, something soft with a rind that was very mild tasting and rich like brie, and another firmer aged cheese that was perfumed with the smell of old leaves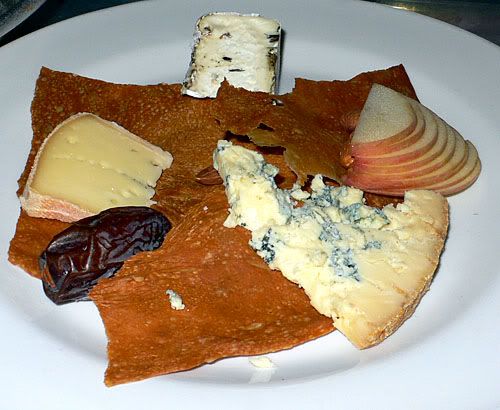 We agreed that it would be a good thing to plan a trip to Vancouver so that we could eat the oysters fresh out of Fanny Bay… The bill was $53 for 2 doz oysters, a cheese plate and 2 drinks each! We definitely like the happy hour price. There was a couple next to us who ordered burgers and fries (not on the regular menu, but one of them was a young boy, so maybe they ordered from the kid's menu?). The burgers looked big and juicy and the fries smelled heavenly….