E14th Street, Oakland, CA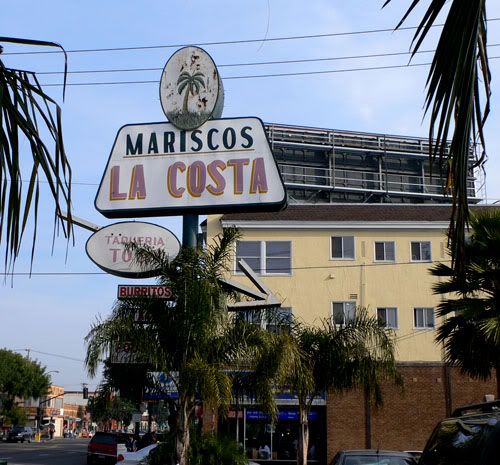 This is an excellent outside eatery located in the funky Fruitvale District in Oakland. It is a small building that seems just a step up from being a taco truck, but has a good sized parking lot. You walk up to the window to order and pickup your food, and fortunately the staff speaks English and will even call out the numbers in English after several tries in Spanish. The dining options are limited to sitting at the picnic tables in the covered patio, or to go.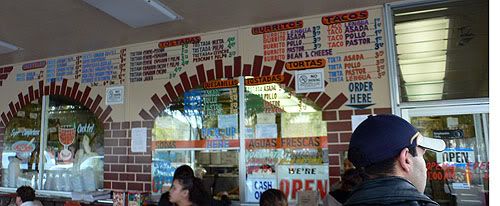 I love the seafood cocktail, which is chock full of shrimp, calamari, and one briney oyster. The cocktail is served in a large parfait glass, the same kind that ice cream sundaes are served in, alongside a paper plate with lime, radish, 4 fried and salted corn tortillas, and a few packages of saltines. You break up the tortillas into the cocktail along with a good squeeze of the lime for bright and delicious taste sensation. The regular size cocktail is good for sharing along with either a taco or burrito.
During the winter, I like the seafood soup special that is a rich and spicy tomato broth with shrimp, fish and octopus, along with small cubed potato, carrot and some other veggies. It is served with the same condiments as the seafood cocktail, I got it to go…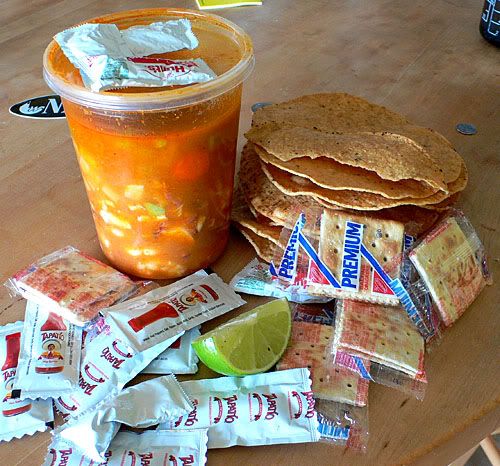 It was soooo gooood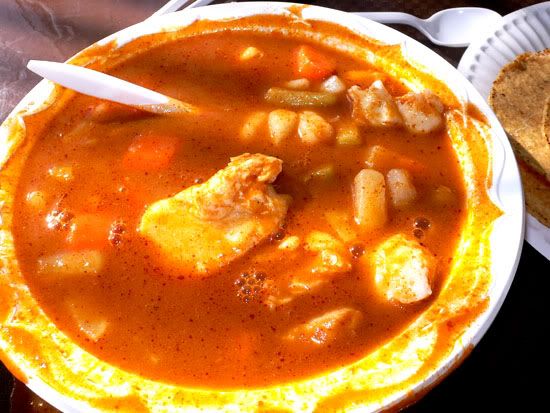 The chicken burrito is sublime, even if it is served with stewed chicken, because the sauce is so dense and rich with spices. As a matter of fact, I normally prefer grilled chicken in a burrito, but definitely not here! Otherwise, you wouldn't get the spicy rich flavors, combined with the sour cream, and I consider myself to be very fortunate to have the privilege of being able to enjoy this singular and amazing taste sensation.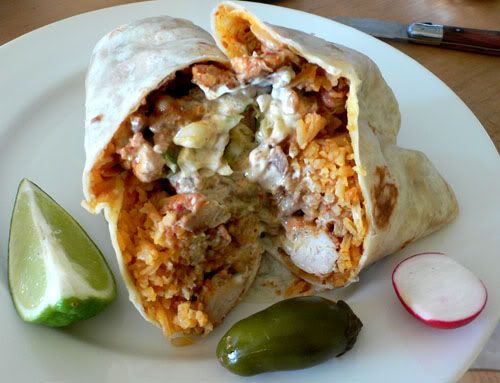 tried the lengua taco, but wasn't too excited about the rubbery texture of the meat, but the carnitas taco I had was succulent and full of flavor. There are several bottles of various hot sauce at each table and a necessary dispenser of napkins.
The burritos are cheap, $3.50 each, the soup is $13 and the seafood cocktail is around $10. Oh, and they don't serve chips here. Maybe that's why I always order the soups, they come with the fried tortillas to break up into the soups, which seems to satisfy my crunchy chips craving.