1700 Embarcadero Road, Palo Alto http://www.mings.com
We had a traditional banquet at Ming's Chinese restaurant after my Grandmother's memorial service.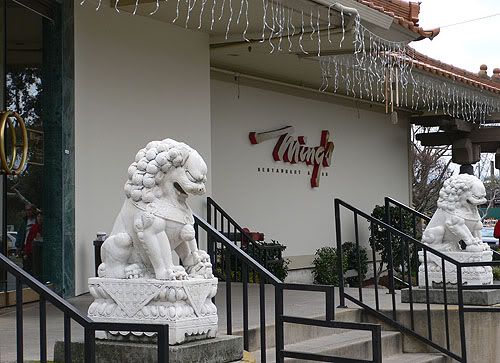 The cool thing is the restaurant is across the street from where my Grandmother's family had a flower nursery for many years, and we used to go there for special occasions. This was a pretty special occasion, my grandmother passed away one month short of 102!
The first course served was a cold-cut combo platter of sliced chicken, beef, bbq pork, accompanied with jellyfish and seaweed salads. The chicken seemed like it was one of those formed loaf things and the beef also had an odd formed-of-weird-stuff feel, which probably was the cut; however, the savory pork was succulent and the two salads were crunchy and zingy.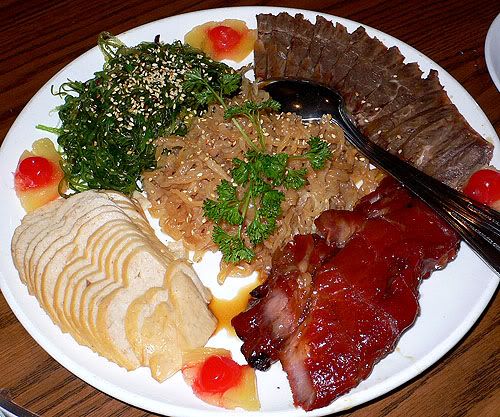 Next came Crispy Quails, which were marinated and fried, served with a dark soy dipping sauce (very reminiscent of worchestershire sauce) and salt mixed with white pepper. These were surprisingly good, very flavorful and chewy and easy to eat, once you surrendered to using your hands and gnawing…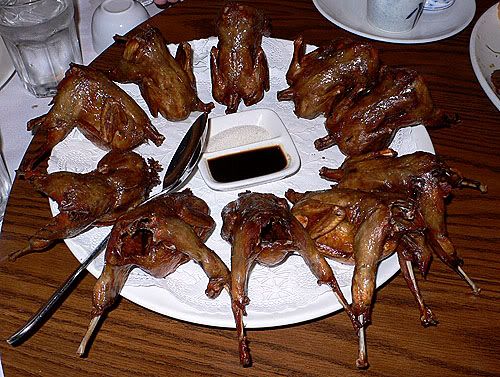 Next came Sauteed Cuttlefish with Chicken filets and greens, which had a light and zippy ginger sauce mixed in with crisp snow peas and veggies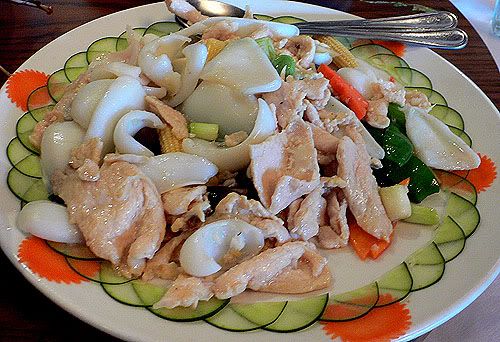 The Walnut Prawns were very good, lightly battered and perfectly cooked, then garnished with just a little mayonnaise, along with the requisite candied walnuts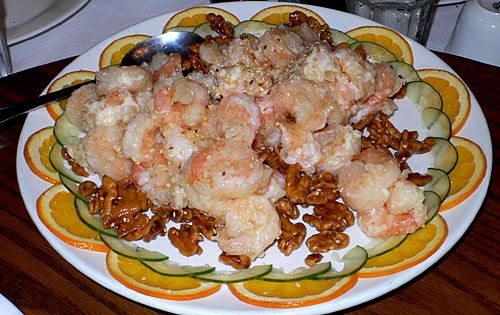 Sundried-scallop soup with mixed seafood came next, it had shrimp, calamari, bits of abalone, and either vermicelli or shark fin, tofu, egg, crunchy wood ear mushrooms, and was liberally dosed with white pepper
Ginger and scallion twin dungeness crabs were delicious, although they were served with the shells not very well cracked and were swimming in a rich flavorful gooey sauce where once again we had to resort to eating with our hands – very good, very messy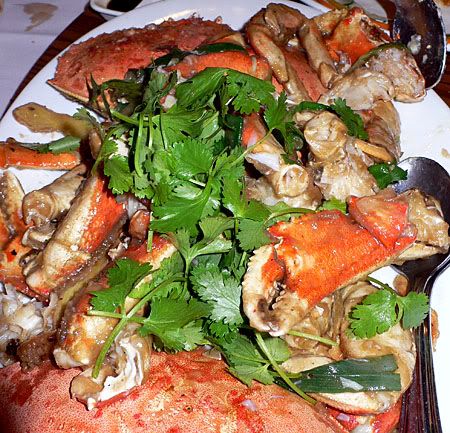 Abalone Mushrooms with steamed Bok-choy in a thick soy based sauce.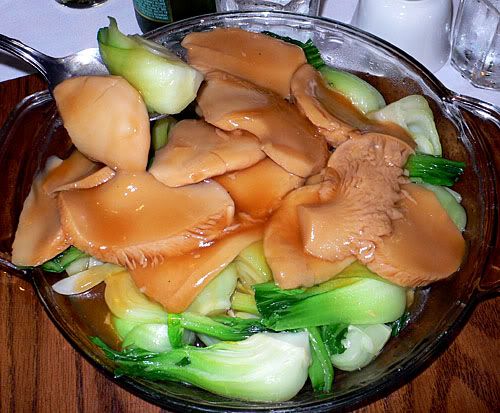 Steamed whole seasonal fish, served with cilantro and scallions in a soy, rice wine infused broth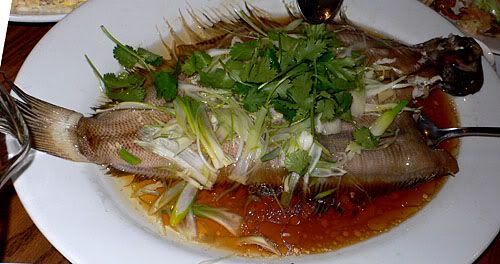 A calamity occurs at the end, when I ran out of room on my puny little 512 mb memory card, so the last two courses, yang chow fried rice and sweet bean soup with lotus root are missing.
Grandma would have loved the meal and I silently toasted her memory often. To Suga, our pioneering matriarch, who taught us all a very grave reverence for food and family!