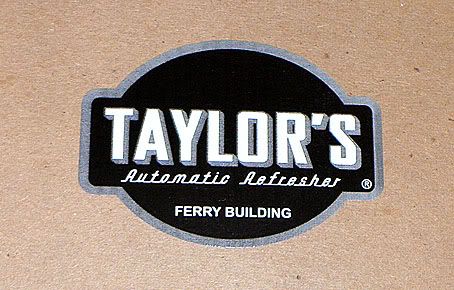 (866) 328-3663 www.taylorsrefresher.com
Today was a beautiful mild winter day, and in my part of the city, the world had gone mad as hordes of people gathered to see the Queen Mary 2 at Pier 27, where it was docked for the day. The Embarcadero was a zoo, both on the sidewalks and on the road.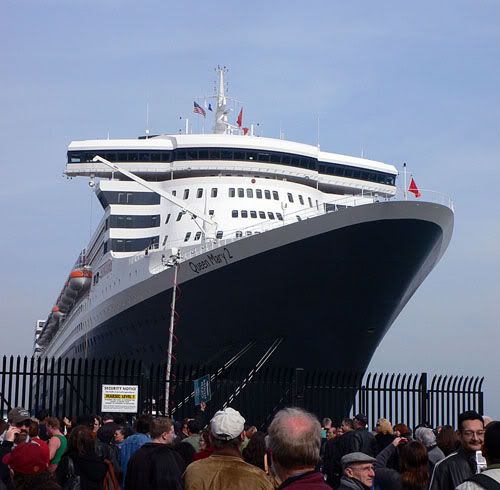 What a fabulous day then, to walk along the Embarcadero to find a hotdog, but since it was crazy by the QM2 and so crowded, instead of going to one of the many hotdog purveyors at the piers, we headed back out towards the Ferry Building and had lunch at Taylor's Automatic Refresher. I've been meaning to come here, there's always a line, which is a good sign. It's an upscale burger joint with roots in Sonoma, and we enjoyed some wonderful food from the fryer. Unfortunately, the prices reflect the real estate, so expect to pay top $$.
AL ordered Onion Rings and Chili Cheese Dog, which is made with house-made chili. The rings were lightly battered real slices of onion (rather than formed bits), cooked til the exterior was firmly crisp, and the onions meltingly soft. Pretty close to perfection as far as onion rings go. Dang, the chili cheese dog looked like a big gooey mess, kinda greasy and I have to say that AL was in a hurry to wash his hands on the way back to the office.
CE had Mini corn dogs (ooh the menu said 6 but I counted 7) on an order of fries, which are somewhat of a guilty pleasure for me, so I snuck a couple… fortunately, he ordered an additional hot dog, so there was plenty of dogs to go around. The fries were crispy on the outside and tender on the inside and were very well seasoned,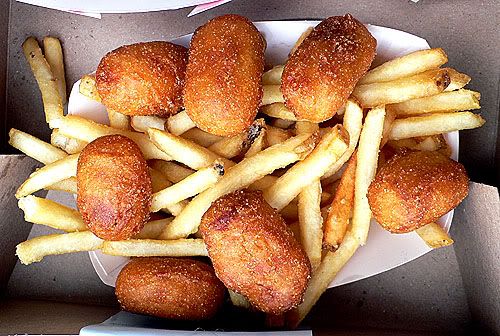 the corn dog had a gloriously crispy crust of sticky chewy corn batter surrounding the savory mini dog – all it needed was a little dollop of mustard.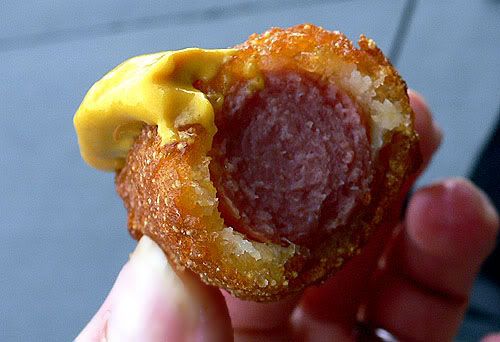 the hotdog was served as plain as you please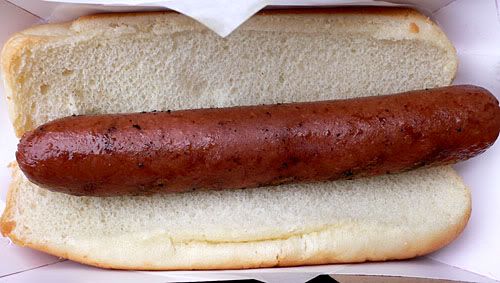 Alas, at the to go window (along the inside promenade), I don't think they even had onions, relish or sauerkraut – what kind of hot dog place is this! At least they had many little packets of mustard, ketchup, and mayonnaise.
I had the Bacon on grilled wheat with mayo, romaine lettuce and tomato (BLT), which was oozing with mayo and assembled in perfect proportions.
For a quick lunch made of quality ingredients, this is a very fine spot, espcially because you can get it to go and sit on a bench and enjoy the gorgeous views of the bay. The burgers get mixed reviews here, so I will have to go back to check that out another day (the burgers are $5.75 – 8.99 and you have to order the fries separate). You should expect to pay about $10-15 for lunch. Taylor's Refresher has won the 2006 James Beard American Classics Award
Read about the cheeseburger and sweet potato fries I had.