309 Clement Street (between 4th & 5th Ave), SF, CA 415.387.2147 | website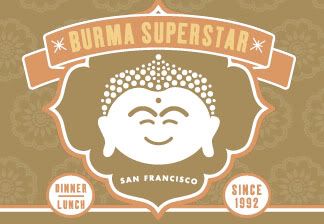 I went here a couple of times with my old chowdown friend TK (from the long ago days of my youth when Jack in the Box still sold frings…).
Each time I have been very excited by the vigorous taste sensations. The dining area is very small and there was a line when we got there when they open at 5:30! They will take your cell phone number to call when your table is ready so you can go hang out in the coffee store across the street or wander around in the area…
We started with the Tea Leaf Salad which is tossed at your table.
It is a fantastic crispy crunchy combination of textures with Burmese tea leaves (not sure how they're prepared but they have a strong salty, slightly fermented flavor), chopped lettuce, tomatoes, some green pepper, along with dried shrimp, sesame seeds, peanuts, sunflower seeds, fried garlic and split yellow peas mixed with a tangy piquant dressing. This is my favorite dish so far, and it's a good looking one at that…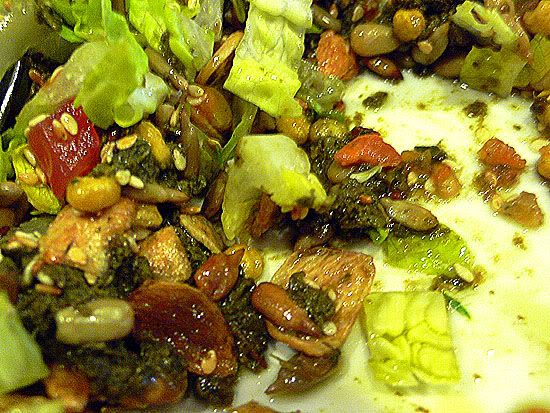 The Burmese Samusas arrived trailing tendrils from the fryer, turning heads all around as the alluring aromas wafted by. They are plump triangular shaped pillows with delicate layers of crispy fried wrappers
filled with chicken, curried potatoes, oniony herbs, and served with the spicy house special red sauce..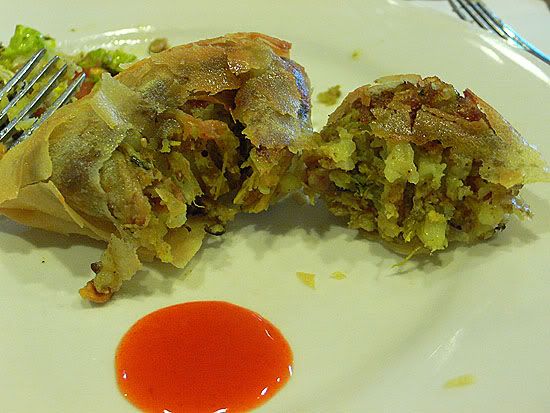 We went on Sunday, the first gloriously sunny day of the year and everyone was out and about wearing flipflops and shorts. Since it was so warm, we decided to stick with salads, tried the Burmese Style Chicken Salad which was outstanding.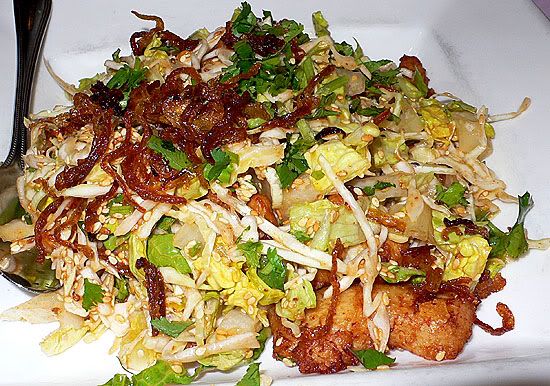 It is a perfect crunchy combination of chopped lettuce, cabbage, fried chicken slices, fried onions, sesame seeds and cilantro, tossed with a bright and garlicky dressing.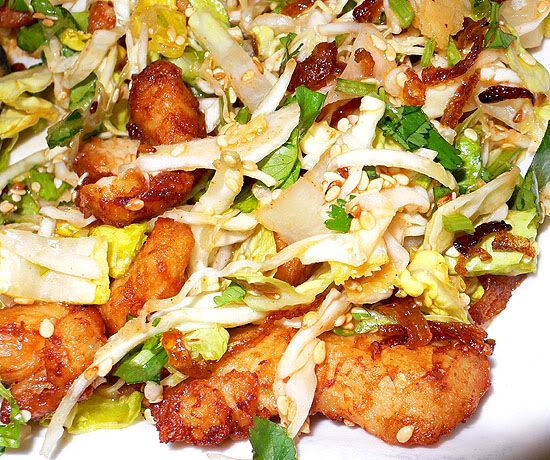 The Shrimp Kebat was my least favorite dish. It consisted of rubbery shrimp in a harsh, dark red spicy sauce with some vegetables. This would probably be improved by the addition of rice, but was a bit of a disappointment after the other bright shining flavors of the other dishes.
We finished off with the ginger chocolate warmed cake with creme fraiche, which was served chilled and seemed a little dry, but was delightfully crisp and flavorful with the bits of crystallized ginger.
Definitely going back to sample more of the house specialties! We paid about $20ish each, which included a couple of thai beers.