113 Sacramento Street at Drumm. Across from Embarcadero 3.
I mostly come here for breakfast, they have a good baby breakfast burrito that is served with an addictive spicy salsa. They get really busy at lunch with a line that goes out the door, and then for some strange reason they are always empty at dinner when I pass by.
I ordered an amazing Chilaquile Rojos this morning which came with perfectly cooked golden rice and refried beans that were dry and heavy. Their take on how to make chilaquile is based on the concept of nachos, which is very different from what I had eaten before. The bottom layer were tortilla chips, the dense crunchy kind that can stand up to having sauce, scrambled eggs, then a layer of cheese melted on, then topped off with a fiery hot salsa, filled with slices of jalapeno peppers and big chunks of chopped onion.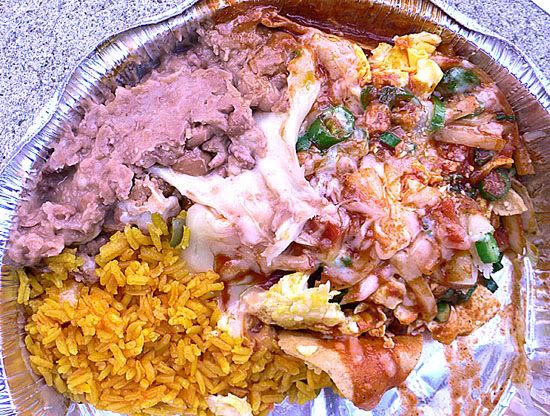 It was amazing. My mouth wept, my eyes and nose wept, and my forehead joined in, despite the cold morning temperature. My taste buds were raging though so I couldn't stop eating (er… shoveling) and quickly finished off everything but the beans (too heavy and dense). This was one of best breakfast experiences I've had in a while. $5 for the plate.