Lamduon Faharn Kao Soi, 352/22 Faharn Road (opposite The Resort)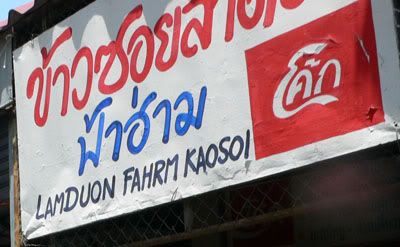 We made arrangements at our hotel with a tuktuk to take us to this small roadside eatery. It was filled with local diners and even has a copy of an article from the NY Times which has given it an honorable mention.
At each table are an assortment of condiments, and Mr. K grabbed this alarming looking chili sauce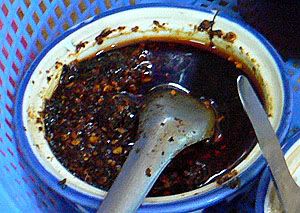 Mr K ordered the Chicken Kao Soi, which has been noted as being the superior dish. It came with two chicken drumettes and the soup was clean tasting, a rich and heavenly food made for the gods.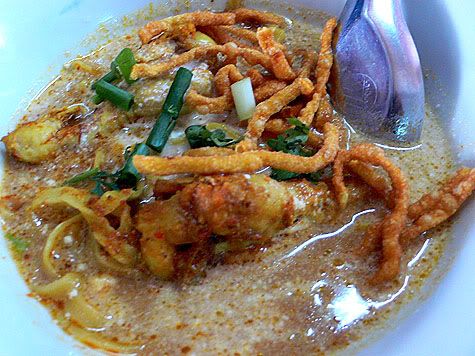 The dish is comprised of a handful of flat noodles, some crunchy fried noodles, meat of choice and then topped with a curry based broth laced with chili paste. Each dish is served with sliced shallots, lime, and a plate of pickled cabbage.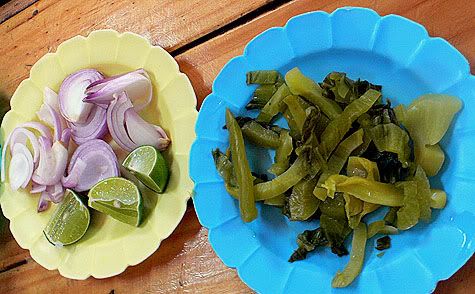 I tried the Pork Kao Soi, which had a darker, richer sauce which was a little fatty, and not quite as fabulous as the chicken version, but still bursting with flavor. There were many bits of tender pork all with a crispy crust that added a nice chewy element.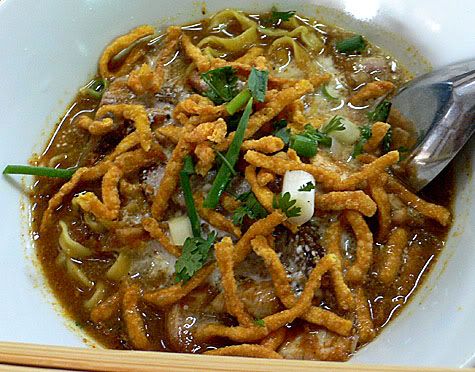 Another specialty is the Pork Satay, which is thinly sliced and came sizzling from the grill. The peanut dipping sauce was densely flavored with a loose gooey texture. It was so good to roll the sate in and the cucumbers were crisp and fresh.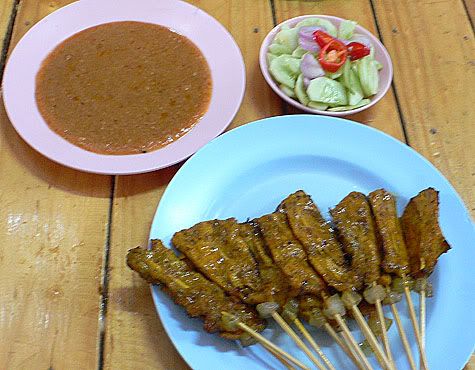 Mr. K. had to try it with the chili sauce.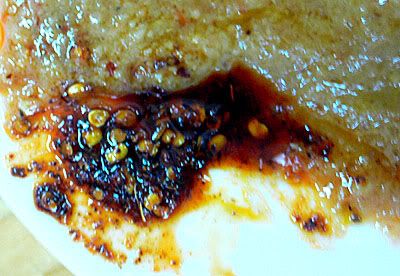 There were various cook stations in the front and all of the menus were in Thai, so I am not sure what else they were making, although the ingredients looked very intriguing…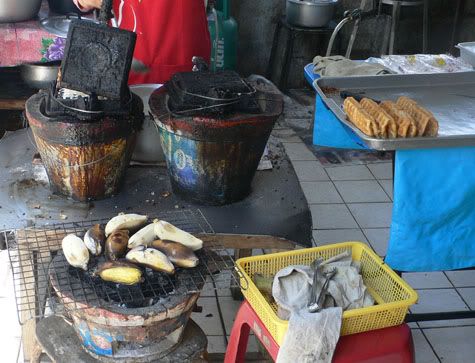 The total was under $6 for the 3 dishes and a large Singha which we split. This is definitely a food shrine, dedicated to serving fantastic Kao Soi, and we devotees are intending to come back soon.