71 Charoen Prathet Road, Chiang Mai 50100 Thailand
There's about only one good thing about crossing the international date line… I wake up really early and have time to process pix and jot down thoughts about our travels.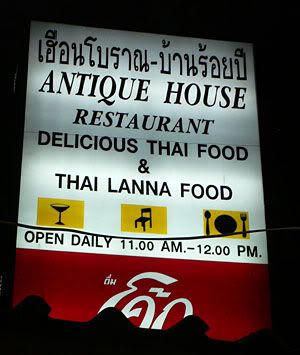 Our concierge recommended Antique House for authentic northern style Thai food. It was close to the hotel and turned out to be the best Thai food either of us has eaten. So far, we are very excited because while we have some very good Thai restaurants in San Francisco, it's definitely better here. Must be the taming of the chilies and spices for the American palate… On the walk over we passed a few karaoke bars with groups of bored world weary young girls (they look like children because they are all so tiny) wearing lots of makeup and not very much clothes.
The restaurant was a rambling slightly disheveled establishment with both indoor and outdoor seating. We sat outside underneath trees and vines and enjoyed traditional music performed on a stage. A woman played a stringed instrument with a squeaky bow what sounded like country fiddle tunes, and young jaded children in native outfits came around to the tables selling flowered garland necklaces for less than a dollar. I'm getting used to the constant smell of incense and was glad when the server put a coil under our table because while we were eating, the mosquitoes feasted on me…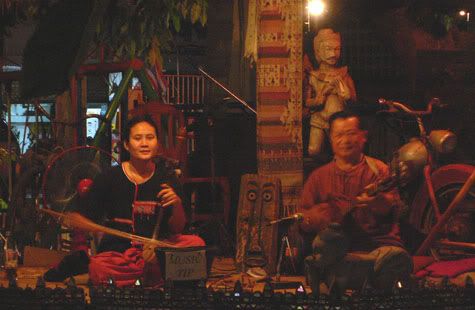 I ordered Laarb with Minced Chicken which was prepared with a breathtaking mixture of spices and herbs that danced on our tastebuds and set our mouths on fire. It was mounded on a cabbage leaf and surrounded by thin tendrils of crispy fried chicken skin and fronds of fresh mint leaves, something like basil and other pungent herbs that I didn't recognize.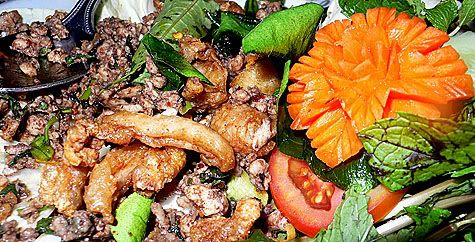 The heady combination of spices, herbs, tang and nose from the fish sauce was exhilarating. You could tell the chicken had been minced by knife, not a food processor or meat grinder, and the garnishes were also hand cut in exquisite detail.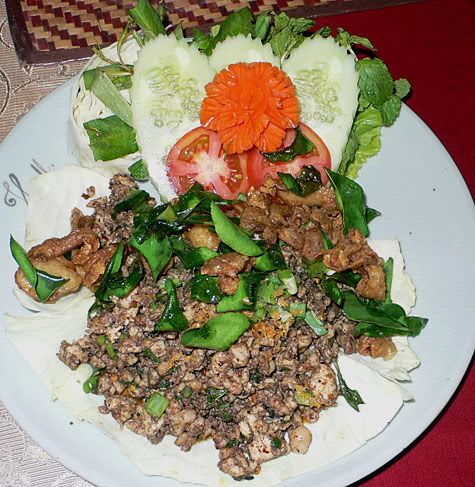 Mr. K had been craving Spicy Beef Salad, tender beef morsels topped with sliced shallots and extravagantly infused with the flavors of garlic, ginger, lemon grass, lime and fish sauce to name the recognizable flavors. It was also fiery with the heat from chilies so I was glad there were cool crisp leaves of lettuce and slices of cucumber to help refresh my exquisitely tortured tastebuds. We split a large and very enjoyable Singha beer.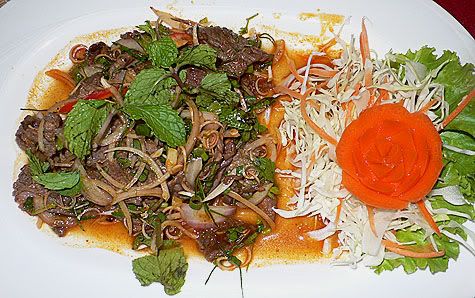 Our last dish was one of the house specialties Grilled Prawns with Silver Noodles which was tame on the heat chili-wise but the translucent bean thread noodles were bursting with the enthusiastic tastes of ginger, black mushroom, shallot, onion, and red pepper. The prawns were huge and tasted very fresh and sweet.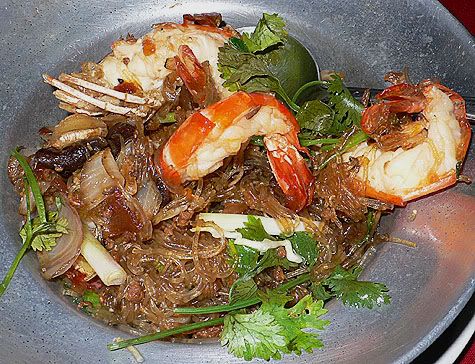 They served us each one small bowl of fragrant jasmine rice and I was abashed to see we reduced our plates to rubble… Mr. K wants to come back if we have time, I'm beginning to think we must plan a longer trip back here! We paid around $20 for the 3 dishes and 2 beers.