659 Merchant St., SF, CA (a block away from the transamerica building) | website
Alfred's Steakhouse has been around since 1928 with mahogany paneled red walls and has an old-fashioned masculine air about it (except for the loo – more about that later). The dining room is surrounded by cushy red leather lined booths, dimly lit by sparkling chandeliers and serves mesquite broiled corn fed beef that has been aged for up to 4 weeks in glass front coolers in the lobby. Peering through the glass, I see large haunches of meat in various stages of crusty decay… not very appetizing, but I have had the steaks here and they are very good.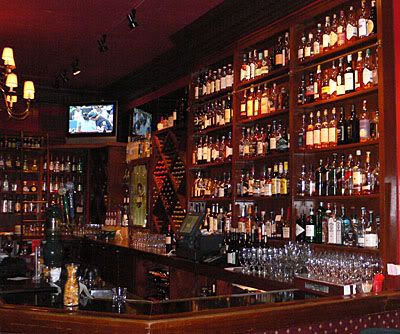 I read on their website that they have a happy hour from 3-6 with slider burgers and $5 cocktails as well as $3.50 for well drinks and house wine. My coworkers went and reported that they didn't serve sliders but instead had a really good $6 ribeye and sirloin burger that came with the most delicious shoe string fries. The fries are actually somewhere between shoe string and the basic fast food size, a very good size with a crispy crust and soft interior.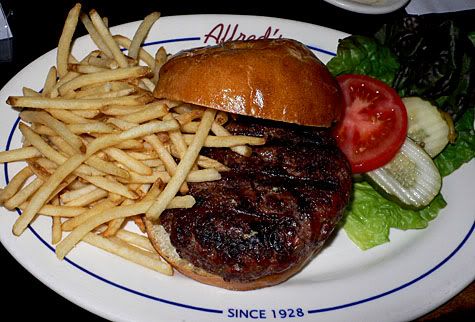 This is big stuff, big flavored with the charred chewy exterior and juicy tender inside. It is served with ketchup and mayonnaise, along with slices of tomato, onion and green lettuce on a Boudin focaccia roll sparkling with a few tiny gemlike crystals of salt.
I ordered the Grilled Steak Skewers with Garlic, Peppercorn and Bearnaise Sauces
The tender morsels are skewered and spiked onto a thick piece of sourdough bread which absorbs some of the juices
In contrast to the restaurant, the women's bathroom has a fussy grandmotherly feel about it. The glass handled mirrored doors create the ilusion that you have entered a hall of mirrors that reflect the resoundingly pink floral wall paper.
The marble counter suspended from gilded legs echoes the baroque bronze fixtures, perfectly matching the faucet shaped like a swan from whose open beak water pours forth.
They are open for lunch Tuesday-Friday (same days for happy hour), and dinner only on Saturday-Monday. I'm definitely going back for the fries and to check out further items on the menu.