915 Kearny Street (btwn Columbus & Jackson)
This is a small family operated restaurant with a friendly feel and a $6.50 lunch special of your choice of rice plate, soup and imperial roll. The front room is mainly run by a grandmotherly woman and there are a couple of ancient ones who occasionally come out to clear and wipe down tables, refill tea or bring out plates of food. TN a coworker from Vietnam introduced me to this place, it is one of his favorite lunch spots.
I got the Imperial Rolls with Rice Noodle plate. It is a bowl of thin rice noodles on top of chopped cucumbers, bean sprouts and lettuce. Mix the noodles in with the veggies and the pickled carrots and daikon on top and it is a very satisfying meal with the rolls.
Like Tu Lan, the imperial rolls are thick skinned and meaty, fried in well seasoned oil that leaves blackened bits of its ancestral fried forebearers. The crisp and chewy wrappings have a slightly sticky residue that is enhanced when dipped into the accompanying piquantly tart and fragrant fish sauce. The texture inside of the roll is a little dry and crumbly from too much vermicelli and crunchy tree ears and not enough meat.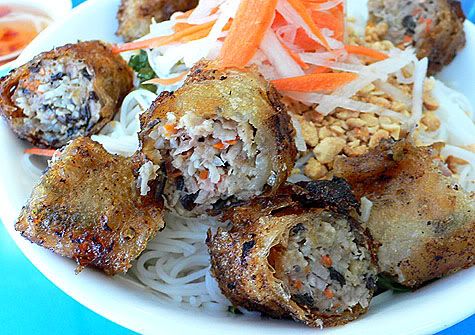 Those who ordered the lunch special got a bowl of this clear soup with tofu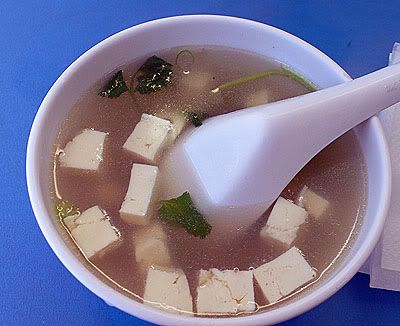 SB had Shrimp with Scrambled Eggs, one of my favorites. They usually cook this very well, never rubbery.
CE got Lemongrass Chicken
AL had the Pork Chop with Meatloaf which was more of a quiche with egg, ground pork, vermicelli noodles and vegetables.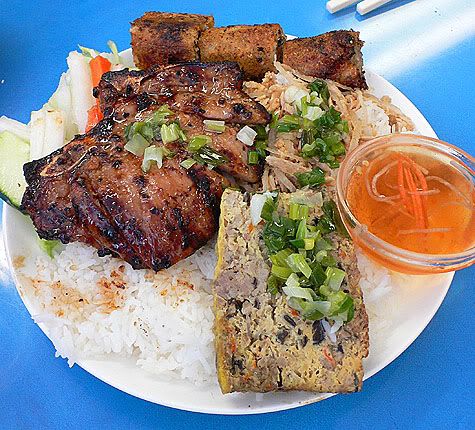 The Grilled Shrimp on vermicelli noodles with fresh vegetables is also very good.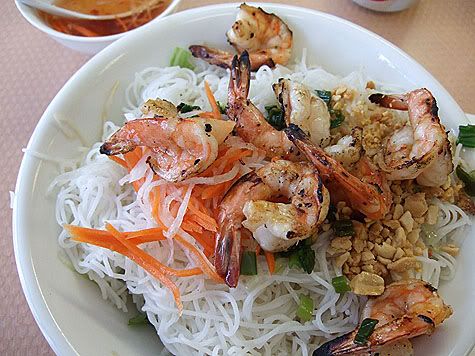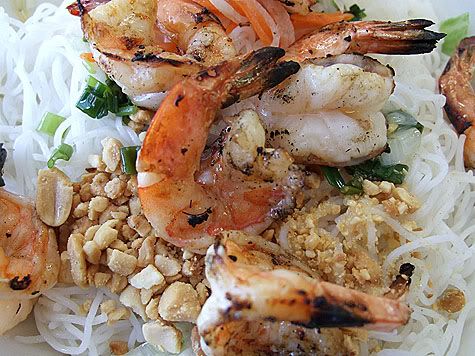 It's a bit of a hole in the wall that gets crowded with locals at lunchtime with good reason. It offers cheap good food, oh and important note – is cash only.
p.s. they serve pho (vietnamese rice noodle soup), a fabulous cambodian noodle soup and spicy beef stew.