See previous post.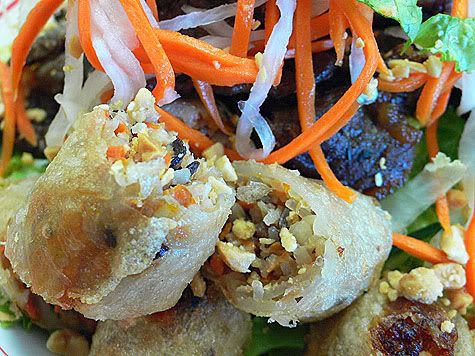 BG had a hankering for imperial rolls from Golden Star and I was interested in comparing these to New Saigon's rolls, so we headed out for lunch. It was a little chilly out with a brisk wind and by the time we sat down and I saw all of the steaming bowls of Pho, I changed my mind. When the waiter came by I ordered Pho with Round Steak and Tendon.
Now, I have mentioned before that this is where I had my first bowl of Pho, the standard by which I have compared all subsequent bowls. They have all of the necessary accoutrements. Chopsticks, stack of little tiny dishes to pour both the Sriracha Chili Sauce and Hoisin Sauce into, stack of Chinese soup spoons. The only thing missing was the metal napkin holder…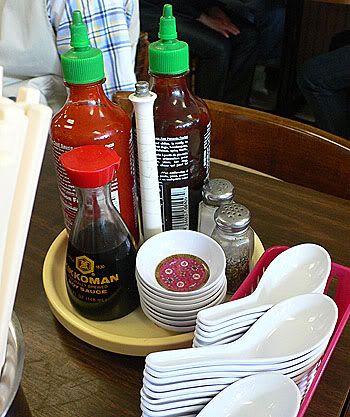 This is one of those restaurants with a long row of tables down the middle where you are often seated with strangers. Normally it doesn't bother me because everyone is there for the food and ignores each other… but today we had to share our space with a couple of suits fresh out of law school who were clawing their way up the corporate ladder. Their self-absorbed arrogance leaked through into my normally food-focused oblivion and it was irritating to have to listen to their conversation and know that they were listening in on ours. It's much better to share a table along the sides of the room because the center row has a weird deafening effect and I felt like a ventriloquist where my voice flew up and away. OK enough complaining – onto the food…
I was served the plate of veggies for the pho, a large pile of bean sprouts, some basil, a few slices of fresh jalapeno, a half of a lime… and it was all for me.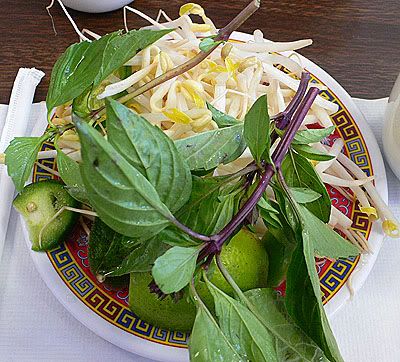 The noodles arrived, steaming and fragrant with little drops of oil glistening on the surface of the steaming fragrant soup. I ripped the basil and threw it in with the sprouts and a small sliver of pepper, and stirred to break up the noodles which always start out huddled in a little ball at the bottom of the bowl. A lovely aroma wafted up…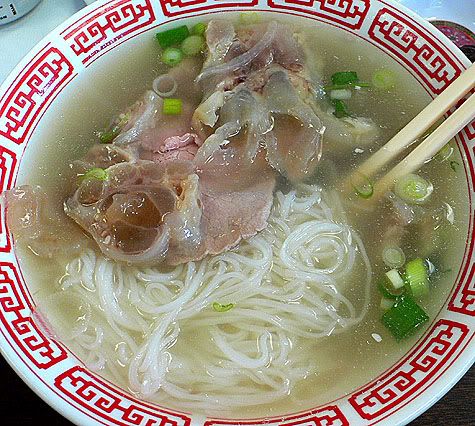 Wow, this is the perfect combination of meat and tendon for me! Lots of soft gooey gelatinous slices along with plenty of thinly sliced round which cooks in the steaming hot broth. It is clean tasting and herby from the basil and and star anise.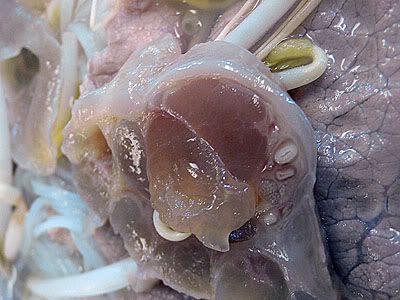 BG stuck to the plan and had Lemongrass Chicken over noodles with Imperial Rolls.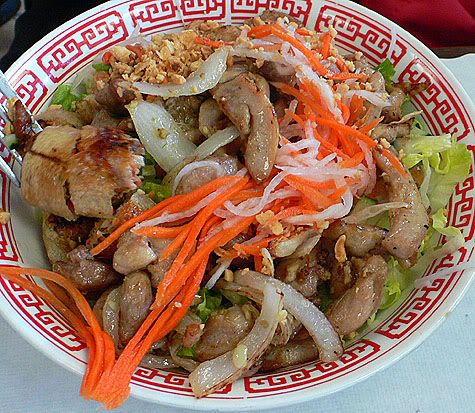 Indeed, these rolls are clean and elegant compared to New Saigon, but with the peppery, meaty filling and robust wrapper that is both chewy and crispy that I look for in an imperial roll.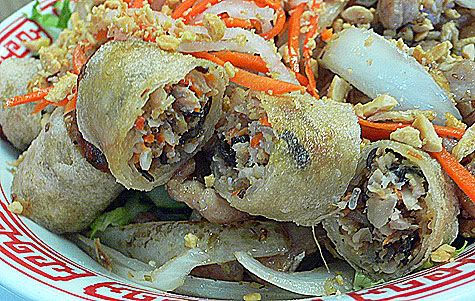 The Lemongrass Beef is not as good as the chicken, the beef is thinly sliced, overcooked and dry.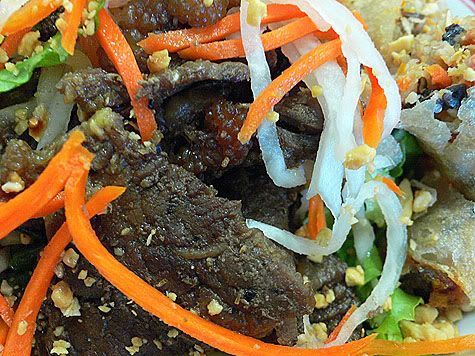 But the dry slices of beef adds a nice chewy texture when mixed in with the noodles and vegetables then liberally dosed with the nuoc cham sauce.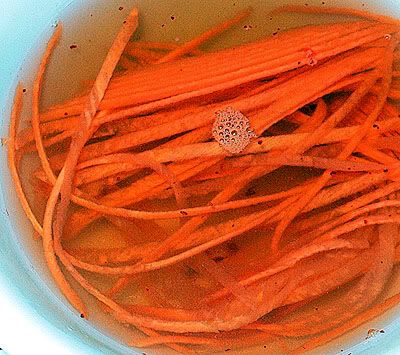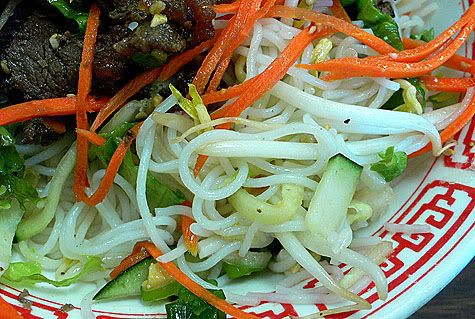 It's a bit more of a walk and you have to get there early before the line forms. The line that forms out the door every day is the indicator that this is a temple of good food…