I've been tagged by the Passionate Eater to participate in a meme and I'm all, what's a meme? How is meme pronounced? Is it mee-mee as in me it's all about meee? Or is it meem like dream? And why does the phrase mind virus come up when I google meme?
Pushing such deep thoughts aside, other concerns arise. I have a very hard time differentiating between a favorite restaurant and favorite food. For me it definitely revolves around the food… so I have ALOT of favorite restaurants! Does that mean that I'm not being selective enough? Whatever the case, I have been confounded with trying to list just five!
Zuni Cafe will always have a special place in my heart. My early visits were for lunch celebrations at work many years ago and I love their burgers and shoestring fries! They also have an incredible selection at their raw bar, where you often find raw clams on the menu. Besides the raw, they also offer other shellfish on their menu, below are braised razor clams that we had the last time we were there.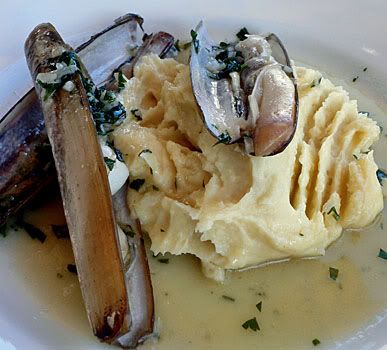 They have some beloved standards like their caesar salad and roast chicken for two with panzanella, but also offer seasonal dishes showcasing what's fresh and they serve exquisite small pasta dishes. This is the first place I ever had a cheese plate for dessert, and I'm such a nerd that I have their excellent and informative cookbook.
The quality of the food served is always fresh and well prepared and the service is friendly and professional. I like it because it's fancy but not too fancy.

Farallon is has fantastic, atmospheric under-the-sea themed surroundings that I just love (even their website experience feels like you are underwater). There are certain things that draw me in, especially if they are related to the ocean… and I definitely recommend ordering from the surf at this restaurant (rather than turf).
I love the surroundings as much as the food and the service has always been very good. Sometimes the people eating here are a little on the geriatric side, but that just makes me look better… It's definitely a fancy restaurant, but it's whimsical and casual enough that you can wear jeans. (I must note that this fab shot is not my pic, I grabbed it from DCVoyager from flickr)
My favorite casual spot would be Cockadoodle Cafe, in Oakland. Now that it's getting warmer, you can sit outside in their lovely garden patio. The chef rocks and knows how to make breakfast taste good (I have posted extensively on how much I love the food here). They have an excellent and varied breakfast menu and also serve daily specials that we look forward to trying. Even the most basic items like biscuits are amazing…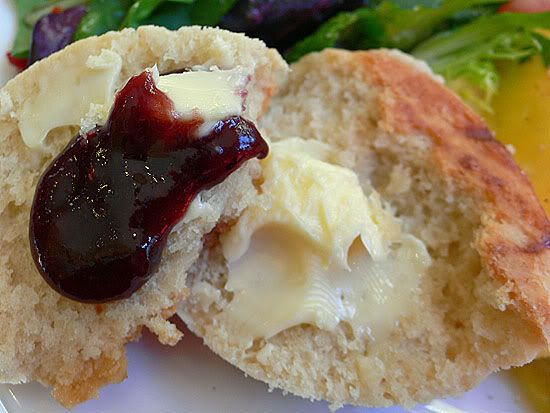 But they excel at the specialty dishes which is a blend of New California with a Latin influence like this shrimp omelette.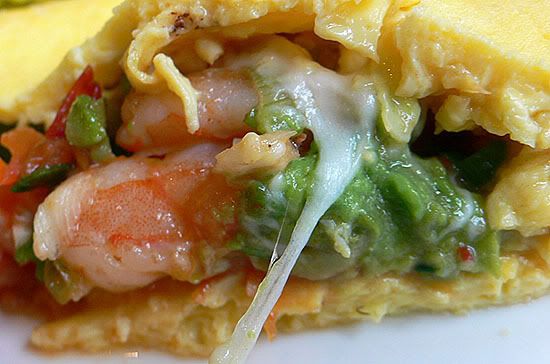 The Dry Fried Chicken at San Tung in San Francisco. True the atmosphere is very utilitarian, but I'll put up with anything for those wings…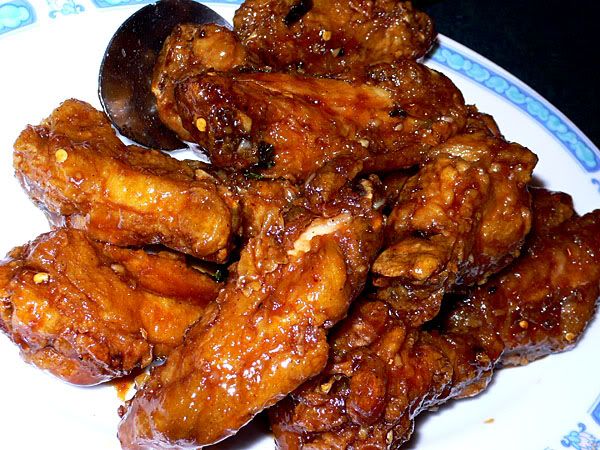 I've got to put Mama's at Washington Square on this list too because I'd eat anything on their menu. This is another one of my food shrines where I gladly stand with my fellow devotees in those ridiculous lines on the weekend.
[slideshow id=216172782122954639&w=400&h=300]
There's my short little list of my five favorite restaurants in SF. You really should try them if you haven't been. In fact, I'm inspired to go back and get pix at Farallon and Zuni – LOL, I am just looking for an excuse!
Passionate Eater thanks for the tag, and I'm going to check out Marnee Thai and those wings soon.