3199 Fillmore Street (@ Greenwich), SF, CA | website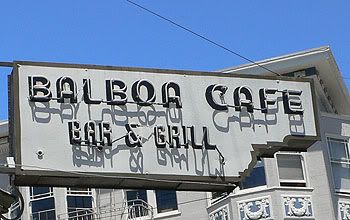 I rarely venture into the marina, but found myself smack in the thick of things at the Balboa Cafe where we decided to celebrate LS's birthday. As if on cue, Gavin Newsome stepped onto the sidewalk as we neared the restaurant and we saw him introduce himself and shaking people's hands as we passed.
According to their website, the saloon was established in 1913 and is run by the Plumpjack empire that is either owned or partly owned by the major himself… It is elegant with dark wood paneling and filled with bright sunlight reflecting off the high ceiling and formal white table clothes.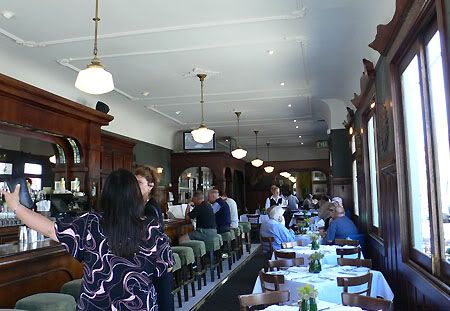 Each table had a whimsical floral arrangement with delicate paper-thin blossoms.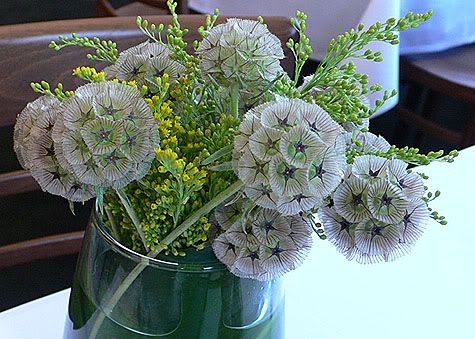 We pounced on the bread which came wrapped in a white linen napkin and served with soft spreadable butter – always a nice touch!
DN had the Halibut with Mango Salsa over Saffron Rice. She seemed very pleased with her lunch, well aside from what she called the evil weed (cilantro), which she meticulously removed from the dish.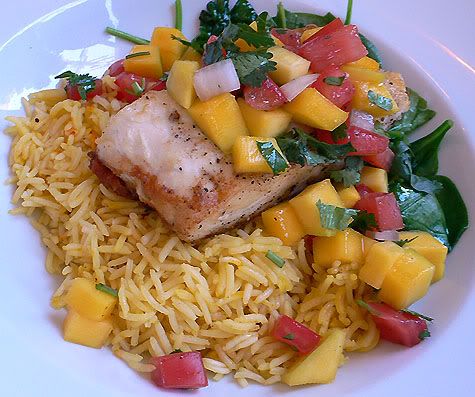 LS and I split the Caesar Salad, which was liberally dusted with razor thin shreds of parmesan cheese and topped with crunchy garlicky croutons. The pungently flavored dressing was thick and tart and drizzled over the lengths of the tender hearts of romaine, which mixed in very well when we sliced the lettuce into bite size chunks. The lettuce was bone dry, so the dressing and parmesan dust adhered its surface in perfect proportions.
I am a bit of a burger fiend and ordered the Balboa Burger, which was served on a baguette with grilled onions, some very zesty sliced pickles and a very large pile of freshly fried shoe string potatoes.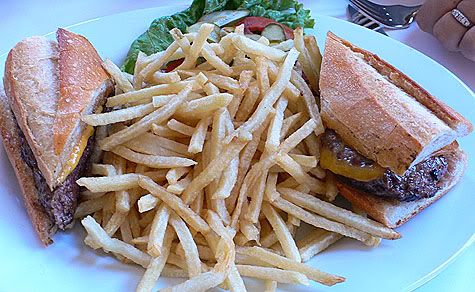 It has a well deserved reputation and I loved how perfectly the soft chewy baguette wrapped around the plump juicy burger. It was delicious and I can't stop thinking about how good it was. Mmmm, I also enjoyed this same burger at the Plumpjack Cafe in Squaw Valley the last time I was up there…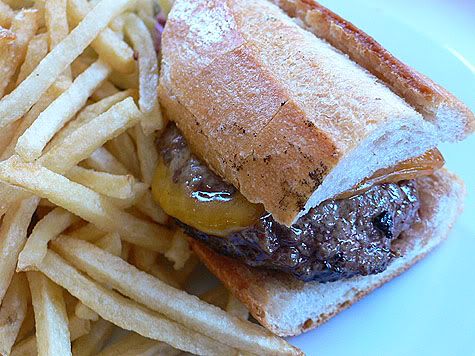 Our Granny Smith and Huckleberry Crisp ala mode came with a bright and festive birthday candle. It looked plain and dry, but when we dug in it was hot and full of a sweet apple filling that was decadently rich and buttery. Then the ice cream started to melt in…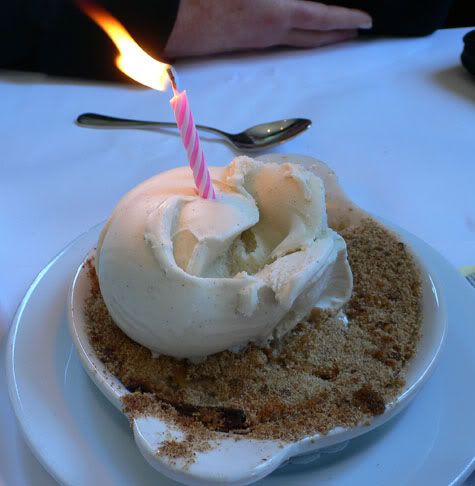 I once read a hilarious blurb in SFWeekly warning young male prepsters: This corner is also known to some as the "Bermuda Triangle" for its cadre of "cougars"—older ladies with a taste for barely legal ass. It has the look of a place that would offer some very interesting people watching and must be a very exciting place at night.
I loved the beautiful interior and formal white tablecloths and the food was tasty and well prepared. I'd definitely come back for lunch – in fact, in my mind I already am there munching on that burger…