2351 Mission St., San Francisco, CA 415.282.1813 | website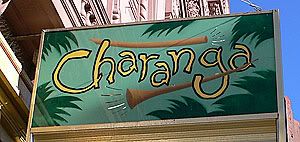 I recently started to download the show Check Please! onto my ipod and have been watching this riveting local series featuring regular people reviewing Bay Area restaurants. What better way to pass the time when you are stuck on BART for an hour each day. The videos of the restaurant interiors, little vignettes where they interview the staff and closeup shots of the food really give you a good sense of the total restaurant experience. I digress, but only a little… Charanga was reviewed and the descriptions of the food and restaurant beckoned me. I am very fond of fusion and the combination of Cuban, Caribbean with some Asian thrown in sounded very intriguing.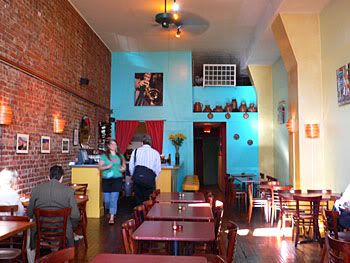 We came here early on a weekday evening when it was almost empty but the room was filled with bright sunlight and the upbeat rhythms of latin music.
The Fried Yucca with Chipotle Aioli was transcendant, although it arrived smack in the middle of the other dishes, so I wasn't able to pay it as much attention as I would have liked to… They were perfectly fried and seemed denser than a regular potato, but light and fluffy at the same time. They were lightly dusted with spicy seasonings that made my mouth tingle a little from the heat and were good dipped into the aioli.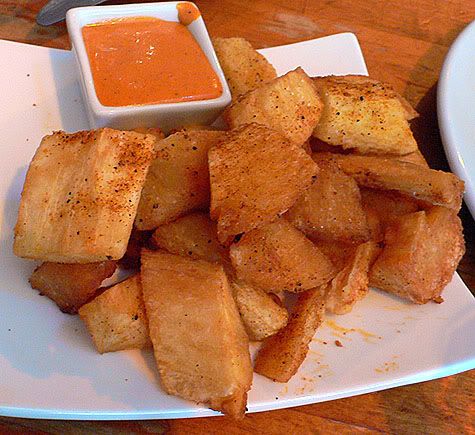 The Ceviche Chino Latino, ahi tuna marinated in lime, soy sauce & ginger with avocado actually was more Japonais-Latino with a strong resemblance to a poke. It was served in large stemmed martini glass over a mound of crisply fresh snow pea shoots. The soft bits of tuna were bursting with the flavors of the marinade and were complemented by the delicate raw crispy texture of the pea shoots and the nutty flavor of the creamy avocado.
We also ordered Pinchos de Pollo grilled chicken skewers marinated in sake and house-made curry served with a lime-garlic sauce on a green papaya and pea sprout salad. This came after the entrees and was the least exciting dish… the chicken was dry and the light sauce didn't do much to improve it and we had already seen plenty of pea sprouts in the other dishes.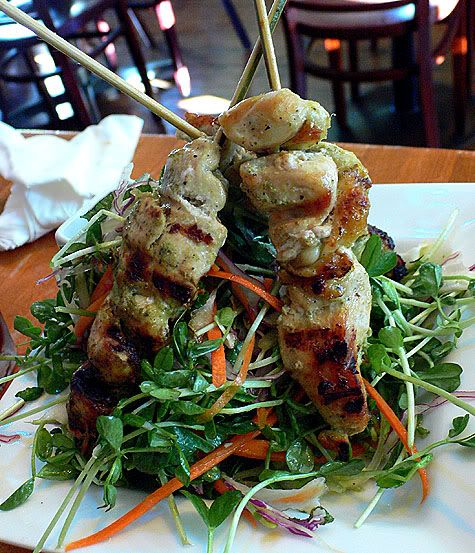 Arroz con Pollo Costa Rican chicken and rice cooked in a tomato-herb broth with peas, olives and cilantro, served with black beans was visually beautiful with strong flavor accents from the garnished raisins and green olives. This was my favorite dish, it had so many different components of taste and texture that blended together in perfect harmony.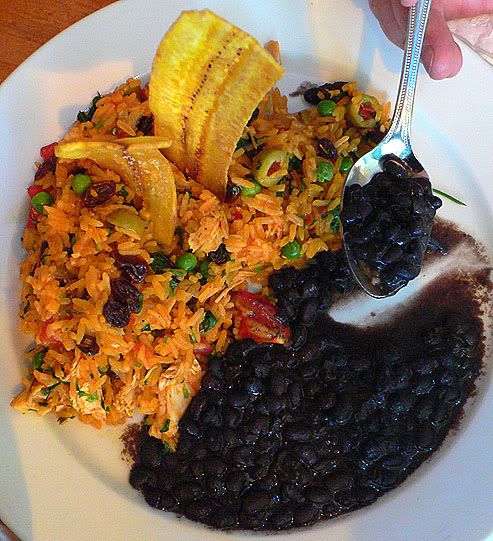 Asado or Cuban-style roast pork leg marinated in citrus, garlic and oregano with green plantain hash and watercress. The pork was full flavored but a little dry, and fell off in shreds that begged for a richer gravy.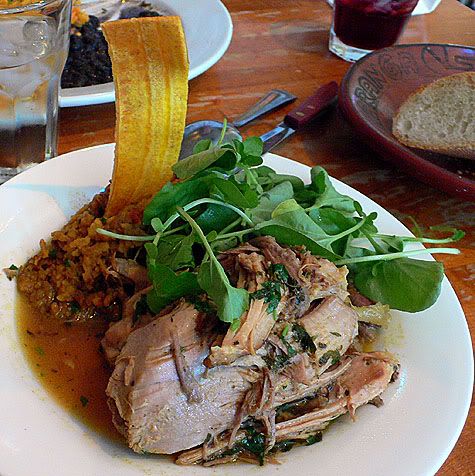 We didn't think we ordered the Fried Plantains but no one complained when they showed up at the table. We swooped down on them and dug into the fleshy pieces that were starchy and dense and caramelized with a slightly burnt sweet, chewy crust.
The insides were soft and fluffy almost like a marshmallow. These could be dessert with ice cream, or drizzled with a cinnamon sauce…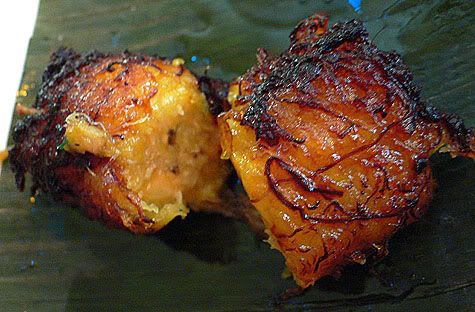 Since we were celebrating BG's birthday, I ordered Bizcocho de Jengibre,
ginger cake & coconut ice cream which was garnished with slices of kiwi, strawberry, a plump blackberry, a cherry, then topped off with a delicate, crisp, pirouette cookie. The cake was dense and richly infused with the dark spicy flavor of ginger and was very good along with the fresh and bright flavors of the coconut ice cream.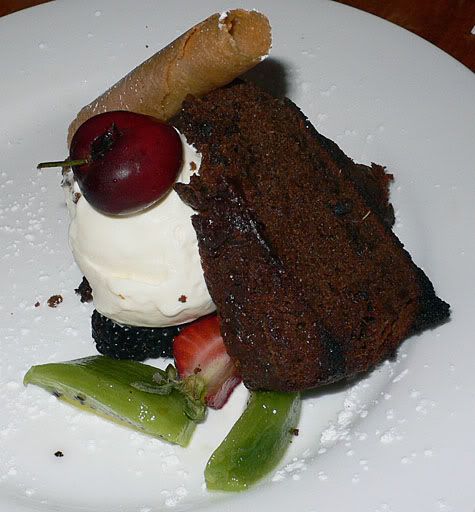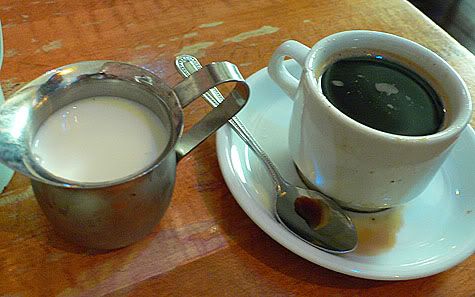 The dining room filled up and the sound level increased as the evening progressed, while the shadows elongated and created a dramatic mood against the walls, brilliantly highlighting the paintings.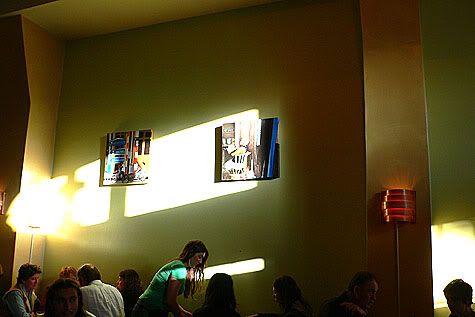 We enjoyed a pitcher of Sangria which appeared to have an extra kick to it… It knocked me off my feet to tell you the truth, but I have since learned that their recipe is only wine, some sugar and chopped fruit.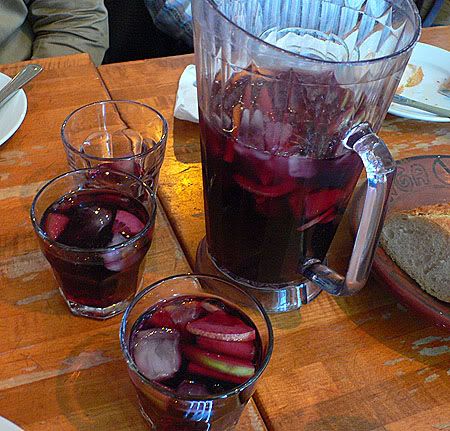 I really enjoyed this restaurant and will definitely come back for the fried yucca and to try some of the other dishes. The cooking was an interesting mix of asian, latin and caribbean, in many cases starting with a latin classic with an end result that was exciting to taste.