26657 Mission Blvd., Hayward, CA Open Weds-Sunday 11-7ish.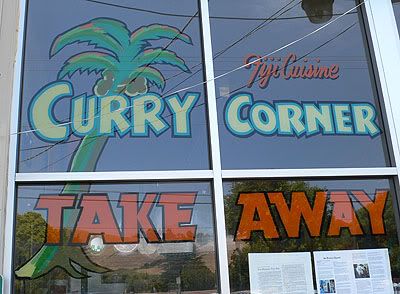 I am always on the prowl for good food in the area and the name of this restaurant repeatedly came up in my internet trawlings of chowhound and yelp, as well as the chronicle and east bay express. Everyone raved about the fantastic Indian food cooked Fijian style served at this tiny, one-woman restaurant tucked away in an obscure strip mall just past Autorow in Hayward.
I called on Friday afternoon and was told she was planning to close about 5:30, so we decided to come by for a late lunch on Saturday. It is a small space, half of it is taken up by a shiny stainless steel clad kitchen behind a counter. The other half is crowded with two small plastic folding tables and a tiny glass front refrigerator containing sodas. We entered and were greeted by Saras Rao, the owner and chef who said she only had a chicken curry and a lamb curry as she had been too busy getting food out the door for some graduation celebrations. We agreed to try one of each and squeezed into chairs at one of the tables.
A man sat reading the paper at the other table whom she called Suresh and they carried on a conversation. She also spoke to us over the counter while she cooked and told us that we came at an in between time and that she would have different dishes available after 3:00. She encouraged us to come back tomorrow as she would have egg curry and Mr. K thought he heard her say something about crab curry. I peeked behind the counter and could see her rolling out dough and something delicious was bubbling on the stove.
Another customer entered and they greeted each other by name. It appeared that he called his order in ahead of time… Suresh stood up and helped her serve us, getting us plastic utensils from a basket behind the counter. The other customer advised us that we could get something to drink from the refrigerator if we liked.
We got Peas and Potato in a Tomato sauce first. This was the mildest dish but had a lot of flavor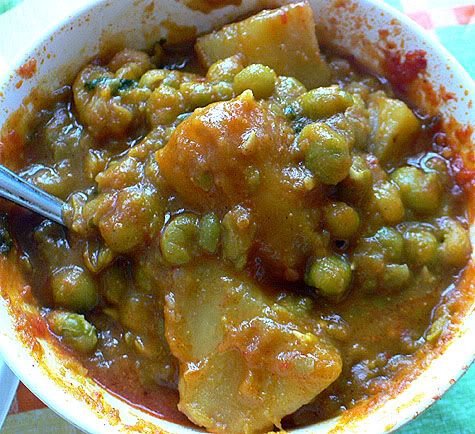 Then Suresh set the Lamb Curry down for us. The aroma rising from the dish was spicy and mysterious and compelled me to pick up a piece for a taste. The meat was tender and fell off the bones and I found myself eating with my hands and licking my fingers. The curry sauce was dark and complex with fiery spices.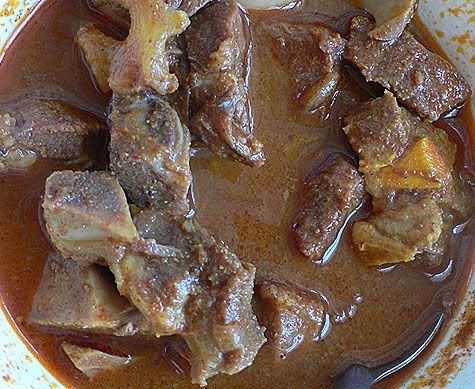 Next came the Chicken Curry which had large meaty pieces that were tender and very moist and floated in a rich and ponderously spicy sauce that shimmered with a layer of grease. My nose began to sniffle from the spices and my mouth was tingling from the heat, but it was a good sensation that I wanted to continue…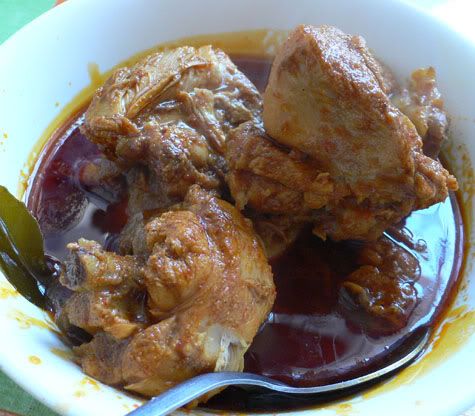 The Tomato Chutney was a rich and herbal savory stew that was good enough to eat by itself over rice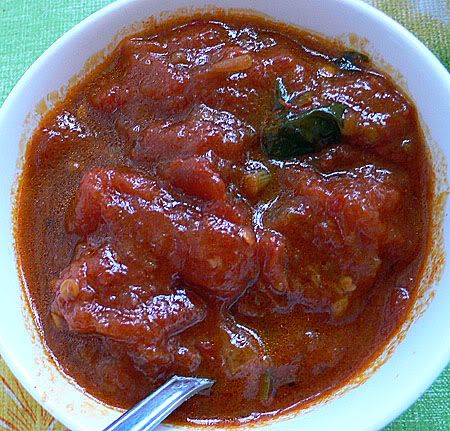 Last she dropped off the two Roti that were tender and crispy. They were soft and a little squishy and tasted slightly salty and sour – a little bit like flattened, grilled biscuits. These were very good to scoop things up with and dip into the spicy sauces.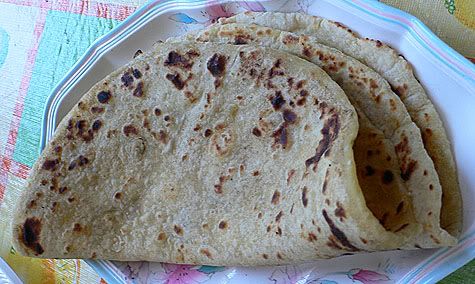 As we were eating I noticed that Suresh paid for and received plastic bags stuffed with to-go containers and he walked out the door smiling and nodding to us. It occured to me we had just been served by one of her customers! It really does feel like you are hanging out in someone's home more than in a restaurant and it's all one big happy family. Many people came in and left with plastic bags filled with takeout. Here is my plate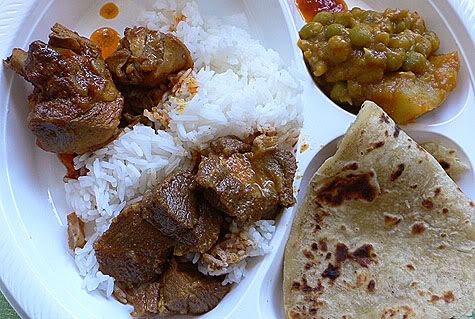 Another man sat at the table next to us and she effortlessly carried on a conversation everyone in the room, including us all. She mentioned that every 6 months she takes a vacation and goes back home to Fiji for several weeks and that she was leaving soon but should be back by the end of June.
Saras also mentioned that she is writing a cookbook with recipes for her curries because everyone is always asking her for them. She said that the success of her dishes comes from her hand made spice mixes, and I believe that… the flavors of her dishes are definitely not made from a grocery store blend of Madras curry. I can picture her hosting her own cooking show (on PBS mind you, not the food network), marketing her own spice blends and writing cookbooks. Until then, I think I will count myself among the many Curry Corner devotees, calling ahead for her wonderful takeout.
p.s. Our lunch was $16 for everything.