previous visit 3-14-07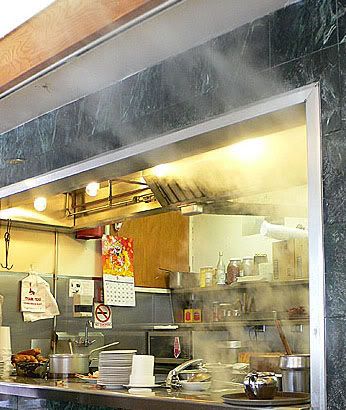 Someone always gets a craving for the salt and pepper spare ribs at New Sun Hong Kong. Perhaps it is something they put in the oil that wafts out the windows, curling its way down the long blocks and into our cubicles, whispering into our ears and filling our minds with thoughts of garlic and chilies and that indescribable smell of freshly fried battered food…
KC sent out the Let's lunch, I'm craving those ribs email and we all practically ran to the restaurant, which has a reputation as a greasy spoon and is open until 3 am. A lot of people only know it as a place to get food after a night of drinking and carousing, but I've only eaten lunch here, generally with a group and always family style.
We walked by a dish of crispy noodles on our way to the table and told the waitress as she handed out the menus that we wanted an order of whatever it was. Crispy Noodles with Beef and Black Bean Sauce. I love how they prepare those noodles, they are thin fragile and crunchy at the start, then soften into a lovely dense chewy texture as they absorb the black bean sauce, but with lots of crunchy bits too.
And of course two orders of the Salt and Pepper Spare Ribs, since both DDR and I were at the table and things can get pretty competitive… They are breaded and fried perfectly so that the juices are sealed in and burst out of the delicately crisp and crunchy batter when you bite into the meaty morsels. You can see little crystals of msg sparkling amidst the gorgeous bits of aromatic garlic, green onion and sliced chilies. This is one of those dishes that turn heads when it passes through the dining room on its way to the table.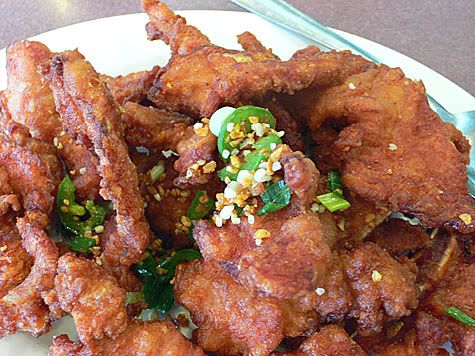 We also ordered the addictive Honey Walnut Prawns, which have the barest light coating of flour or cornstarch, are fried and then coated with a tart mayonnaise sauce. The honey walnuts are what I always pick from the plate… they are caramelized sticky and crunchy and sprinkled with nutty sesame seeds.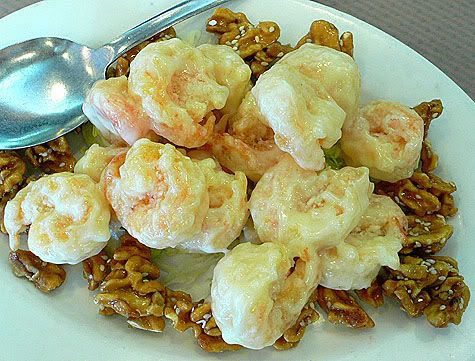 With all of the fried food, we needed a vegetable so we ordered Snow Pea Leaf Sauteed with Garlic. We thought we ordered the delicate little shoots, but the snow pea leaf has a crunchy stalk and dense chewy leaves that added a nice crunchy texture into the array of dishes.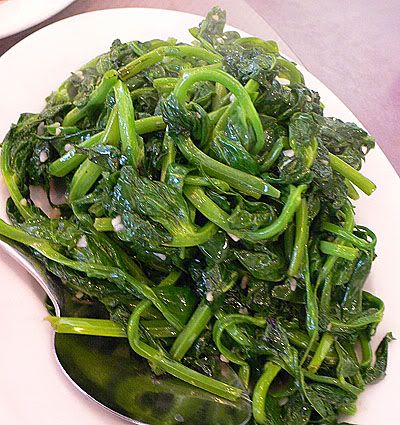 I have to say that I was very disappointed with my performance as we had a pile of ribs leftover for KC to gleefully take home… Perhaps Mr. K is correct afterall and I need to scale back and stop trying to eat for sport. It's true that if it's good and it's there I will eat it, but recently I have resolved to stop eating when I'm full – not when the plate is empty…