817 Sutter Street (@Jones), SF, CA | website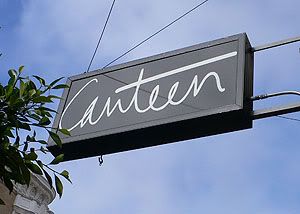 I love going out to eat with CDR and Mank, because they are very tolerant and are willing to play musical plates, where we switch plates in order to try each dish for a while. They made reservations at the counter for the four of us, where we could watch some of the kitchen action going on.
I read a little bit online about the restaurant beforehand and it is larger than I had expected, the food was even better and the prices were very reasonable. The space has the feel of a diner with all of the stainless equipment and trim on the walls, but there is also a spare, natural element that transforms it into a very comfortable atmosphere. Not only that, they played Brian Eno's Another Green Planet, an old favorite from way way back. I believe that the lit arrow on the back wall is pointing out the chef/owner whom we saw flitting back and forth to the kitchen while we were there.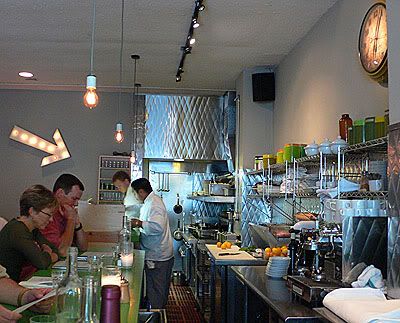 The menu is minimal, offering 4 items for each course. Since there were four of us, we decided to to try one of everything… well, at least for starters and entrees. We loved that they gave us iced bottles of fresh Hetch Hetchy water and replaced them often… We started out with two delectable treats from the kitchen that were incredibly fresh tasting and I savored each bite.
The first Amuse Bouche was a sliced tomato with shaved parmesan and a thin shred of mint.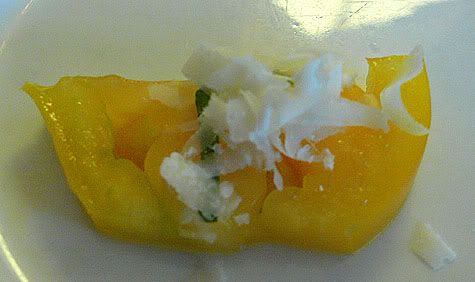 A warm dinner roll/biscuit that smelled fresh baked and was tender and flaky on the inside.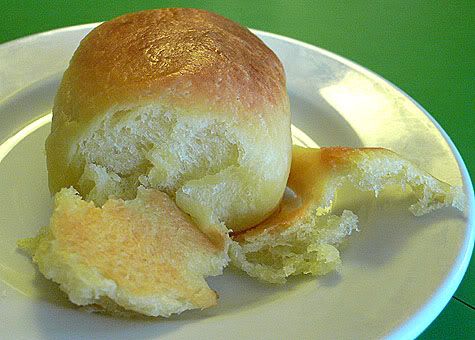 It didn't even need the buttter, but I still wished for a little jam…
The first courses all arrived together. Sweet Corn Soup with chili puree was quite hot at first, but ethereally bright tasting which contrasted brilliantly against the deep darker flavors of the chili puree.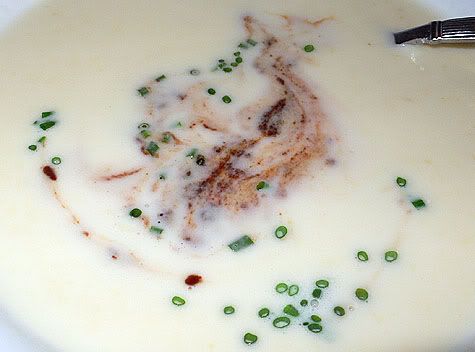 The Poached Prawns, were sweet and succulent, served with roasted peppers, avocado and green tomato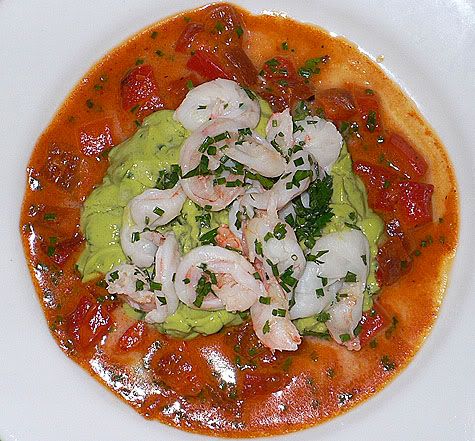 The fresh herbs added intensity to the vivid flavors of the roasted peppers and I really liked the crunchy green tomato bits mixed with the creamy avocado and peppers. The dish was fairly oozing with flavor…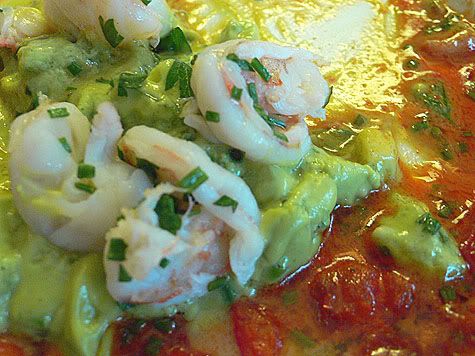 Treviso with sweet and sour vinaigrette had tender fleshy prunes hidden under the chewy, crunchy leaves. The shavings of salty parmesan and fresh herbs that were scattered over top added a good balance to the overall sweetness of the dish.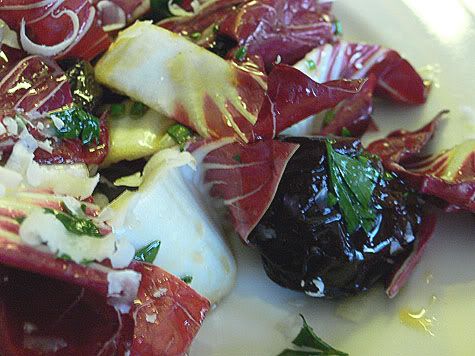 Lamb Leg rolled in black cumin seeds, was juicy and flavorful and drizzled with blood red pomegranate reduction sauce. The walnuts and fresh herbs added crunch and rich texture.
The entrees also were served together. The Roasted Chanterelles with onion puree, summer squash, mint was less flavorful than the other entrees. The presentation was beautiful and the exquisitely delicate mushrooms were meaty and tender, but it was just a bit bland. I was quick to propose swapping plates…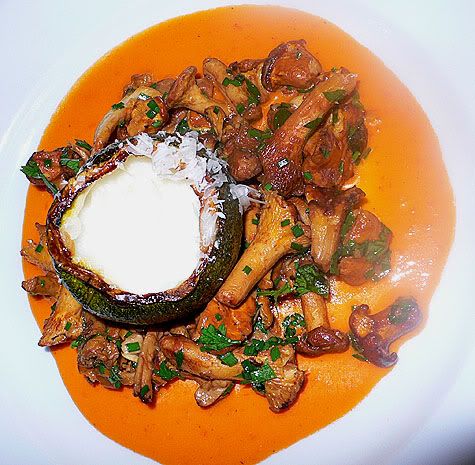 The Albacore Tuna was seared and served with ragout of tomatoes, basil, wax beans and olives. It was bursting with the clean simple flavors of the mediterranean and fresh vegetables.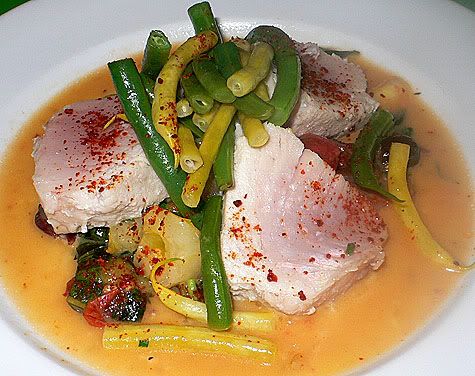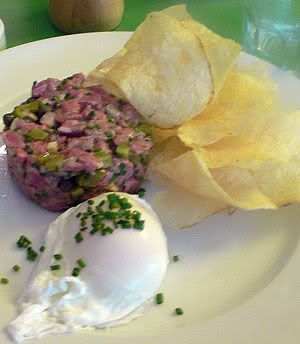 The Steak Tartare was served formed into a disc shape, next to a pile of beautiful fluffy potato chips and a plump poached egg. I felt intimidated and at a loss, I asked the server how best to eat the dish.
She advised me to put the egg on top and then smash it into the tartare… It was easy enough to do and that ended up being one of my favorite dishes of the night. The steak was diced in small pieces then mixed with zesty chopped cornichon pickles, capers, crunchy bits of onion, fresh herbs and bound together with a silky rich texture from the egg yolk. I piled it onto the chips, I broke some chips and mixed them in, I really didn't want to swap plates… The chips appeared delicate and insubstantial but were surprisingly dense and crunchy and very addictive.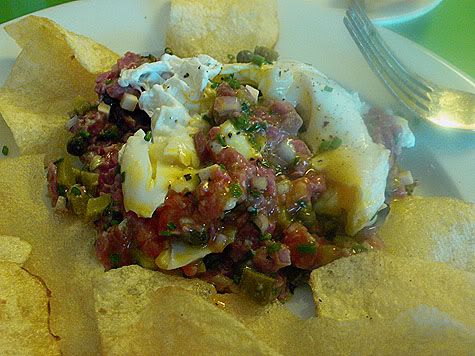 Pork Tenderloin slow cooked, with cranberry beans, and topped with swiss chard. This was savory and well cooked, and again the little bits of minced fresh herbs and onion added bright bursts of flavor, but I couldn't stop eating the beans, which had an intoxicatingly creamy texture and were infused with flavors from the sauce.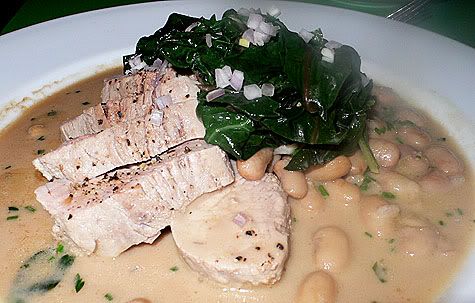 I saw a vanilla souffle go by and wished we had ordered one, but they require additional time, which we no longer had… but we instead enjoyed the Indian Pudding was a soft corn bread flavored with pumpkin pie spices and served with blueberries and whipped cream.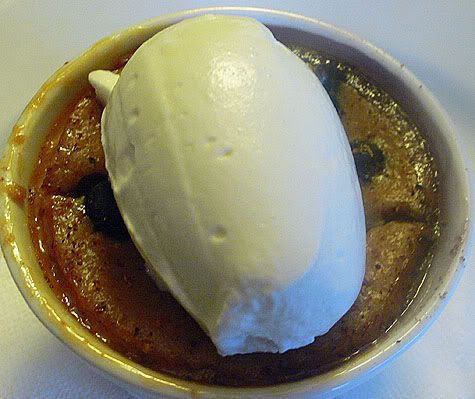 The Chocolate Croquettes were breaded and dusted with powdered sugar and served over a cappuccino sauce
I poked one with my spoon and found it to be filled with luscious warm dark chocolate. This was dense and rich and I thought how lovely it would be with a little bit of vanilla ice cream…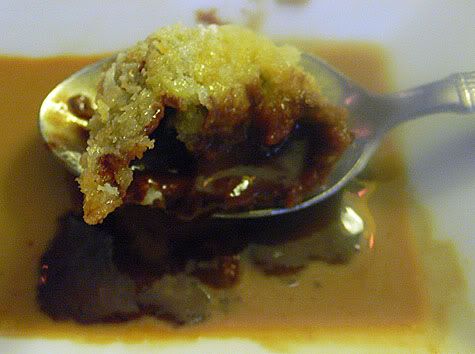 I savored each bite which reflected the artistry put into the creation of the dishes… Sadly, our meal ended as parties began to arrive for the next seating (they serve 3 seatings a night). We wandered out ready for our next adventure, the Fire Arts Festival at the Crucible in Oakland, where I am a member.
It was a very fine night to be out.