I came here once before for a quick lunch by myself and was very excited to come back with a larger group because that meant we would be able to try a lot of the dishes. The menu is very flexible and they have a lot of dishes that can be shared, and many of them can be ordered either as a half or full order.
We started off with a bunch of appetizers. I love fried clams so we got an order of Crispy-fried Atlantic clam strips, served with spicy tartar sauce. The clams strips were meaty and chewy but tender and had a satisfyingly crunchy coating.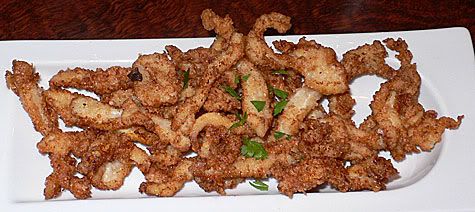 Here's the Ricotta stuffed squash blossoms, served in a spicy tomato sauce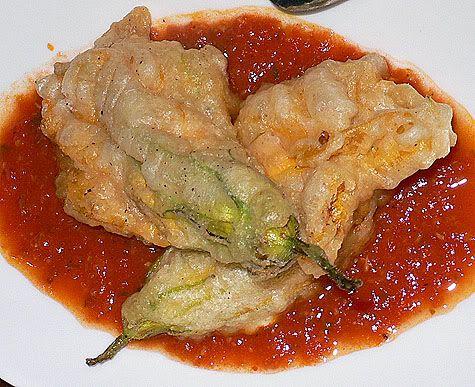 I've never had squash blossoms. They were beautiful and fragile looking (although honestly, I really could only taste the battered and fried part) and filled with rich creamy ricotta cheese. The acidity of the spicy tomato sauce balanced out the cheese and fried coating perfectly.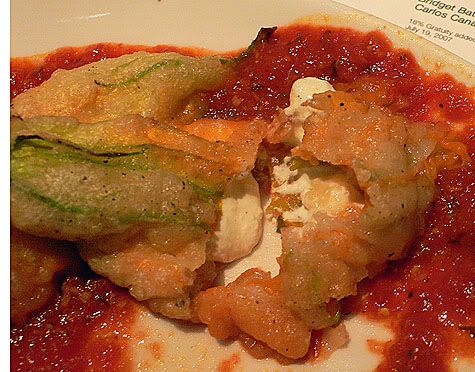 They serve a bounteous bread basket filled with deliciously crispy flat breads sprinkled with sesame seeds and piles of incredible flaky and buttery biscuits.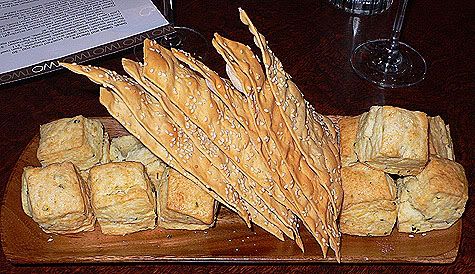 I couldn't help myself and had more than a few of the biscuits which were very good to dunk into the various sauces.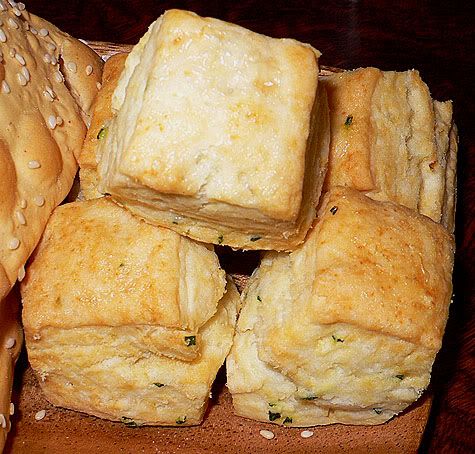 The Raviolo is highly recommended, in fact our table ended up with three orders! It's a single large round ravioli garnished with sage and a browned butter sauce, then dusted with parmesan cheese.

It is filled with a poached egg, bacon and spinach and the yolk oozes out when you slice into the pasta. This was especially good scooped up with the biscuits.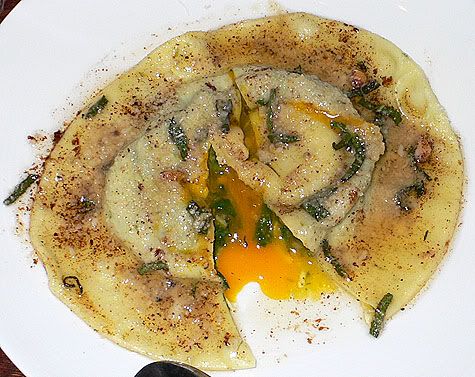 I wanted to try the Roasted marrow bones with sweet onion broth and crusty bread. They served the bones with little butter knives that were not the best tool to scoop with, and at some point I noticed DDR smacking the bones against her dish to loosen the last bits. The onion broth was very good and had soaked into parts of the bread, creating a rich and indulgent treat. This was also good to dip up with the biscuits.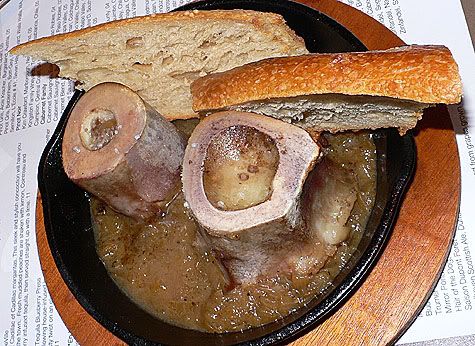 We couldn't resist ordering the perfect French Fries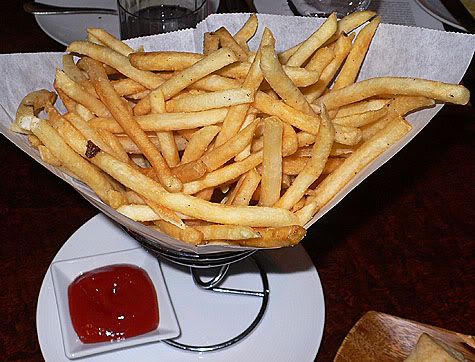 DDR and P split 3 dishes, they had another Raviolo, along with Risotto mixed with smoked garlic sausage and shrimp, sweet peppers, green onions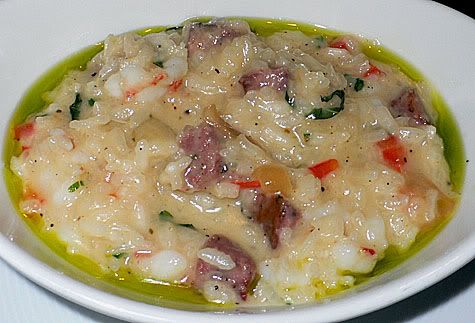 They also split the Cannolini stuffed with Ham hock and braised lacinato kale, mascarpone, swimming in a tomato sauce, which they cheerily shared with me.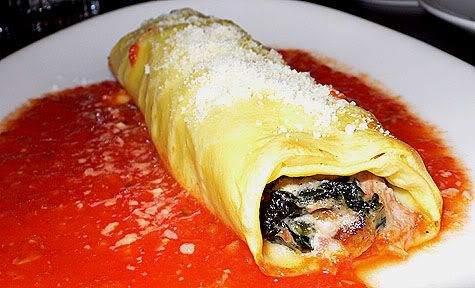 The ham hocks were tender meaty and succulent bits mixed with chewy kale and creamy mascarpone rolled up in pasta and was so good scooped up with some of the tomato sauce.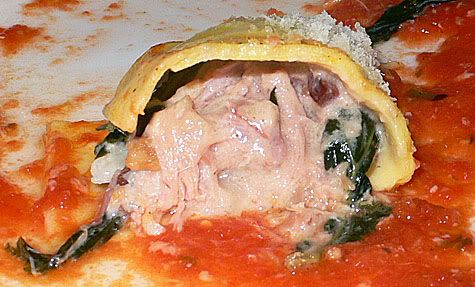 FH had the Linguini with Rockshrimp in a chili, white wine garlic sauce. I nipped a bite and it was zesty and light but savory and the shrimp and pasta were perfectly cooked. He and KC split another Raviolo…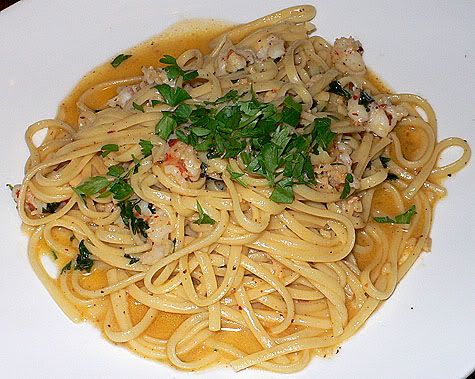 and a side of Caramelized Broccoli with garlic, chili and lemon. The broccoli was slightly charred, which gave it a dark smoky flavor that was compelling and addictive.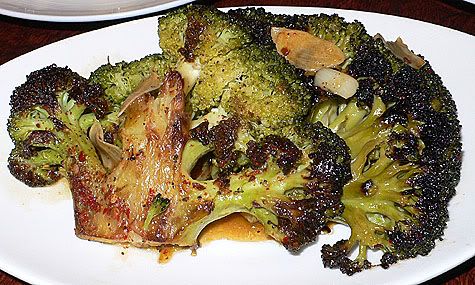 I had an urge to try the Braised Lamb Cheeks served over Polenta. FH mentioned that lambs scream when they are slaughtered and I kept hearing little baaahs each time I bit into the velvety tender and succulent morsels…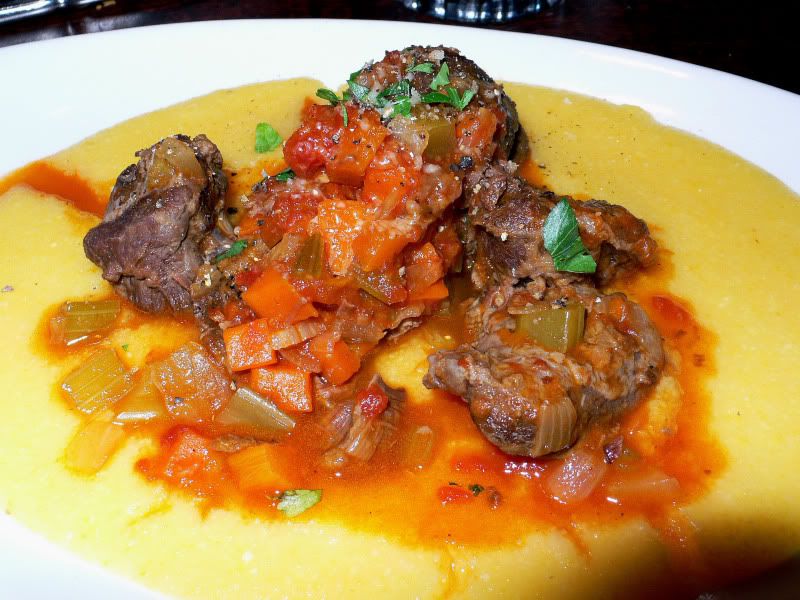 Both KC and Mr. K had the small sized Fettuccine with Fennel and Sausage. Of course I was there fork in hand and sampled yet another resoundingly flavorful dish. The sauce was light but rich with chili flakes, roasted fennel and bell peppers and the sausage was spicy and peppery.
JT had the Roasted half duck on the bone, served with a Flavorosa plum chutney. She sliced off a piece for me to try and it was succulent and juicy with crispy skin.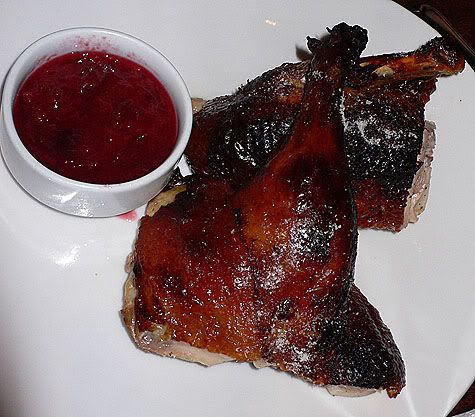 She wistfully asked if it came with anything on the side like mashed potatoes and gravy, and ended up ordering a side of Polenta since it didnt. The polenta was served in a gorgeous little copper pot.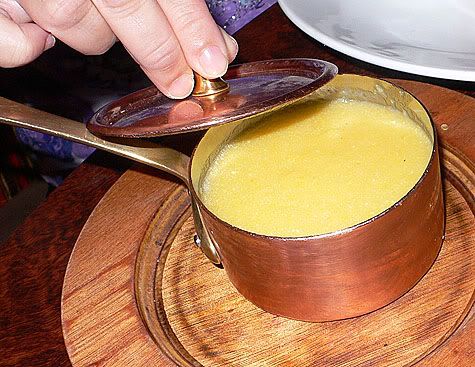 I was feeling very stuffed but we decided to share a few desserts. The Donut holes filled with Raspberry jam served with Vanilla Sauce were puffy and dusted with cinnamon sugar.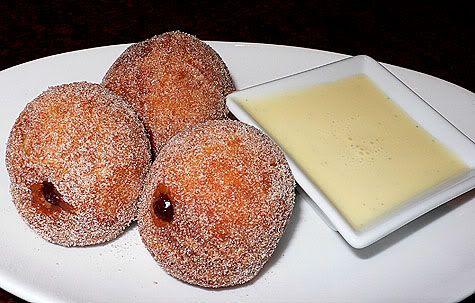 This was much less sweet than any donut I'd ever eaten, even the filling was kind of weak.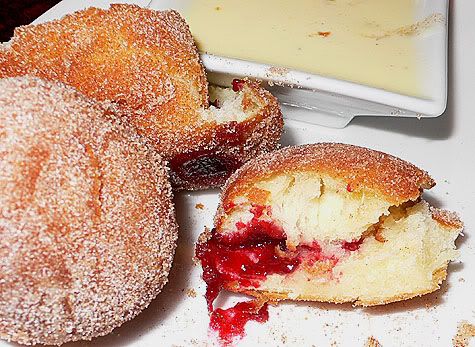 I ordered the Popsicle which was a gorgeous burgundy colored Raspberry-lemongrass granita, blending into limeade then into dark cobalt blueberry. The flavors were bright, intensely fruity and refreshingly icy. It was my favorite dessert.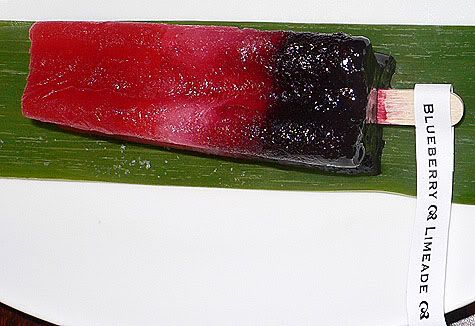 and JT ordered the Three mini Ice-cream sandwiches which were chocolate chip with vanilla ice cream, brownie with fresh mint chip ice cream, and macadamia chunk cookies with coconut ice cream. Each sandwich was delicious on its own, but my favorite was the mint chip ice cream (and I don't usually like mint chip)! It was intensely spearminty. Well the coconut ice cream and macadamia chunk cookie was my favorite too…
The dish came out of the kitchen with a delicately handwritten celebratory salutation. Thanks JT for organizing this fabulous birthday dinner…
We were seated in the big dining room in the rear next to the kitchen and it was fun to watch the studied and precise activity, it was a very calm looking operation. The only thing missing was the Sea Urchin pasta from the menu that night…