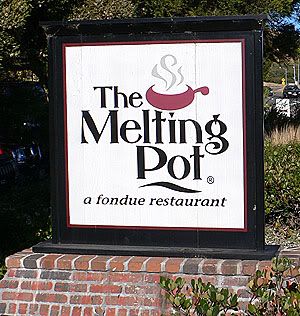 125 E. Sir Francis Drake Boulevard, Larkspur, CA
I love fondue, it's fun to cook your own food, like for korean bbq, japanese okonomiyaki or yakisoba, shabu shabu, well it must be my cultural heritage! Anyways, DG sent an email out asking if anyone had been to the Melting Pot in Larkspur, and we jumped onboard immediately. The typical menu at the Melting Pot includes gooey pots of cheese to dip bread and veggies in, then boiling pots of oil or broth to cook meats and veggies in and then pots of melted chocolate to dip fruits, cakes, brownies and cookies in. What's not to like?
Getting there was surprisingly easy. The Larkspur ferry terminal is about one block from the restaurant and we picked a beautiful day to cross the bay.
The restaurant is inside of a historic old brick kiln and it feels like you are in ancient catacombs or at least an old wine cellar.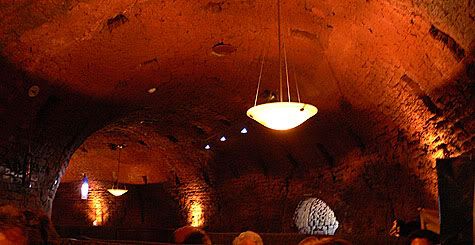 We got to sit in a big round booth with plush cushions where we could spread out but it still felt cozy and everyone could reach the pots of food. It was actually very intimate as we were mostly cut off from view of the other tables and engrossed in our fabulous fondue feast.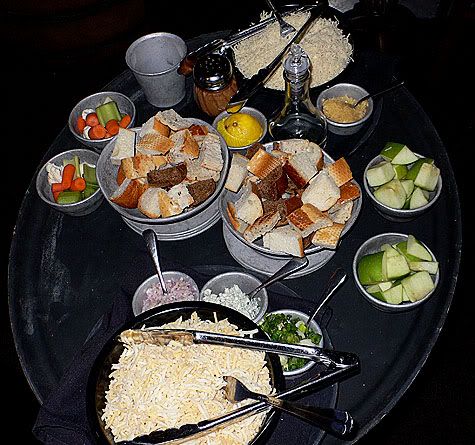 The cheese fondues were excellent and were made by our server at the table. We had the Traditional Swiss fondue, which had a gorgeous smooth texture and an excellent balance of flavors with the melted Gruyere and Emmenthaler cheeses, garlic, and nutmeg. We also had the Wisconsin Trio, which was a blend of fontina, butterkasse and blue cheeses mixed in with shallots and green onions.
The vegetables are something that I must comment on… they used what are known as baby carrots, which are really chunks of regular carrot that are formed into lozenge shapes and as bland and flavorless as they come. The celery was also slightly wilted and ragged around the edges. It's the vegetables that really point out that you are eating at a nationwide chain restaurant that buys their produce in bulk somewhere not in California. In many ways it's a travesty to be served vegetables like this in the Bay Area, especially for the cost of the meal… Of course, they must do this intentionally to showcase the rich gooey cheese.
Not surprisingly, the salads were comprised of the same produce. The Chef's salad came covered in a dreadful sweet mustard dressing with a glooey texture that adhered to everything and couldn't be avoided. I decided to save room for dessert and skipped this course…
The Mushroom Salad was the only salad that I liked because it was plain, simple and honest without trying to be more than it was. It wasn't much to look at, just thinly sliced mushrooms over iceberg lettuce and covered with a parmesan Italian dressing. Fortunately DG was willing to share…

EG had the featured salad of Mandarin and Almond Oriental Salad, with fried wonton strips.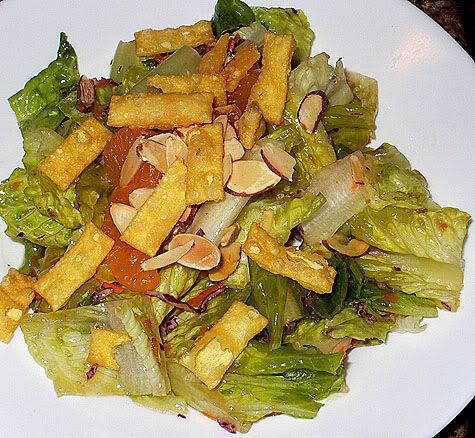 BG had the California Salad, which came on a lovely bed of mixed spring greens. It had sliced tomatoes, walnuts, gorgonzola cheese and a raspberry vinaigrette.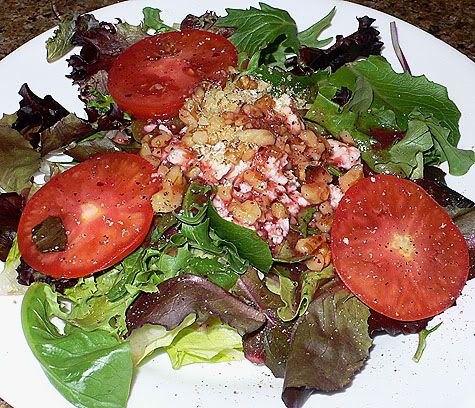 We moved onto the next course, the main entree which was a featured mix called Fondue Fusion. It was a huge platter of lobster tails, vannamei shrimp, Ahi tuna, teriyaki sirloin, tenderloin, Penang chicken and potstickers. We were served 2 of these platters for 5 people….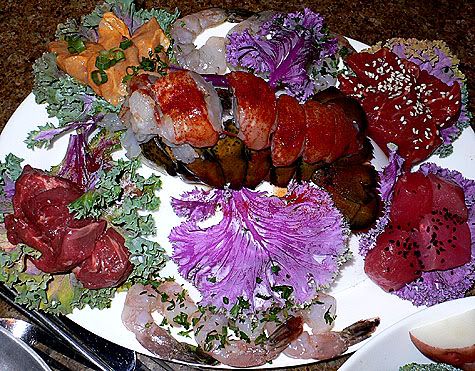 We decided to try one pot of court bouillon which was chicken stock and herbs, and the other was hot oil for fondue bourguignonne. The two pots came in covered contraptions that were removed once they arrived safely at the tables.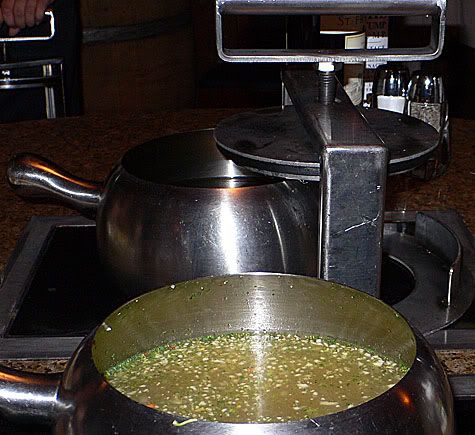 We were advised to cook everything on the long skewers but to remember to take the food off and put onto the plate to eat with the dinner fork because the skewers get very hot in the pots. We had platters of vegetables: squash, mushrooms, cooked potato and broccoli. There were quite a few sauces, a plum sauce, garlic butter, gorgonzola cream sauce, a chili sauce, curried yogurt, herbs in cream cheese that we were encouraged to stuff into the mushroom cap, dip in batter and fry…
This was a lot of fun, there were so many things to try and it was challenging to keep track of what was cooking in the two pots.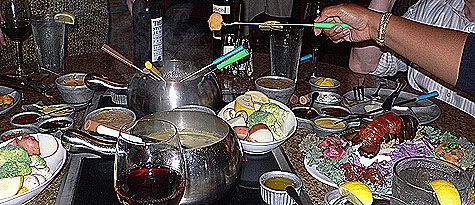 At the end of the course, we found an abandoned dried out item that no one would claim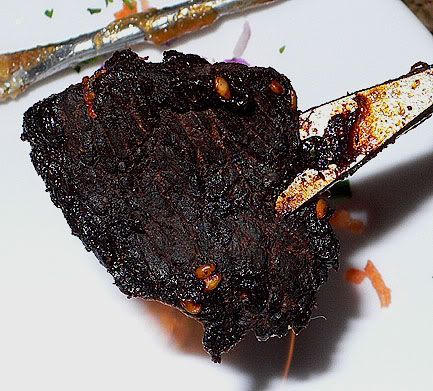 At this point we were still faced with dessert! We decided to try one dark Chocolate Turtle, which was mixed with caramel and chopped pecans, and the S'mores, which was milk chocolate mixed with marshmallow cream and topped with crushed graham crackers. Both were served flambe at the table.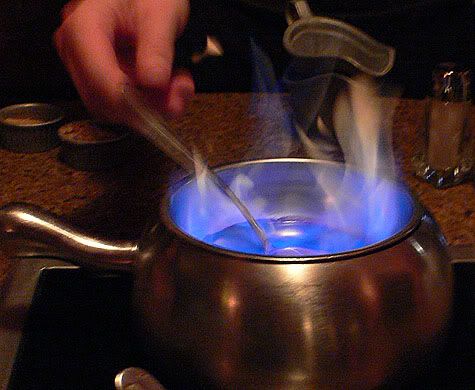 We got two platters full of fruit: strawberry, banana, pineapple and treats like cheesecake, brownie, pound cake, graham crackers and marshmallows covered with toasted coconut or crushed oreo cookies.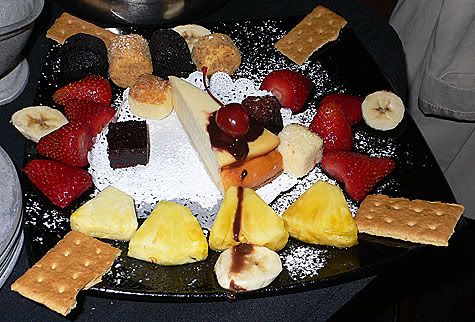 Despite getting there at 6:00, we missed the last 8:50 ferry back… this was an epic feast on a grand scale while I never felt that it was dragged out or that we had to wait for anything it took us over 3 hours to finish our meal. Fortunately, EG drove over from the east bay and took us over to catch bart to our respective destinations.
The menu is setup to order for pairs, so we had 2 sets for 4 people, as we knew that there would be more food than we could eat. It was $60ish a person, which included 2 bottles of wine and an after dinner macchiato for BG, our designated driver. It is definitely worth the trip over, but I'm thinking about going to the happy hour where you can get just the chese fondue for half price next time, which would leave room for dessert too…