CK came back from her trip to Europe raving about a fantastic Japanese pancake that she had in Amsterdam, which sounded just like one of my favorite dishes I had enjoyed when I lived in Japan. We compared notes and indeed we were talking about Okonomiyaki, which literally translates to grilled as you like it in Japanese. It begins with a batter made of flour and water and includes chopped cabbage, egg and various toppings like thinly sliced meat or seafood, red ginger, yakisoba noodles, corn and well, whatever you like… It is topped off with Bulldog sauce (a savory sweet thick sauce), kewpie mayonnaise (comes in a squeeze bottle and tastes more eggy than American mayo) and flakes of dried seaweed and dried bonito.
Izumiya serves both the Hiroshima style, which is more pizza like because the batter is cooked first as a base and then topped with other ingredients; and the Osaka style, which is more like a pancake because the ingredients are incorporated into the batter.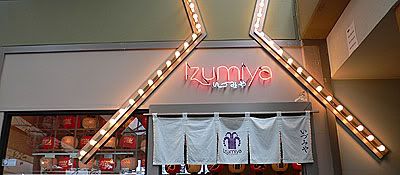 We started with the Agedashi Tofu, which are squares of tofu lightly battered and fried, then served in a fragrant smoky dashi broth and topped with dried seaweed and green onion. The tofu had a creamy custard consistency and was a delicious treat that EE thought tasted like eggs.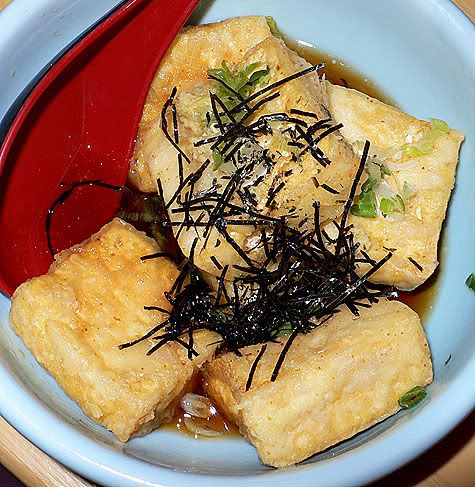 I ordered Chicken Kara-age, which is marinated chicken tenders, lightly battered and fried. It was served piping hot and the savory juices burst out when you bite through the crunchy crust.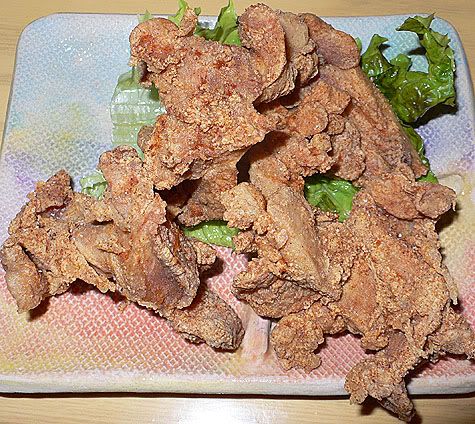 We decided to split a few dishes and had the combination set of Curry Rice with Beef along with an Osaka style Okonomiyaki. It's rich and heavenly and comforting, something that would be good on a cold foggy night. The curry is served with a pile of sweet and sour pickles that are supposed to be mixed into the stew.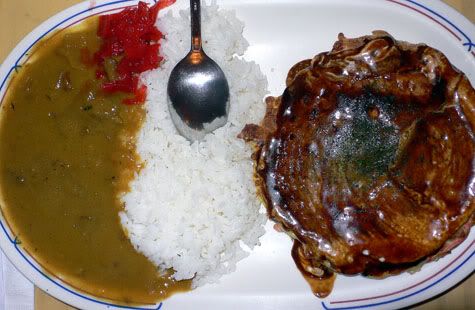 The Modern Yaki, is Hiroshima style, the difference is that in Hiroshima-style the chopped cabbage is cooked on top of thinly spread batter, along with other ingredients including noodles. The entire cake is turned over at some point to finish cooking throughout.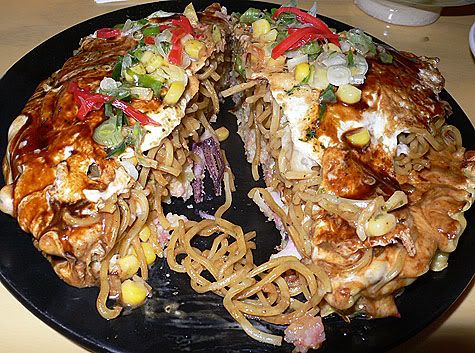 I had read some complaints that they don't serve dried bonito flakes, so I brought a little stash in a ziplock. I sprinkled some over the saucy toppings and the flakes swayed and curled as the dried fish soaked in moisture and incorporated into the sauce. Some of my dining partners looked dubious as this fine japanese condiment is apparently sold as kitty treats here…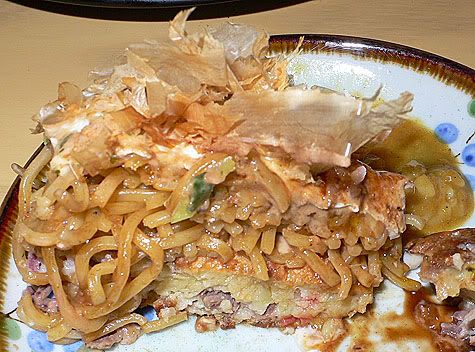 We also tried the Yaki-udon omelette, which was pretty much a pile of panfried udon wrapped up in an omelette and garnished with a smear of ketchup.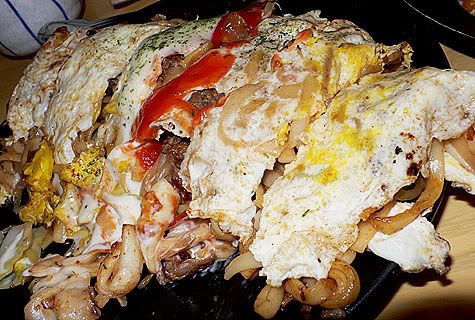 I really enjoyed the meal although I prefer the grill it yourself type, but I don't think we have any around here. There were things that would have made it better, like more condiments on the table and a little more attention from the waitress, but the food was tasty and satisfying, the restaurant was comfortable and spacious and the menu is long with a lot of Japanese comfort food.
Since this was one of many birthday meals, I got to take home boxes (the good cornstarchy paper ones that decompose within our lifetimes) of leftovers. Mr. K hates any of the starchy teppanyaki dishes made of either batter or noodles, and he suspiciously sniffed me as I came in the door carrying my heavy fragrant cargo. I had them all to myself and enjoyed them reheated for breakfast the next morning…