Raintree Drive & 101, Scottsdale, AZ | website | previous post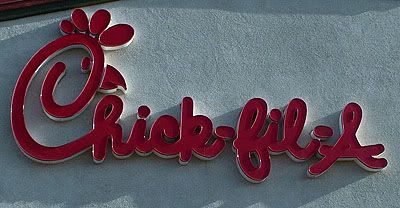 Chick-fil-A and I go way back. I acquired a taste for their original chicken sandwich when I worked at the mall in southern california long before the turn of the century. The food court was my hunting ground for lunch and I continue to hold a vestigial fondness for Hot Dog on a Stick and Chick-fil-A. I suppose that I have always liked Chick-fil-A because they use real chicken breast meat, not the formed patties. I would always order the original sandwich, which is just the breaded chicken filet on a bun with a couple slices of pickle.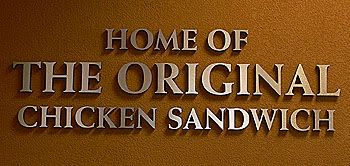 It's very civilized in here. They offer every possible condiment, tabasco, mayonnaise, mustard, all forms of sugar, salt and pepper as well as purelle hand wipes, which are very necessary because the buns on the mini's leave a sticky sweet residue on your hands. It's odd that the beverages are refillable, but you have to bring your cup back to the counter and have them fill it.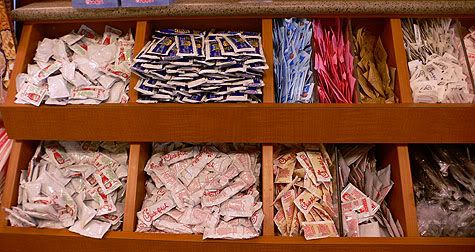 be still my beating heart… our first visit we picked up a bunch of breakfast minis and hash browns to go. Unfortunately we were really rushed before work, so I didn't have time to take pictures or even relish the long anticipated experience…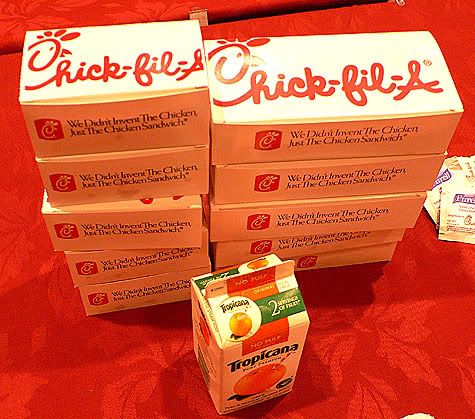 Fortunately, on our way back to the airport for our return flight, we stopped off again for brunch/late breakfast (can you have brunch at a fast food restaurant?)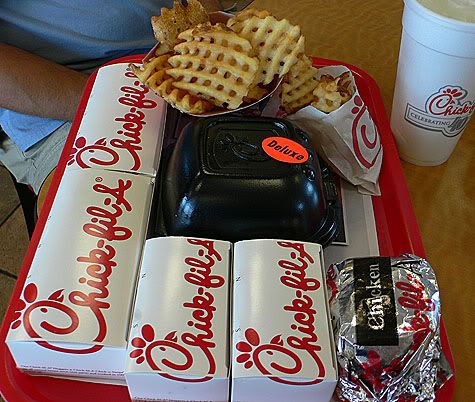 BG had the Chick-fil-A Chicken Deluxe Sandwich with waffle cut fries which he said made him feel ill.
AC got the Chick-fil-A Chicken Biscuit and the Hash Browns and had to order another 4-count box of Chick-n-Minis to split with CE.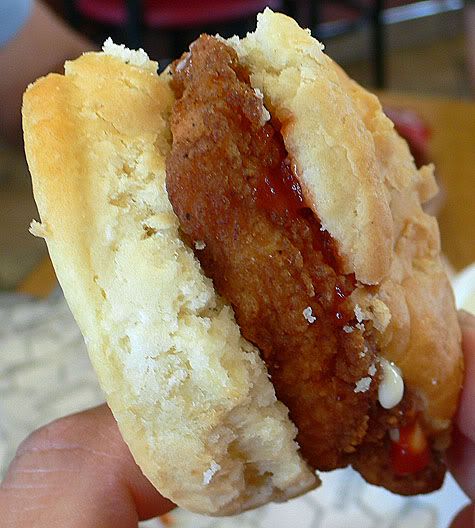 Me, I got the Chick-fil-A Chick-n-Minis (4-count) and Hash Browns, my favorite combo.
I like the ratio of the fried exterior of the chicken to the amount of bun with the minis. Notice the texture of the juicy white meat and how it pulls apart in fleshy strips when you bite into it.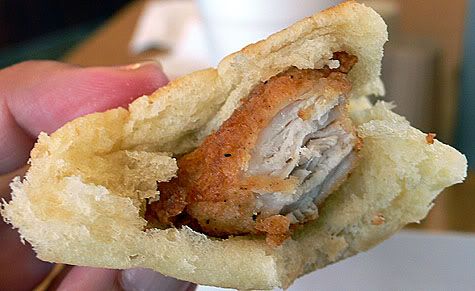 Same thing with the Hash Brown nuggets. The smaller pieces are the perfect size for eating with your fingers and have more fried surface area than the McD patty sized hash browns.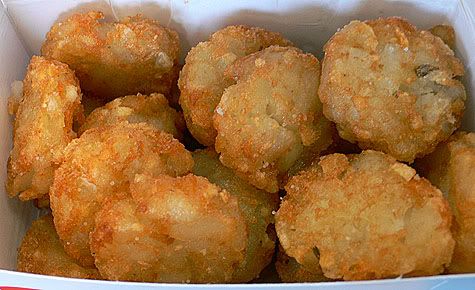 It was as good as always. I don't eat fast food very often, but look forward to those occasions when I do, especially if it's Chick-fil-A. Maybe I should try to hunt down Hot Dog on a Stick next…