note: this restaurant closed in early 2008…
500 Jackson Street, SF, CA | website
The restaurant is housed in an anonymous looking brick building in the Jackson Square district, which is in between the financial district and north beach.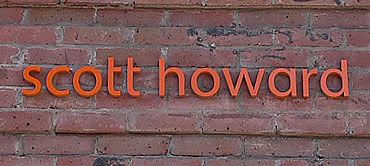 I was finally able to talk Mr. K into traveling all the way into the city (he now works in Silicon Valley) for an early dinner, enticing him with the delicious sounding tasting menu for the San Pellegrino Dine Out at Scott Howard. For a limited time, money for each Dine Out meal is donated to a charity for ending hunger in children living in America.
The interior is dark and lovely and I was happy to get a windowside booth (the better for taking pictures of course). I'd like to comment that the service was particularly warm and accommodating with all of our various requests.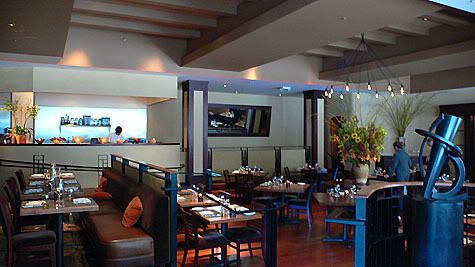 We started off with a basket of delicious smelling warmed breads. One had herbs, one was a crusty wheaty sourdough, one had toasted walnuts and raisins, all served with a big slab of rich creamy butter.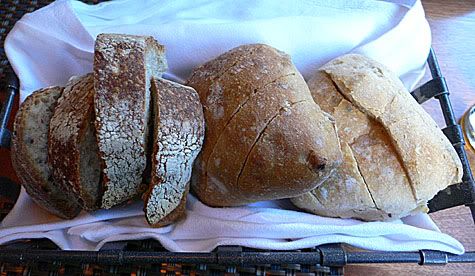 Our first course was Chilled White Corn Soup with sea salt and drizzled with olive oil and chives. I wondered if they serve it warm when the weather gets cool… it would be delicious either way.
The soup was buttery and was full of the sweet creamy flavor of corn. Mr. K began signaling to one of many servers hovering nearby that we needed ground black pepper. Lots of ground black pepper….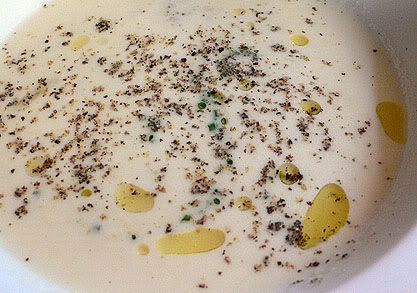 Yes we came for the San Pellegrino Dine out, but when has Mr. K ever been able to stay within the confines of a prix-fixe menu? Well, we were celebrating closing the deal on a grueling re-fi… so I was certainly up for some Oysters on the halfshell, which were from somewhere in Washington. They were served over a long white platter festooned with rock salt, peppercorns and seaweed. The oysters were sweet and briney and clean tasting.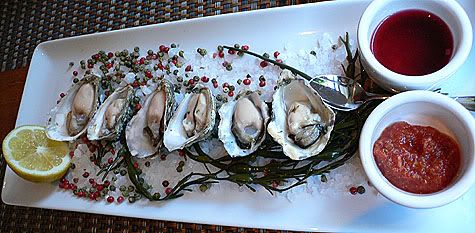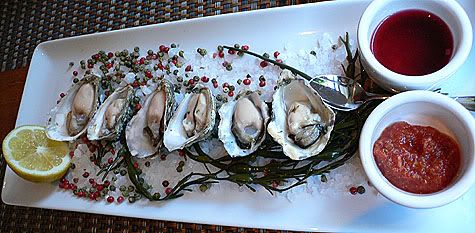 There were two sauces, one was a cocktail sauce that tasted like ketchup with some fresh herbs added… fortunately they were served with a big juicy lemon half. Again Mr. K gestured for more black pepper and I wished for some Tabasco…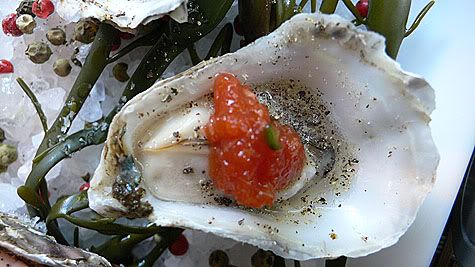 The other container was a dusky mignonette, colored with beets and very sprightly and sublime with the creamy sweet oysters.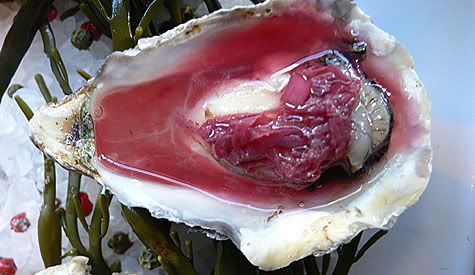 We both ordered the Japanese Hamachi appetizer, which was served with a truffled ponzu that overpowered the dish. Ponzu (generally soy and vinegar) is a classic accompaniment for some types of sashimi, but the aroma from the truffle oil overwhelmed the dish did not combine well with the harsh acidity of the pickled cucumber. The lone pink grapefruit segment was bright tasting and juicy and I wished there were more, as the sweetness may have helped to balance things out.
My dish was garnished with a pretty purple leaf.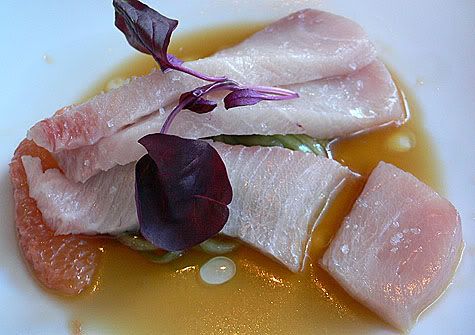 The best dish of the evening was the Seared Diver Scallops which were perfectly crisped on the outside edges but the interior was succulent and soft. The combination of flavors and textures with the chewy Maitake mushrooms, crisp sweet corn, and savory herby sauces was so good!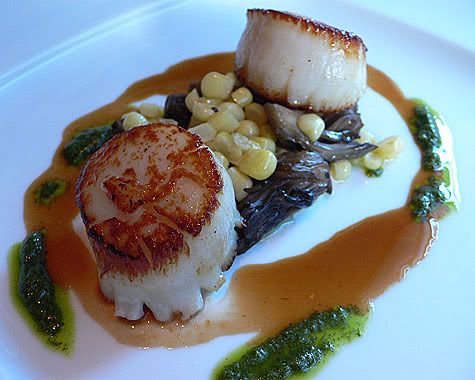 This was the most delicious bite of all!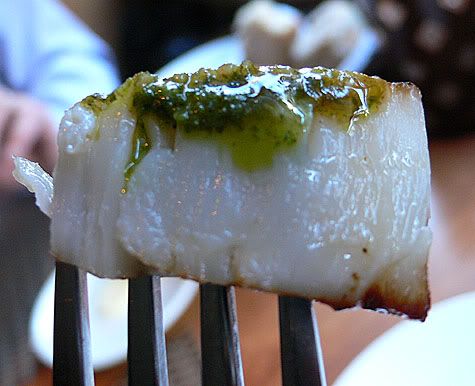 I ordered the Sous Vide Short Rib, which was served with a few favas, spring onions and baby carrots, in a light shiitake au jus. I had to look up the term sous vide which is a relatively new technique using cryovacked plastic bags placed in hot water and cooked slowly.
The meat was tender and flakey with veins of rich gooey fat running through the thick slices, and the thin au jus and fragile vegetables were insubstantial in comparison. The obvious sides would be mashed potatoes and gravy, instead it felt like I was eating spa food…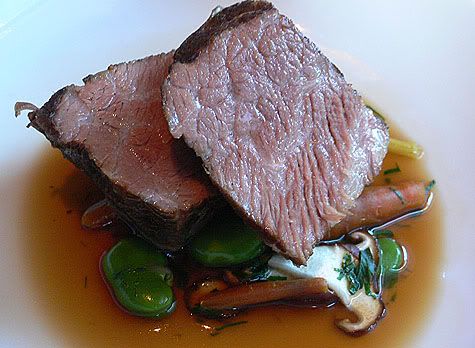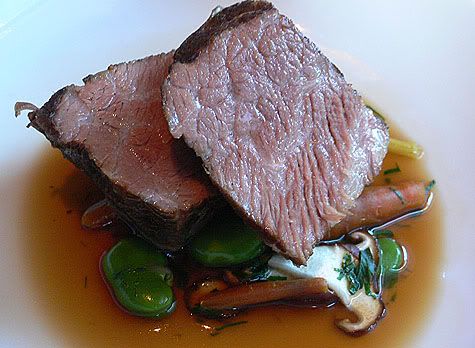 We ordered one of each dessert. Warm Chocolate Cake, with blackberry coulis and whipped cream. The inside was molten and decadent, nope definitely not spa food.
The Butterscotch pudding with whipped cream was sweet as a confection and tasted really good with some of the molten bittersweet chocolate cake drizzled over it.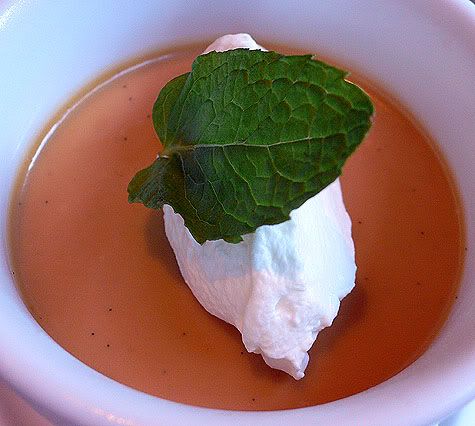 What a feast! I was dazzled by some of the dishes and not so much by some of the others… I was glad to see that they also offer a happy hour prix-fixe where you can order 3 dishes for $31.95, which I will definitely be back to sample more dishes from their very interesting menu. The carrot chervil soup for instance…