375 South Saratoga Ave., San Jose, CA (408)246-3933 | website
Ramen always makes me think of the movie Tampopo and the noodle master scene, which in turn always makes me crave really good ramen, nothing mediocre will do.
Growing up, I spent some years in SoCal near Lomita and Gardena where there are some very fine Japanese noodleshops and I practically lived off ramen and yakisoba (no, not the packaged dry stuff) during my year in Tokyo as an exchange student. I must admit that I have as strong an opinion as any who profess a love for ramen… although I come nowhere near rameniac's obsession! I am resigned to the fact that I have to travel out of town for the good stuff, so after reading much hooha about Halu Ramen, I embarked on the 80 mile roundtrip to check it out, humming an old Dionne Warwick tune….
The following is snipped from their website:

The heart of ramen is its soup. Ramen Halu's soup is a blend of two different soups. One of the two soups which form the base is a savory milky white broth made from pork backbones and thighbones to which are added fresh and dried vegetables and boiled over high heat for ten hours. The second soup is one that is based on chicken along with various fresh and dried vegetables, and this mixture is simmered thoroughly, taking care to skim off the froth that forms on the surface, for about eight hours.
Sounds like they take ramen very seriously and special order noodles from a local factory that makes them fresh every day. These original noodles are notable for a mouth feel and ease in swallowing unique to Japanese ramen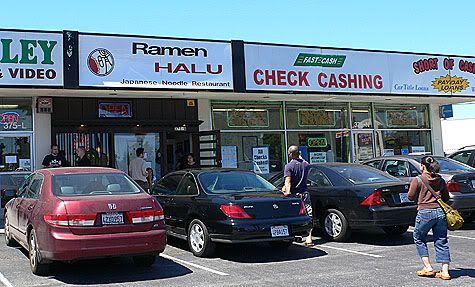 Their hours on Saturday are 11:30-2:30. When I arrived at 2:10 there was still a line out the door, so I went in and put my name on the list. I waited about 15 minutes and was glad that I made it in before they closed! I noticed as I entered the restaurant that the temperature was very comfortable… they had the A/C on and it was only 80 degrees out. That wins extra points as far as I'm concerned. I was seated in a cozy little bar that doubled as the cash register area.
I decided to try the small sized noodle Halu Ramen ($5.50) with their house special broth which was a little bit gruff, but rich and hearty with bits of pork fat floating in the glistening surface of the soup. The noodles are robust in perfect proportion with the soup and have a very nice chewy texture.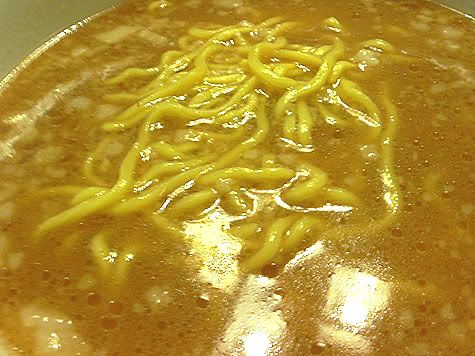 I ordered The Works (add $6), which includes an assortment of salted cabbage, corn, ear mushroom (Kikurage), green onion, sheets of dried seaweed, menma (seasoned bamboo shoots), spinach and ni-tamago (half a soft boiled seasoned egg) along with two thin slices of cha-syu (pork shoulder) served on a separate plate for you to add to the soup as you like.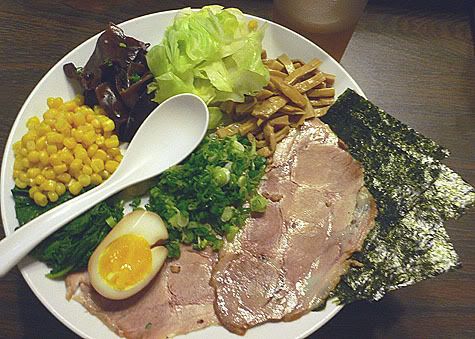 I sprinkled a little of the Shichimi Togarashi, a spice blend of 7 ingredients that adds a nice tingle of chili heat to the broth.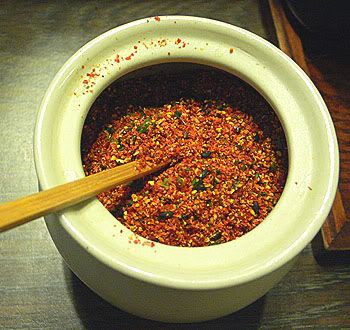 The works provided an exciting array of crunchy textures and a variety of taste elements to mix into the noodles. I found myself caressing the surface of the soup with my chopsticks to express affection… The corn was sweet, the chunky bamboo shoots were crunchy and picklish and the Chashu was juicy and tender. It also amounted to a lot of food and I was abashed that I wasn't able to clean my plate…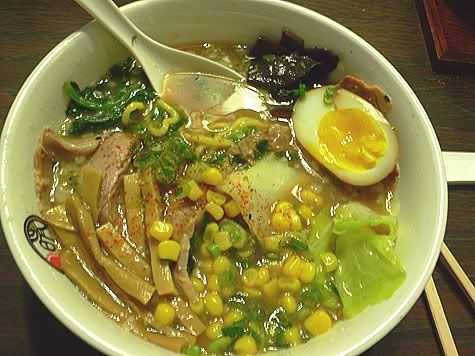 The interior is mostly traditional with linear bamboo architectural elements and rice paper lanterns, but I guess that the owner's a bit of a renegade surfer which explains the custom designed boards hanging on the wall and the frisky marine themed mural on the ceiling. By the time I finished the restaurant was almost empty.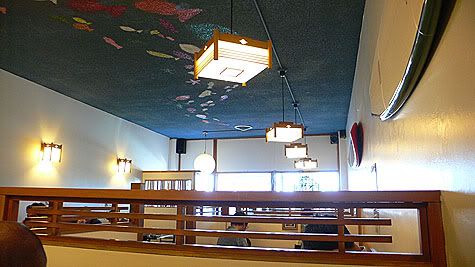 Yes, food shrine alert! The menu has a few other things you can order along with the noodles, but I am not sure you can make a meal of them. People come here for the noodles, which are well crafted for the obsessive fanaticism of ramen devotees… which I am on the verge of becoming! You betcha, I'd do the drive again, especially since I can include a stop at San Jose Tofu (175 Jackson Street) to pick up some fresh tofu.