545 Mission Street, SF, CA | website
It's a fact that I have a weakness for guilty pleasures when it comes to food, especially when it involves frying. Whenever possible I sample the french fries at a restaurant, because it can be a gauge of how they handle the details.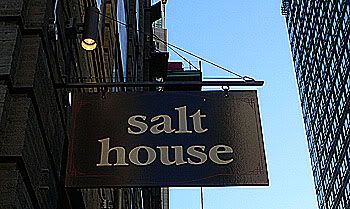 Not only does Salt House have fries, they serve them as Poutine, which is a rich and fattening dish of Canadian origins. The word Poutine is an Acadian slang term for messy mush that had been described to me once and the flame of desire to try this dish has been burning in me for years. I was very excited to hear that Salt House was serving an upscale version of it with Bravo Farms vermont cheddar replacing the fresh cheese curds and a short rib gravy instead of plain brown gravy.The Poutine arrived, a plate of crispy fried potatoes topped with melted white cheese and chopped fresh herbs, in a shallow white bowl which our server drizzled thick hot gravy over. It smelled heavenly and there were large pieces of meat from the luscious short ribs nestled in the rich gravy.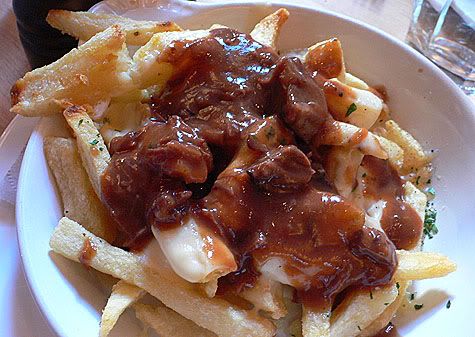 Yeah, slightly out of focus, left-handed photography… but mmmm, the cheesy stringy cheddar infused with fresh herbs and dripping with rich short rib gravy coating thick cut french fries with crispy edges really is a magical experience not to be missed.
They have pondered the details here, look at the icy carafe with ye olde skool looking monogram.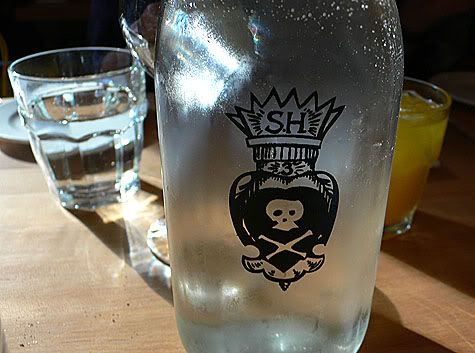 Crusty pull apart Epi loaves with soft creamy butter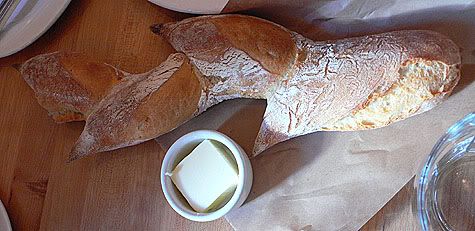 The Suckling Pig, apricots, turnips over polenta was an astonishing blend of flavors and textures. The presentation looked like dessert, especially with the sauce and the fruit, but when I pierced the crisped topping with my fork and pulled off a taste of the tender meat, the flavors were so savory and delectable it was unmistakably a first course and not dessert. The polenta was rich and creamy and perfect with the intensely rich flavors of of the succulent meat, poached ripe fruit and savory sauce.
Heirloom Tomato Salad had juicy chunks of meaty tomatoes with crunchy croutons under dressed greens and thin slices of aged goat cheese. It was a beautiful presentation that was fun to bring down while digging through to get to the garlicky croutons.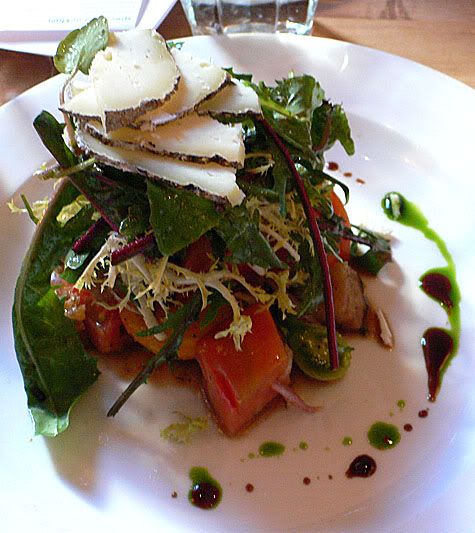 We swooned over the Crispy Shrimp, which had a light fragile crisp shell encasing the succulent meat. They were served over crunchy green beans, almonds, and thick slices of gorgeously translucent serrano ham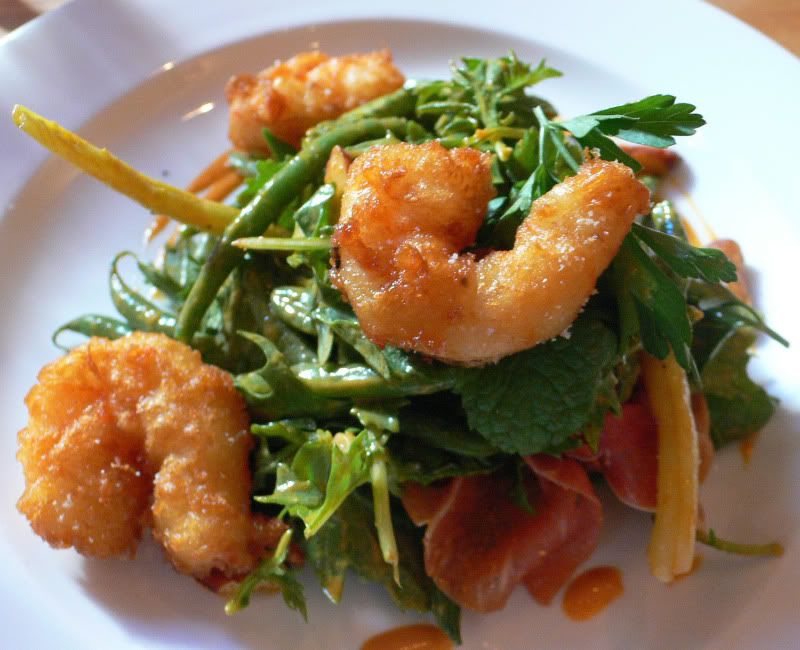 Everything was lightly coated in a very interesting and complex dressing. The greens had a lot of fresh herbal pungency with a satisfying crunch.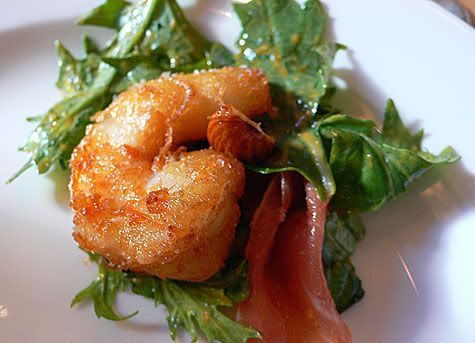 Instead of an entree, I had a final appetizer plate all to myself, the Seared Ahi Tuna over sliced fennel, arugula, avocado and melon, topped with delicate fronds of fresh dill. At the bottom lurked orange colored gelatinous blobs that evaporated in a burst of melon flavor in my mouth. While I enjoyed the sensation, it reminded me too much of dessert and I'm just not a big fan of fruit in salad.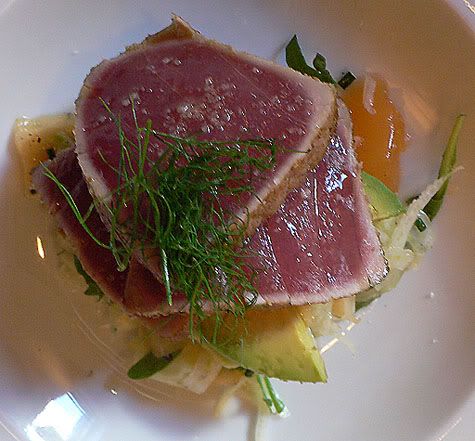 We sat in the back near the open kitchen which was bustling with controlled activity and gleamed like a shiny metallic temple. I always enjoy watching the chefs at work and to see what is coming out of the kitchen…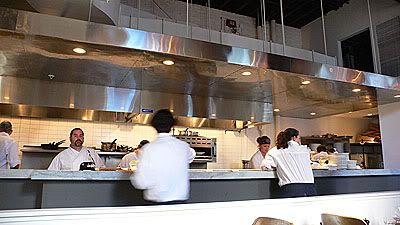 Unfortunately I had to leave so I didn't get a chance to see (or taste) any of the entrees, or desserts but I was smitten with almost all of the appetizers that I tasted. Everything was well seasoned (you can see that most dishes were finished with a visible sprinkle of salt), fresh and flavorful and I know I'll be back for the poutine.
Their website is very cool btw- spare and minimal in a flamboyantly restrained manner… (kind of like their restrooms). It's very clear that someone has taken care of the details from front to back and top to bottom and reaches out to include their web presence and the loo…