Kierland Commons, Scottsdale, AZ | website

We came here after a long 14 hour work day and mostly because it was on the way to our hotel and therefore convenient, (and we did the same thing last year). The ambience is dark and clubby with loud music and feels more like a bar than a restaurant. I wouldn't say that people come here for the food… and you know it's not a traditional sushi bar because none of the sushi chefs are even asian. In fact, I was probably the only asian in the place.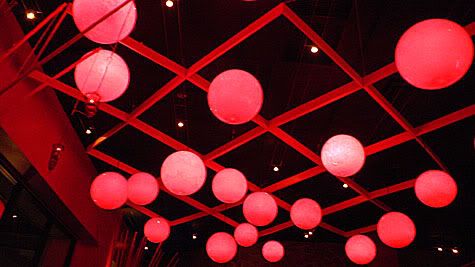 But the food is surprisingly well made. I had an assortment of nigiri: ika with shiso leaf, hamachi and really went out on a limb by ordering uni. Everything was fresh and even the uni was sweet and clean tasting. BG tried a couple of the Pacific Rim appetizers like a ceviche which had mango and peanuts in it which was cloyingly oversweet and a spicy tuna roll, which he sent back for being soggy and squishy. AC went for standard dishes like veggie tempura which was good (but had no broccoli which he was craving) and chicken katsu which was served over wasabi mashed potatoes. We shared an order of pork gyoza which looked very similar to the frozen ones you can get at Trader Joes.
The food was all right, but I wouldn't go there as a destination for great sushi or fusion cuisine.