Awww, fond memories of Thailand… I put a memory card into my card reader and found some pictures of our first meal in Chiang Mai back in May that I had earlier considered lost. How fun to relive the moment. It was our first time out walking around Thailand and we were feeling delirious after the long flight. This was at the Sunday night market although I think that this food court was always open at night…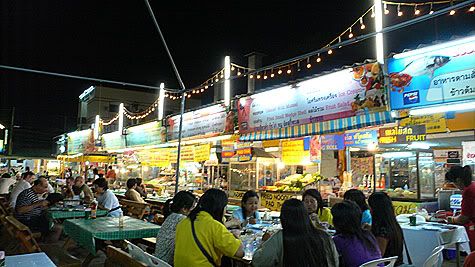 We walked around the market for a couple of hours working up an appetite. Enticed by the smells of food cooking, we walked past stall after stall of vendors all with the fresh catch of the day on display, cooked to your specifications. The vendors stalls lined the perimeter of brightly lit outside dining areas and we finally found our spot. Mr. K liked the way that these gigantic prawns looked.
And we asked them to cook them with curry because many people were eating this. It was amazingly fiery and spicy with whole clusters of berries and leaves that added a ringing herbal fragrance that rose from the steaming bowl.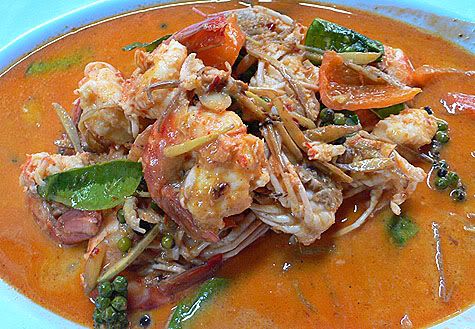 The prawns were sweet and succulent and we consumed them with great enthusiasm, finding it easier to pick the shells and legs off by eating with our hands. Our first experience eating in the outside market in Thailand where the napkins are elusive and about a quarter of the size you expect.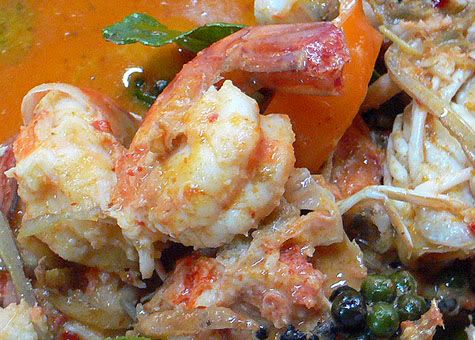 It was delightfully warm out at night and reminded me a little bit of going to summer bazaars at the buddhist temples growing up.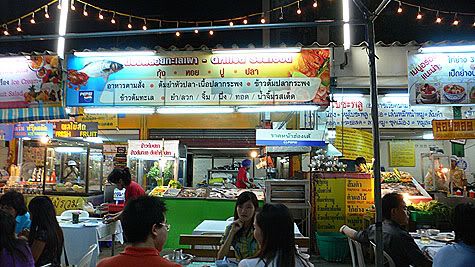 I'll be looking for thai food at lunchtime today.