1361 E Yosemite Ave, Manteca, CA 95336 (209) 823-8481 | Map & Directions
I'm not sure how we found this place, but we've been pulling over to enjoy their delicious cooking for years. Manteca is quite a distance away, so this is generally when we are on the way to or back from Yosemite… It's tucked into a neglected looking strip mall with a Big Boy Market and 99 cent store, and feels a little like the last bastion fending off the encroaching big box stores on the surrounding blocks.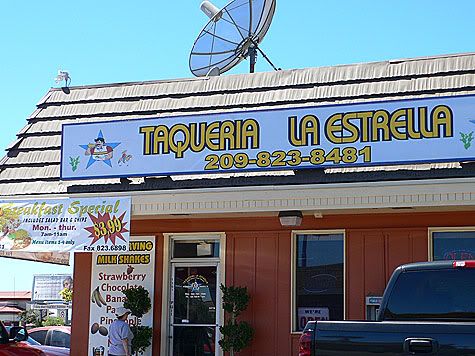 There's always a line at the brightly lit register which showcases pictures of all the dishes on the overhead menu, along with rows and rows of oranges and fresh fruit that are available to be squeezed into fresh beverages.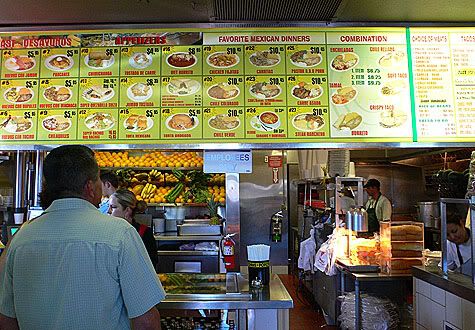 Further down is a fabulous salsa bar which includes a couple of salads, sliced lemons, limes,and radishes, as well as an assortment of pickled vegetables and a variety of spicy salsas.
I got a combination plate with a Chicken Enchilada and Lengua Taco with rice and beans. The rice was fluffy, the beans were thick and creamy with had a nice amount of cheese melted on top. I also like the salad, which is plain and simple, just sliced lettuce, some a mounds of sour cream and guacamole and topped with a tomato slice.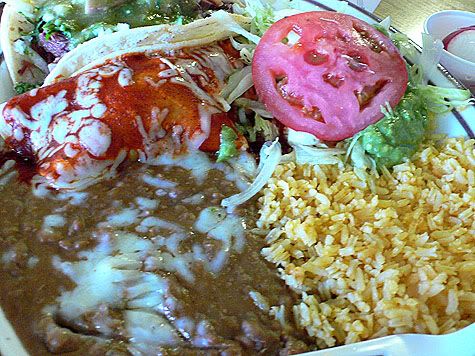 The Lengua taco was piled high with tender meat that had an odd plastic aftertaste that couldn't be masked by the tangy tomatillo salsa verde and chopped onions. I only had a few bites and decided to focus on the other items on the plate, of which there were many…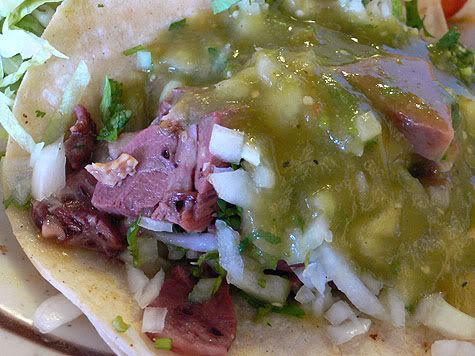 The Chicken Enchilada was chock full o' meat and was especially good with the sour cream and guacamole since it was not very saucy or cheesey. I just poured on some of the creamy avocado salsa and a bit of this and that, and it was delicious.
Mr. K had a cheese enchilada and one carne asada enchilada, the Cheese Enchilada was the best, full of creamy melted cheese and covered with red chile sauce.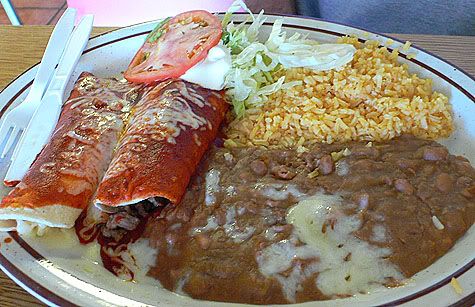 My only complaint is that I wish they would put more sauce over the enchiladas, maybe some on the inside too. They could be sublime with just a little bit more….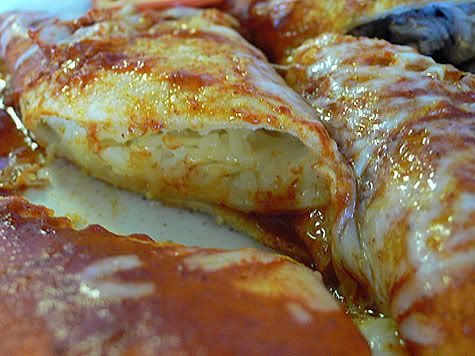 Mr. K pointed out a big glass footed bowl full of a seafood cocktail or stew that a woman across the way was eating with obvious enjoyment. Of course we'll be back, and hopefully we'll remember to try the stew.