923 Pacific Avenue (@ Powell), SF 415-981-7438 | website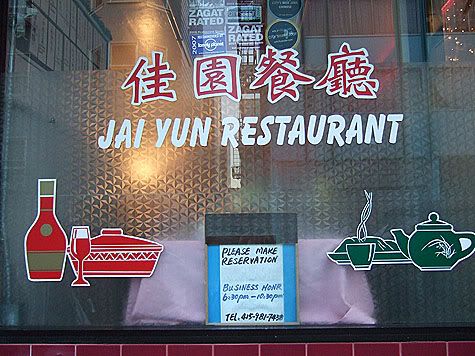 Jai Yun has been listed every year in the Chronicle's Top 100 Bay Area Restaurants since 2003… and after reading his profile in this interesting article, I wanted to experience the epic multi-course feast prepared by the venerable Chef Nei Chia Ji, a one-man show with a devoted following. Dinner is by reservation only which entitles you to a chef's choice meal priced at $45 and upwards. According to a message on their website, Chef Nei shops daily to hand pick the freshest ingredients and only for the number of guests scheduled for dinner that night. It sounded so contrary to the typical Chinese restaurant experience, which is what I found appealing. Making reservations required more than the usual effort (to an almost comical degree), but I persevered and finally set forth, together with a worthy dining partner, food blogger Single Guy Chef.
We met beforehand for a drink at Li Po, a colorful old divey Chinatown bar named presumably after the famous wandering poet who found inspiration in the wine cup. The interior is in great disrepair, but I think that gives it a certain amount of character. We sat at the bar and enjoyed a refreshing beverage before our feast.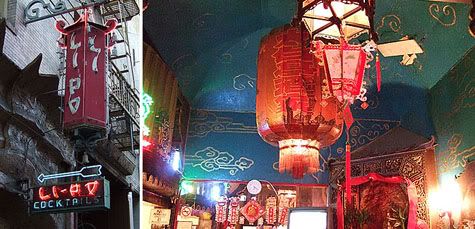 We arrived at Jai Yun a few minutes before they opened and were the first ones seated. I sat facing a board displaying the daily specials, of which there were 20 or so posted. The decor is very utilitarian although they do have pink polyester tablecloths and white paper placemats, pretty much like every other dining room in Chinatown. The woman who seated us came back with a plain metal pot of oolong tea and we decided on the $55 prix-fixe, which ended up being nineteen dishes!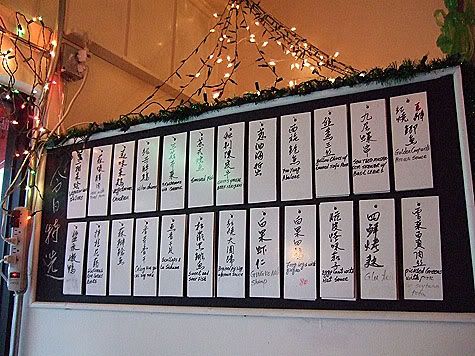 Our server was a serious young boy, who brought out a series of small white porcelain plates piled with exquisite first course dishes. We counted nine and I was reminded of Korean panchan because the dishes were very small.
Cilantro with tiny squares of dried tofu that had a dense chewy texture, mixed with aromatic rice wine and was infused with the strong herby flavor of the cilantro.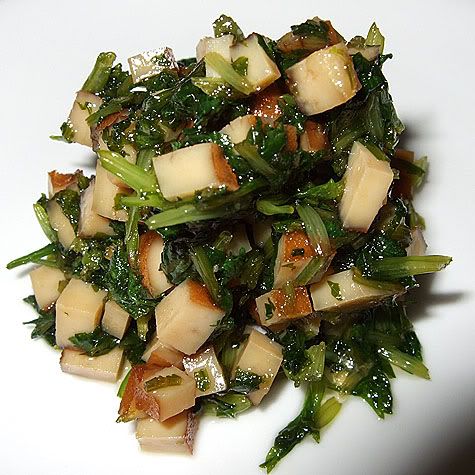 Sliced mushroom medly with sharks fin, garlic and cilantro. There were tiny enoki mushrooms along with delicately small oyster mushrooms, slices of shitake and other fungi that I am not familiar with.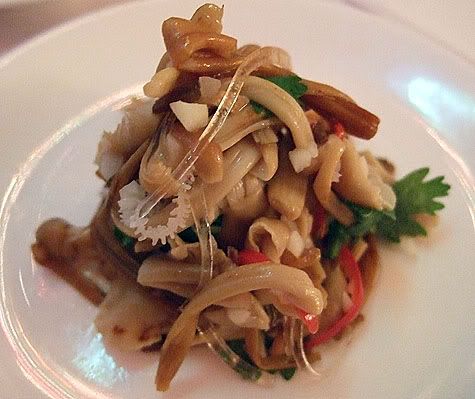 Jellyfish with julienned cucumber, red peppers and krab. The dressing was very simple and restrained, so much so that it was somewhat bland, although the texture was a lovely combination of crunchy, squishy, crisp, and chewy.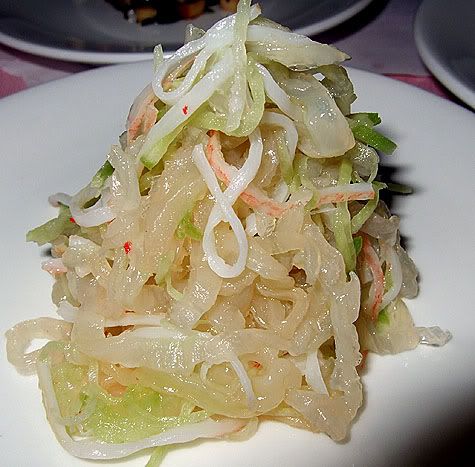 Sliced Pickled Cabbage with fiery hot sliced red pepper, drizzled with a dark salty dressing.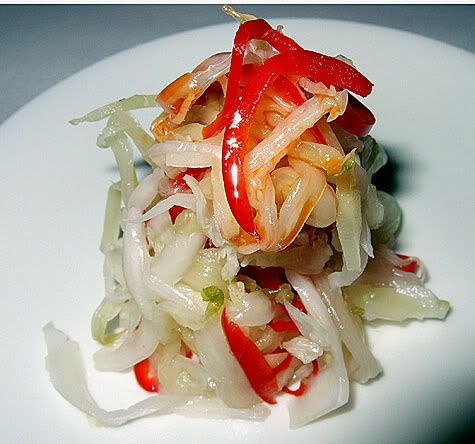 Razor thin slices of Lotus Root in a lightly sweet and tart dressing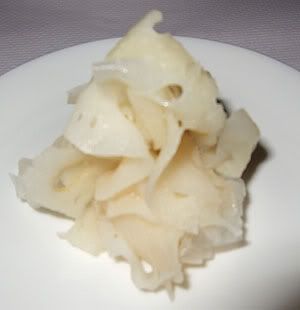 I really liked the small squares of Pickled Radish with sesame seeds. It was refreshingly simple with an excellent crunch.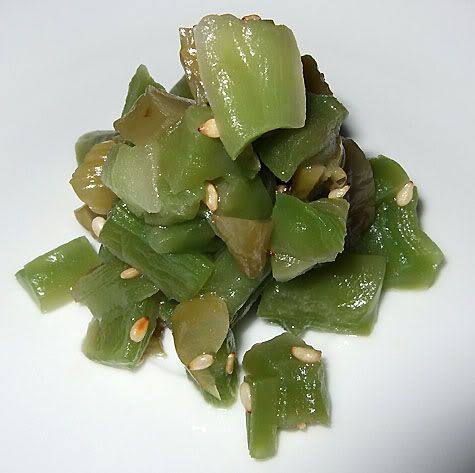 Dried Tofu that consisted of many layers of tofu skins that had been rolled up and then sliced. It was dense, dry and chewy with a slighty sweet flavor but mostly was bland. It provided a good base when combined with flavorful bites from the other dishes.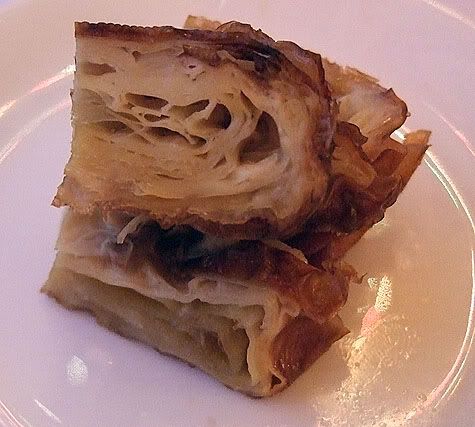 Artistically trimmed paper thin slices of Salted Cucumber that was cool and refreshing and topped with a bright red maraschino cherry.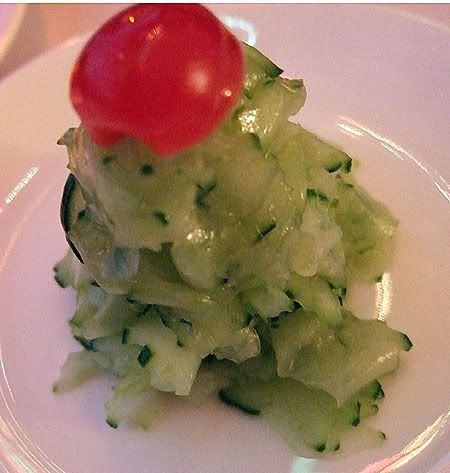 A small stack of thinly Sliced Beef that was infused with spices and richly marbled with fat served over a mound of soybeans.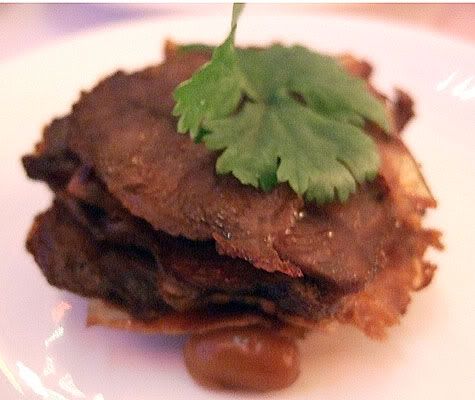 The slices of beef were small (about 1.25 inches across) and sliced very thin with a visually striking pattern of fat running across the grain.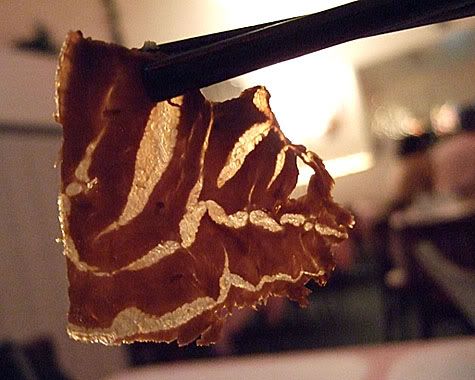 It finally came to me that this complement of nine first course dishes were separate components of tastes and textures that formed a palette from which you create your own combinations, its beauty lay in the sum of its parts. We both marveled at the meticulous skill and artistry involved with the beautifully sliced and diced dishes.
The second courses began to arrive. These were larger plates containing a generous scooped serving with very simple garnishes, mostly of cilantro and maraschino cherries. The aspect of the one-man show was evident here with the very plain platings.
The first dish was Sliced Abalone Sauteed with Egg Whites that was pale and steaming with a slightly volcanic odor. Single guy said it was probably the egg whites and indeed it was an eggy smell tinged with brimstone. The combination of soft silky abalone and ethereally fluffy egg whites that evaporated in your mouth was delectable.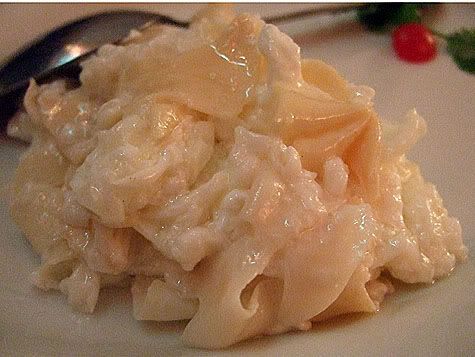 Gluten with fresh bamboo shoots, mushrooms and bell peppers sparkled with a fine clarity of flavors but the gluten had a rough coarse texture that was distracting. I loved the little tied knots of dried tofu and the tender bits of bamboo shoots.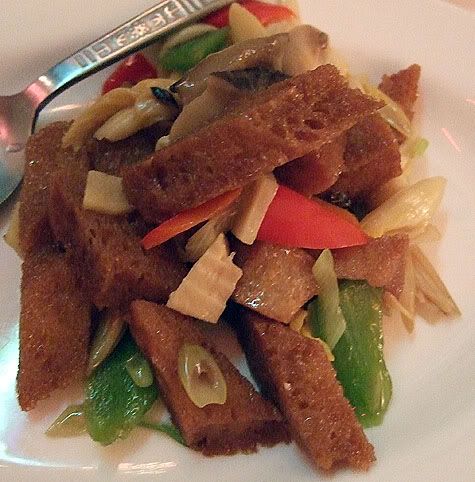 Shrimp with ginko Nut. Despite being told these were gingko nuts, and seeing it on the menu, I am still not convinced – these were garbanzo beans as far as I can tell. While the flavors were pure and clean I found the overall texture combination of the tender shrimp and soft beans mushy, even with the addition of small squares of crunchy bell pepper.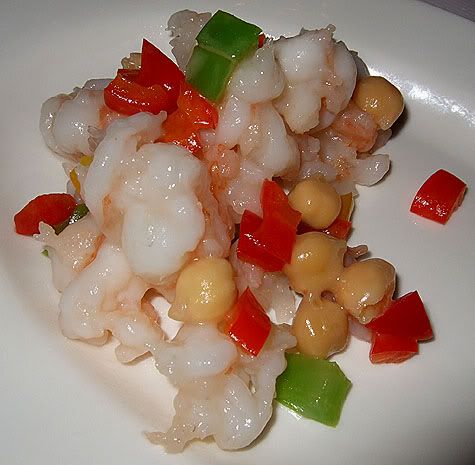 Tofu with Soybean was way overseasoned which was a shame as I could see that there were interesting dried things and slices of bokchoy and had a lot of interesting chewy, crunchy textures.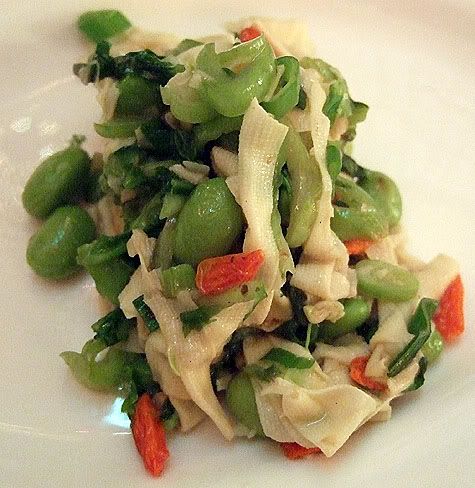 Green peas, corn, fish. This was the description given to us by our server and yes, that's what the dish was. It was very similar to the shrimp and beans dish with a light savory sauce that served as a plain backdrop to showcase the flavors of the vegetables and fish.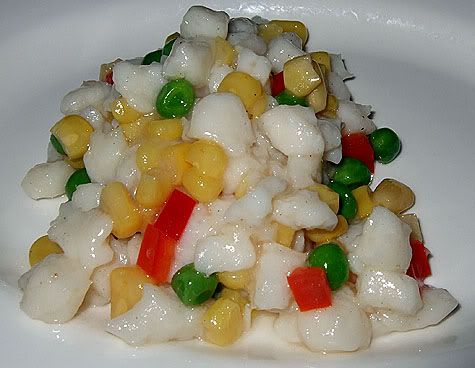 Special Orange Beef. Thin slices of spicy beef that had been battered and fried then mixed with a slightly sweet and spicy glaze with dried orange peels and rings of dried chili. It was more chewy than crispy with a very restrained sweetness. A very elegant version that stands back daring you to see that it embodies the elemental vision, unlike the Panda Express version that slaps you in the tastebuds.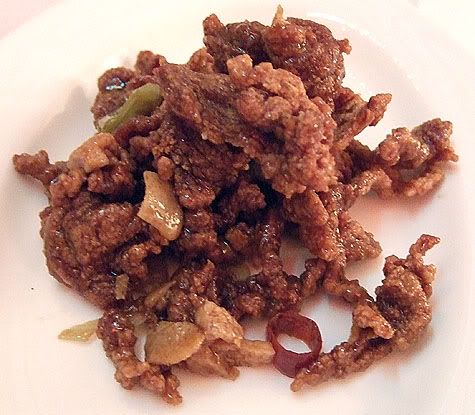 Tiny Celery with slices of tofu, purple onion and red bell pepper. I mean teeny tiny little celery, like the little fingers that sprout with leaves that you trim off the ends of the stalks. This also had a light sauce that allowed you to enjoy the flavors of the celery and bell peppers.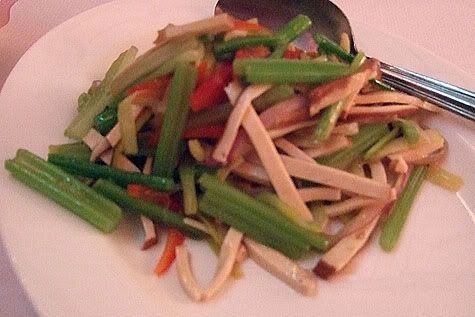 Braised Pig's Leg with Brown Sauce, arrived rich and steaming fragrantly with the scent of star anise. This was very flavorful and one of my favorite of the hot dishes.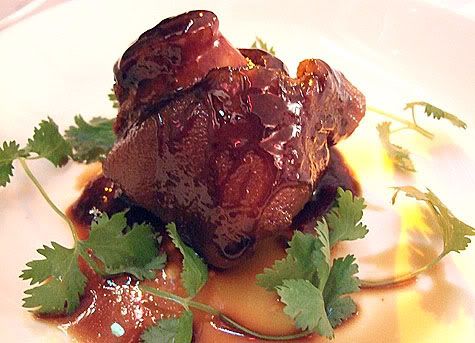 The meat fell apart when prodded with the fork and I speared into a silky soft gelatinous joint of tendon that was so luscious and melted in my mouth.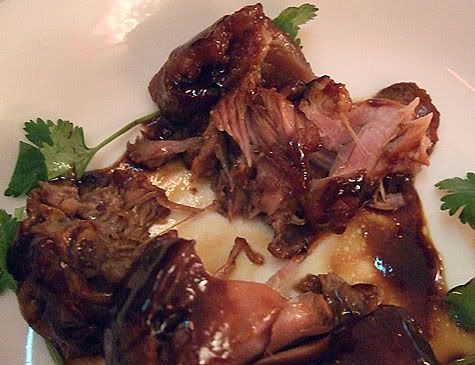 Wintermelon with spicy minced meat and ties of seaweed. I'd never had wintermelon before and it was cool and refreshing against the fiery hot toppings. This dish was liberally drizzled with spicy chili oil.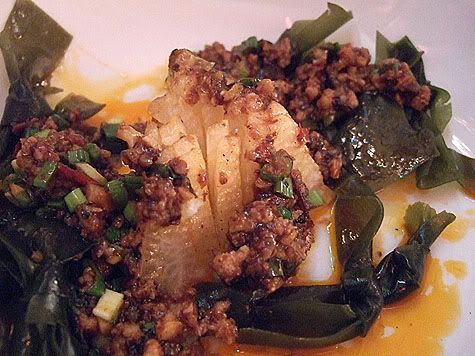 The last dish was Kung Pao Chicken. At this point my taste buds were numbed by the heat so I could only register the fact that my mouth was on fire and could taste only garlic and the peanuts. We were never served any rice, and didn't think to ask for any, but that might have helped deflect some of the heat for me… although we may not have been able to make our way through all of the courses!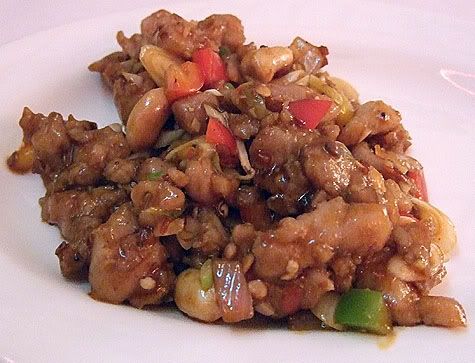 It was an epic feast, shared only by us and one other table during our seating… apparently the pace picks up later when chefs from other restaurants come to dine after they close up shop. The restaurant offers bottled beer and has a byob policy with no apparent corkage.
The simplicity of the dishes allowed us to enjoy a pureness and clarity of flavor that is usually masked under gloppy sauces. This is the underlying theme of the restaurant and is evident in the decor, as well as in the cuisine. I was a little disappointed because I had expected to be served unusual and exotic preparations of new and exciting things, definitely not kung pao chicken, I had hoped at least for frog legs… I left feeling intrigued and want to come back, probably in the spring to see what seasonal specialties Chef Nei will be inspired to serve.
Here's a link to the Single Guy Chef's view on the meal.