I agree, I love jam. I especially love this jam. Plain and simple.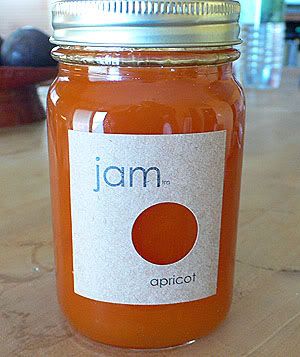 I don't remember where I heard about this amazing jam, but I'm so glad that I did. Blenheim apricots are grown in the Santa Clara Valley and there's only a short period of a couple of weeks in early summer when you can find them fresh. The We Love Jam people (according to their website they are a small 2-person operation) make a jam that captures the flavors of of the Blenheim apricots and makes it even better.
The jam is bottled with an old fashioned lid that separated from the outside twisty part and then had to be pulled off the top of the bottle with a soft plop and then gooped over my fingers (which naturally, I had to lick off). My tastebuds were ablaze with a perfumed sweetness of summer and dazzling sunlight and I had to stop myself from licking the entire lid clean! I breathed in the rich luscious fragrance of ripe apricots.
The jam is viscous and runny but full of the delicate soft flesh of apricots.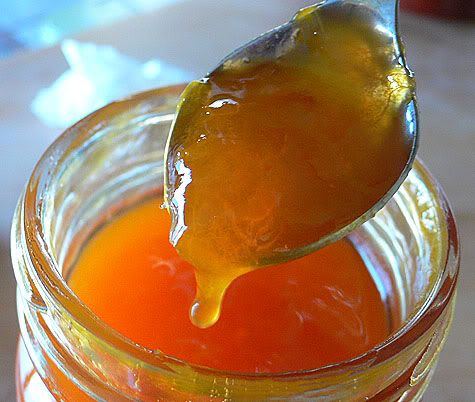 It makes for very fine topping on buttered toast.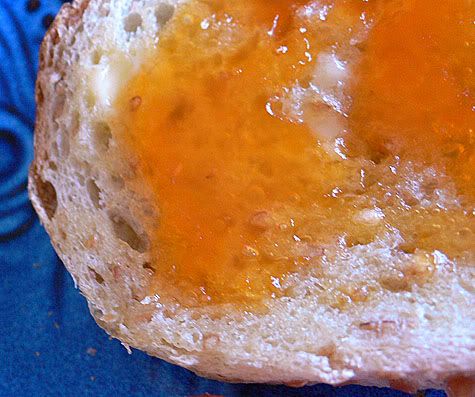 I'm glad that they only had 16 oz jars available because it's big and should last me a while…
My grandmother had an apricot tree growing in her yard that she used to make japanese pickles (umeboshi) out of when they were still green and crunchy. I don't know what variety of tree it was and her yard has long been flattened out and replaced with a business park in Palo Alto. I have such fond childhood memories of gorging on apricots in the summer and this jam takes me back.