2883 Mission St, SF, CA 94110 (415) 647-5469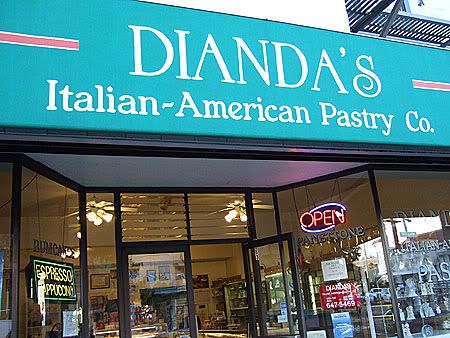 Dianda's Pastry Co. makes a very fine rendition of the exquisitely rich and decadent St. Honore Cake, which is named after the patron saint of pastry chefs and bakers. It consists of a pâte brisée base (standard pie and pastry dough) with a pâte a choux ring (puffy soft and eggy dough) around the outside and showcases some of the best works of the patissier.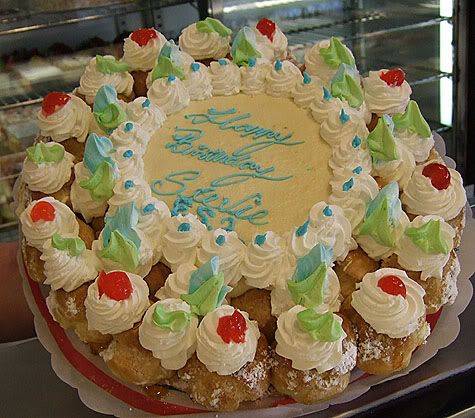 The middle of the cake is filled with Chibouste cream (pastry cream lightened with a meringue and set with gelatin) using a piping bag and the signature Chibouste/St. Honoré tip to create frothy and billowy clouds.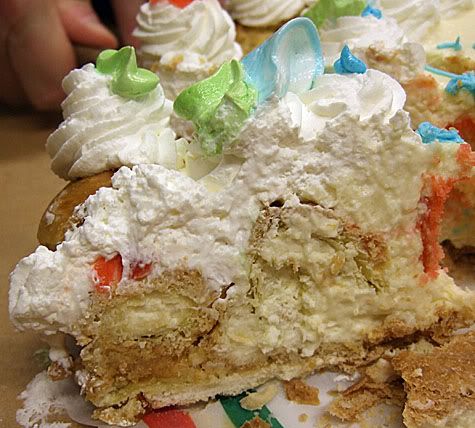 The pâte a choux puffs are filled with pastry cream and dipped in caramel. Then they are attached on top of the outside ring of the cake with more caramel to hold them in place.
One of the best things is the clear golden caramel that crunches in the most delicious manner and makes your teeth stick together while bathing your tastebuds in sweet sugary caramel. It dissipates with the flakey crumbly shortbread-like base and tastes even better when combined with the soft cream filled puff. It is one of those multi-textural eating experiences that borders on the obscene.
AL who is sensitive to alcohol said he felt loopy from all of the rum in the ornately fanciful concoction! It's a specialty cake and hard to find as they are of the old grandmotherly type of cake that is very traditional and a bit frumpy looking. I recently came across a beautiful modern take on this post that gives me hope that it will continue to show up in pastry shops in the future.