I bought Alice Waters' newest cookbook, The Art of Simple Foods for Mr. K's birthday a few weeks ago, which has inspired us to make a surprising number of delicious home-cooked meals. This is a great book, especially because the recipes are simple enough for me, the hungry one who doesn't have the patience for complicated cooking. I just want to eat. I don't know if you have noticed but I spend a lot of time out and about eating greasy fried foods and things that are generally bad for me, but try to eat light and simple meals when cooking at home. I fear recipes that have ingredients that require pre-cooking cooking… My bookshelves are lined with many fine cookbooks and they remain on the shelf because of all the effort required to make dinner. I am much happier with the type of recipes that fit on one page, and this book is full of them. Mr. K found it to contain many revelations for him as well – we both recommend it highly.
I'm getting a lot of beautiful winter produce from the weekly Terra Firma box all of which needs to be cooked too.
The first recipe we tried was a simple and straightforward Carrot Soup using several bunches of fine carrots from Terrafirma. These sweet and juicy carrots have a vibrant fresh-from-the-garden flavor. The recipe calls for only a little bit of butter (most of which I skimmed off) in the beginning to saute onions and fresh herbs in and does not rely on milk or cream for richness or thickening. I finished it off with a blob of plain yogurt as a garnish along with fresh herbs and lots of fresh ground black pepper.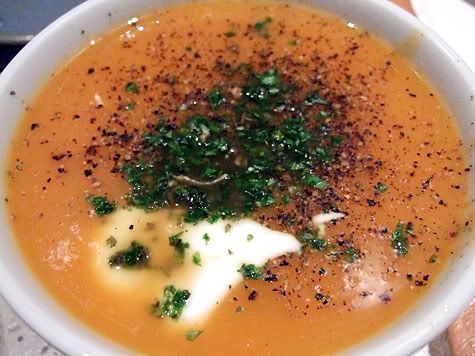 Then Mr. K made an Herb Butter to put on some wild salmon that we picked up at the farmer's market and grilled. The butter added a bright herbal complexity to the salmon and can be stored in the freezer for many other uses.
This cookbook, along with my new pot, this ridiculously cute Staub cast iron pumpkin, has started a revolution in our kitchen! Viva la Staub! I might add here that Mr. K had a hard time reconciling the idea of him cooking in this (to his eyes) hideously ugly pot and thought I was joking when I first pulled it out of the box claiming it to be a serious kitchen tool… which btw, at 60% off, I couldn't afford to not buy.
Last Friday Mr K had the day off and decided it was time to break in the pumpkin. He went to the meat counter at Cafe Rouge where he procured a 4-lb piece of pork to roast but said he ended up trimming it down to half of its original size because it was so fatty. When I came home from work, the house was filled with the most amazingly delicious smell of Pork Shoulder Braised with Chiles. I recently heard someone say that the roast is done when it falls apart when poked with a fork, so we used that for our gauge of when to take it out of the oven.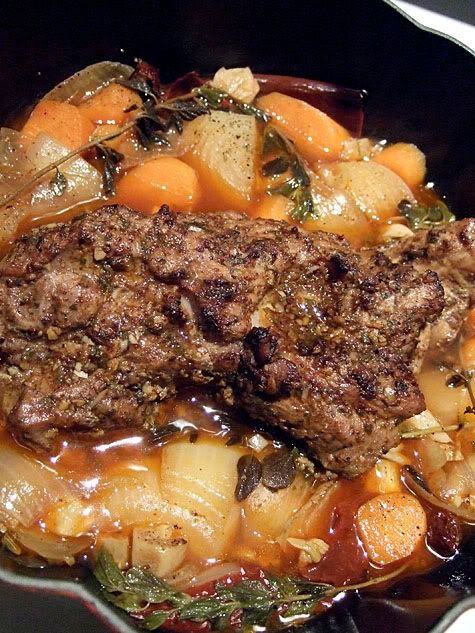 I agree it was fatty as it took quite a lot of skimming to remove the thick layer of fat out of the pan, although what remained was a rich and flavorful sauce. The roast developed a gorgeous caramelized crust and was so meltingly tender you could eat it with just a fork.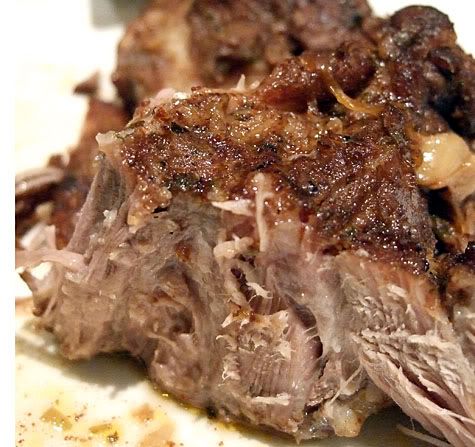 The next day we went on a nice long 8.5 mile walk around Lake Chabot, which is practically in our backyard, to work off some of the holiday pudge and because we are such nerds, we spent a good part of the time talking about slow-roasting and braising.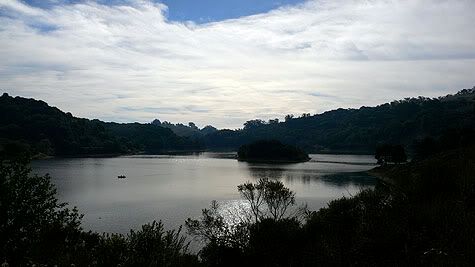 Mr. K had an urge to try another slow-cook recipe and made Braised Chicken Legs, which by virtue of the smaller pieces, required much less time to cook. He didn't use tomato and added sliced fresh shiitake mushrooms instead. It was fantastic, the rich dark meat was luscious and tender and the aroma was incredible after we sprinkled fresh herbs mixed with lemon zest over everything.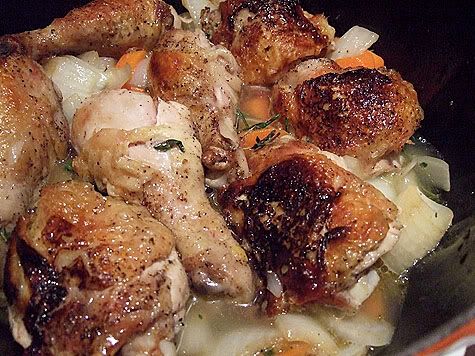 It was the best one yet! Thank you Alice Waters, for making such a wonderful cookbook, it has changed the way that Mr. K thinks about slow-cooking food and converted him over to the dark-meat side, which opens up a wide new world to explore.