924 Sansome St (between Broadway & Vallejo), SF, CA
Years ago I used to love reading an early precursor to the modern foodblog, Journey Through the Menu at Henry's Hunan, one man's dedicated effort to document his progress through each and every item on the menu at the Soma location. There are pictures and short descriptions of each dish, concise and sometimes just a few words, but providing so much more insight than the menu. This may possibly have inspired my own obsession with documenting food, who knows? Another interesting fact is that the author currently resides in Japan and is actively blogging here with occasional pictures of food, yay. You may or may not know that I lived in Japan for a year as an exchange student a very long time ago and am a big fan of Japanese food and culture, but I digress…
There are very few restaurants that evoke strong reactions in people, and this particular branch of the Hunan Restaurant chain in San Francisco definitely is the kind of place that makes you either love it or hate it. The most common complaint is that it is too greasy and that it's not authentic, so why go there especially since Chinatown is just over the hill… It is pretty greasy, but Chinese food is generally pretty greasy… The only dish that people regularly rave about is the Meat Pie. One of my co-workers Debbie is a big fan and after much pestering by me, we finally coordinated a lunch along with BP and PG. It's really close to our office, which adds much to the appeal of eating there.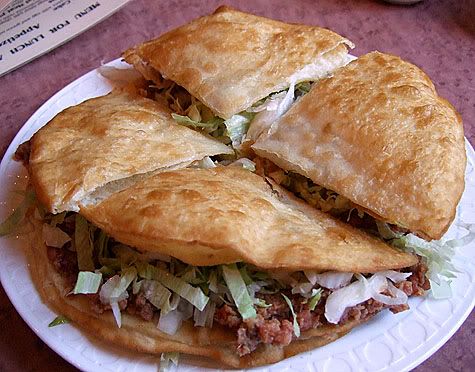 There it is, the Meat Pie. Inside is a dense ground pork filling mixed with a garlicky chili sauce with a whiff of lemongrass or perhaps ginger, topped with refreshing slices of iceberg lettuce, all sandwiched in between fried bread. It resembles a mexi-cali tostada in many ways, but with fried bread rather than tortilla. The bread is heavenly thin but somehow puffy and floury, fresh out of the fryer and deliciously crisp and a little sticky when you bite into it. The combination is heady from the first bite and I want to know where in China this comes from because I want to try more dishes like it.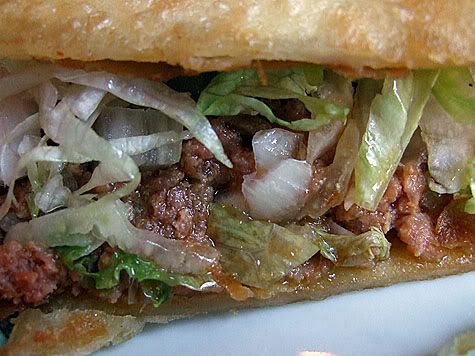 As far as I'm concerned, its reputation is sound and well-earned. You can order either a whole pie, which comes quartered, or they serve a slice with the special of the day.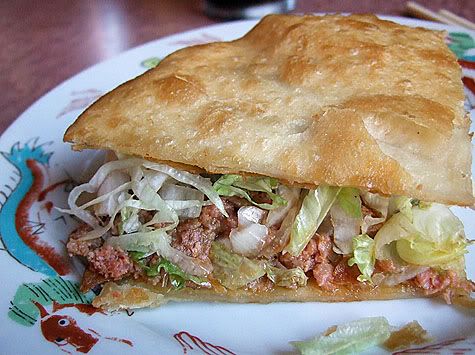 Not surprisingly, the menu has a lot of Hunan dishes which are known for their use of red chili peppers, pungent aromas and deep color as well as for smoked and preserved meats, which abound on the menu. We decided to order family style and share. In the spirit of being a protein star, I ordered from the Smoked Specialities section Smoked Ham with String Beans. There was a proliferation of sliced ham in the dish that had a rich smoky flavor infused with garlic and chilies but were a little dry in texture. The green beans were refreshing and succulent with a nice crunch to them, but the overall dish was really really salty. It would have been much better over rice, but since I'm not eating rice right now… its shortcomings were very apparent.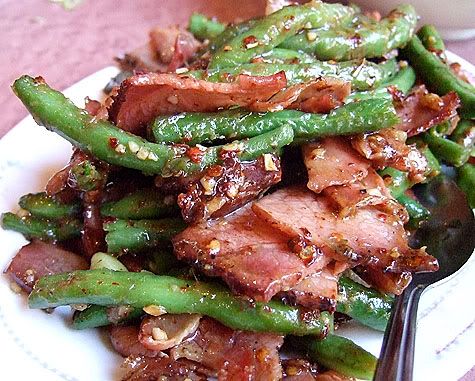 PG ordered the Hunan Velvet Chicken, which was gorgeously burnished and smelled fantastic, but I think that the moist velvety texture that I expected was lost in order for the chef to obtain the golden seared exterior and that was a shame. It had a strange spongy texture rather than velvety… The vegetables were cooked perfectly.
BP ordered the Eight Vegetable Delight, which was a very pedestrian combination of cabbage, onion, carrots, broccoli, bell pepper, bamboo shoots, green beans and snow peas stir-fried with some chilies. The texture was good and crunchy and it definitely was not bland. Tasty, crunchy, not incredibly thrilling, I was glad we had other dishes though… don't think I'd be satisfied with just this plate for lunch!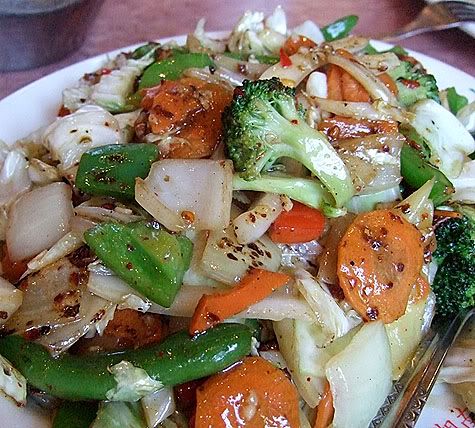 Debbie got the Sizzling Rice Shrimp dish that arrived in two different dishes that were combined at the table so that the crispy fried rice crackled and sizzled when the hot sauce was poured onto it. The presentation was very festive and exciting, much more exciting than the actual eating of the dish, as the sauce which proved to be very sweet and the rice was dry and hard in the manner that can shred the roof of your mouth.
We had a good sampling of various plates from the menu which left me I intrigued enough to come back to try some of the other dishes. This also inspired me to re-journey the Menu at Henry's leaving me with many ideas of what to try next.
I came across an interesting quote from Mao Zedong who hails from Hunan province, you can't be a revolutionary if you don't eat chilies…