Earlier this year a friend forwarded me this article from the NYT about the new KFC (Korean Fried Chicken) phenomenon that has swept the east coast and finally landed over here, although only in the southern CA region so far… I am impatiently waiting for it to make its way up here!!!
Until then, we have our Dry Fried Chicken at San Tung, which I have swooned on about here.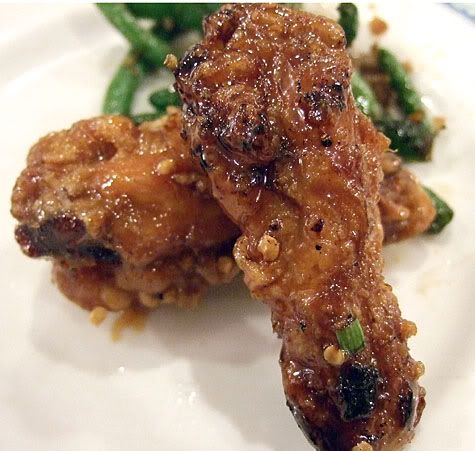 I've only read about how crispy the new KFC is, which uses an Asian frying technique that renders out the fat in the skin, transforming it into a thin, crackly and almost transparent crust. (Chinese cooks call this "paper fried chicken.") And because of this process, this is not fast food, every order can take 30-40 minutes and I read that people are paying $16 for a whole chicken.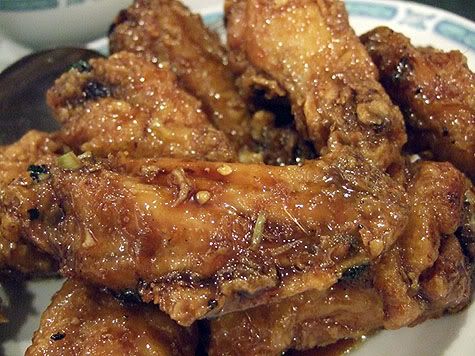 In the meantime, San Tung chicken has its own cult following, witness the line that forms if you come after 6:00. It's the kind of mob that patiently waits, watching your every bite, until it is their turn to place their own order for dry fried chicken wings.
As the sauce cools the sugar begins to harden, coating the crisply fried wings in a delectably sticky, tangy sweet and savory spicy goo. The combination of freshly fried wings with the aromatic sauce is heady and thrills your senses.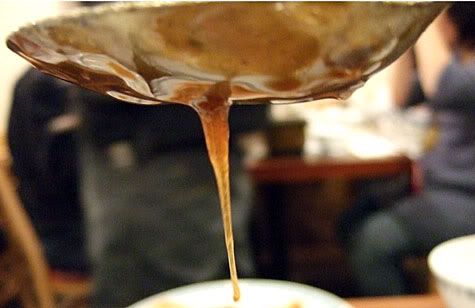 Here is your own piece of heavenly fried chicken drumette, coated in an intoxicatingly sticky lacquer that is lip smacking good and habit forming, especially when you bite through it into the fleshy chicken, releasing its juices into your mouth.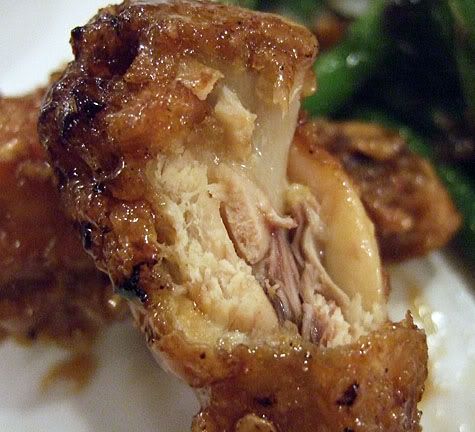 The last time I came here with BG, Liz and Cody and we ordered 3 plates of the chicken. Initially we all wanted to order our own plate because we were reluctant to share… it's that good. Three plates of chicken, some dumplings and dry-fried green beans were enough for the four of us to stuff ourselves silly. I'm thinking that the new KFC has got to be pretty amazing to beat this!