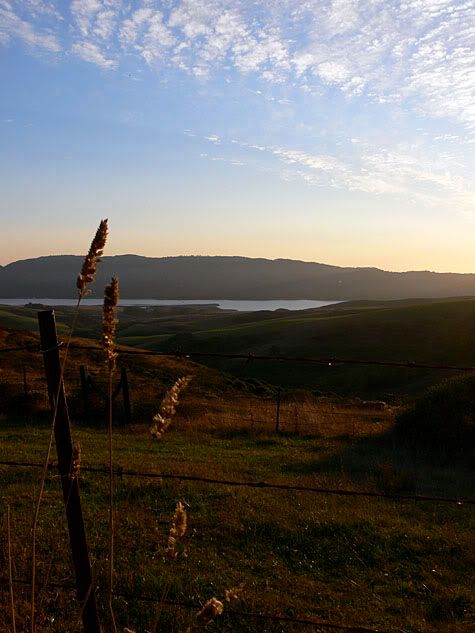 Mr. K and I really enjoy the Fall in Point Reyes. It's all so gorgeous with the diffuse autumn sunlight making everything warm and glowing. Time seems to slow down and you are lulled by the gentle breeze and my stomach rumbles with cravings for another feast at the Oyster Farm on Hog Island. We went last weekend with Mank and CDR for a hike along the Palomares Trail to Alamere Falls which begins in the southernmost staging area on the Point Reyes peninsula.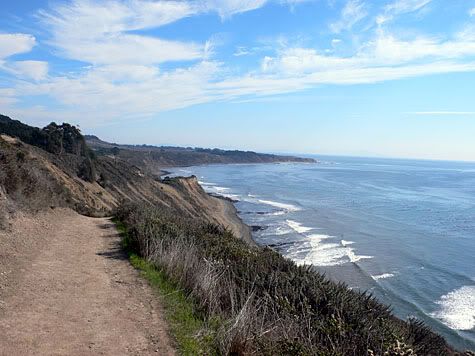 We didn't make it all the way to the falls, but we did manage to climb some good hills up to admire the mesmerizing light as it shimmered on the endless expanse of water. It's all just too lovely for words – there are the mind-boggling views of the ocean but there is also Tomales Bay and Bolinas Lagoon and all the rolling hills with happy cows munching away on the grass… And these are just the sights, west marin is also the home base location for purveyors such as Marin Sun Farms, Cowgirl Creamery, the Straus family Creamery, the list goes on and then of course, there is Hog Island Oysters.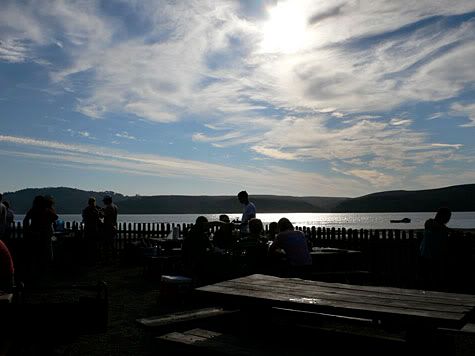 We were lucky and found an available table at Hog Island which has convenient picnic facilities with incredible views. We dragged our bags of loot and setup our table. We started out with 100 kumamoto oysters and 2 pounds of manila clams, which sounds like a lot but both of these bivalves are really very small.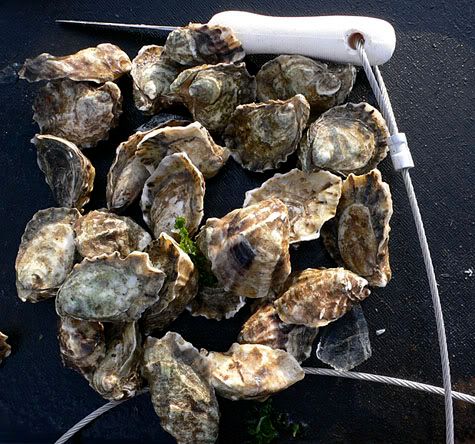 Mank and CDR love to spend time in the kitchen and brought some delicious home made pickles, this is with Japanese cucumbers and hot peppepers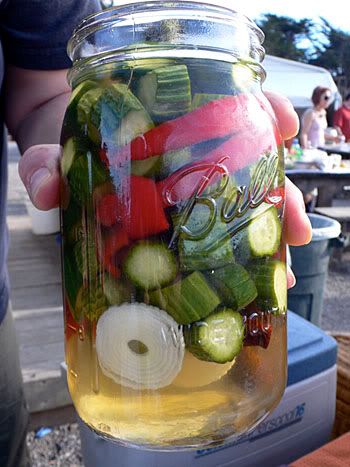 This is one of CDR's specialties, a lively and zesty zucchini ribbon pickle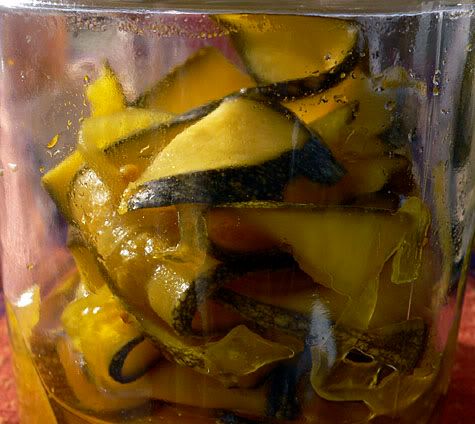 They also brought along a trio of housemade mignonettes: kefir lime, grapefruit and plain which were all fun to try out, although I think our favorite is still the hogwash…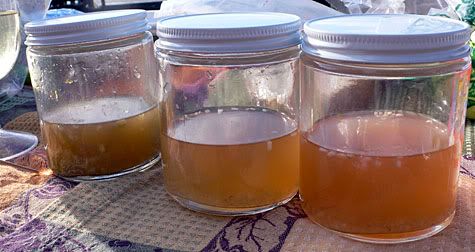 To counterbalance all of the bright acidity, we enjoyed a Fra'Mani handcrafted Salumetti, which is dense and luscious with the smokey musky flavor of aged meat and very garlicky. It is really delicious to eat plain in thin slices.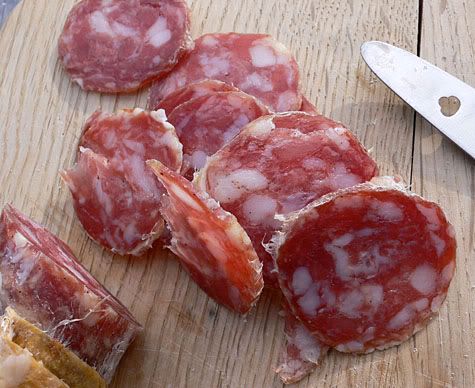 Mr. K likes hot and spicy and was spreading some sliced jalapeno love on the baguette with butter
This became his signature preparation and he applied it to the grilled oysters with great success, a dab of butter a few slices of jalapeno, fresh ground black pepper and a squeeze of lemon juice. It was plump and buttery and finished with a small blast of heat from the jalapeno, really amazing, I'm an instant fan.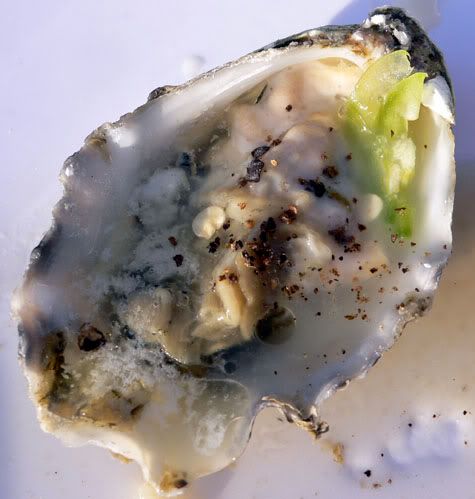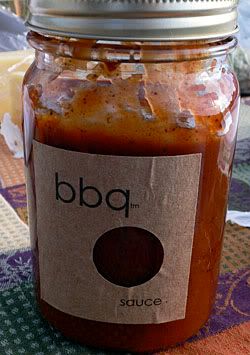 The last couple of times we just gorged on the oysters raw, but noticed that a lot of people were enjoying the oysters grilled on the barbecue. With that in mind, I came prepared with a bottle of sauce made by the same people who make the most amazing apricot jam. The sauce has a fairly aggressive and complex blend of spicy flavors but is also sweet and sour with a dark smoky atmosphere in the background. You only need a little dab, especially on the tiny kumamotos oysters. Next time we will try to get some of the larger sweetwater variety which are better to cook on the grill. We just had to be vigilant and pay attention because the little shells heated up and began bubbling so quickly.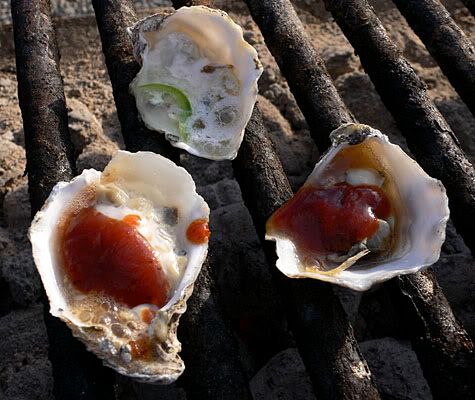 And of course we had to make the Steamed Manila Clams again. I tossed in a few tablespoons of butter, drizzled some olive oil, a few handfuls of parsley from the garden and squished a few cloves of garlic through the garlic press.
I also threw in some of the delicious 2005 Vocoret chablis, it was delicious and we devoured everything.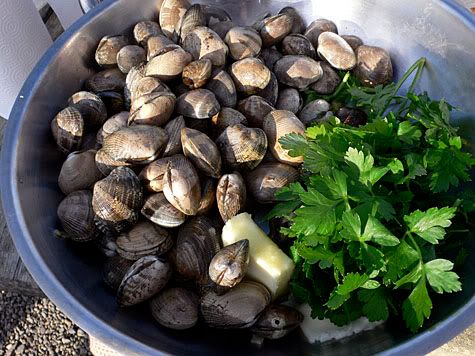 In all of the excitement, I forgot to take a picture of the pot of clams, but here's a shot of my plate with a few clams and a grilled oyster.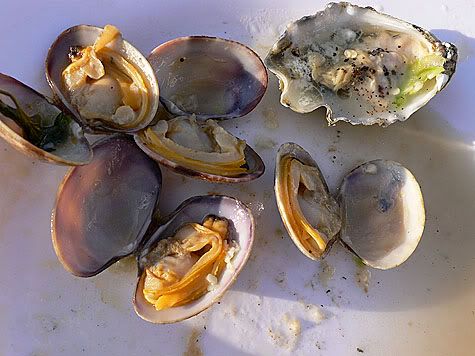 This is definitely a dog-friendly environment as there were quite a lot of dogs in the area. Some of them were barking with the excitement, but most were hanging out… This little one looks like it is less than half of the size of my cat! So cute, so well behaved…