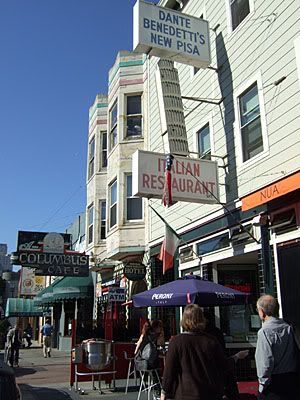 552 Green St. (between Columbus and Grant), S.F.; (415) 398-3181. 11:30 a.m.-9 p.m. Monday-Saturday.
This restaurant is really hard to find if you don't have the street number memorized. And so we found ourselves walking along the stretch of Green Street between Columbus and Bannam in North Beach, back and forth and I began to have doubts… my co-workers KC and CK trudging along with me. Thank god for cell phones I thought as I called the restaurant and was told to look for the red umbrella out front. We could see it straight across the street and headed over. The signs on the front of the building say Dante Benedetti's New Pisa Restaurant – no wonder we walked straight past it! The only sign I saw was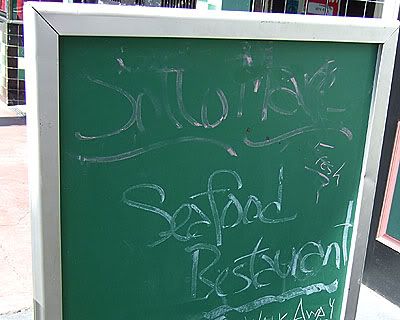 some very faded writing on a chalkboard that you could hardly read.
There are a couple of tables outside in the front for dining alfresco, but we went inside where a long white marble counter wraps all the way along one side of the long room with matching tall marble tables along the opposite wall. The walls are painted a cheery marine blue and partly covered with black wainscotting on one side and cool shiny white tiles along the kitchen .
The walls are cluttered with pictures, a variety of mounted fish, bric a brac and memorabilia from the previous restaurants that have existed in that building, going back quite a ways. I read somewhere that they opened earlier this year, and it has the feeling of an established neighborhood spot where the regulars are greeted by name.
Our waitress was very friendly and brought me a big glass filled with nicely crushed ice for my cola which was very nice and refreshing. I was thinking about ordering a few oysters to start as they are always priced at $1 each, but was told that they were still waiting for the delivery, which made me glad to know they kept the stock fresh daily.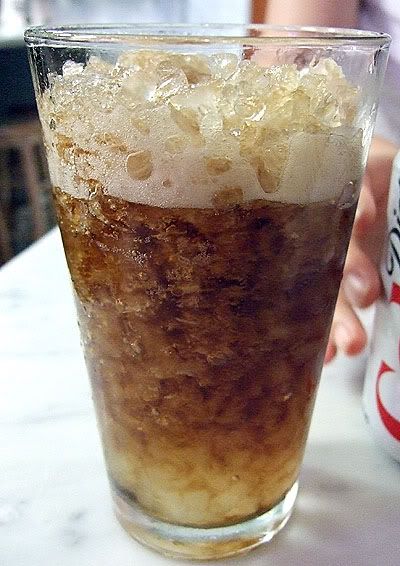 We started with a nice baguette with butter

The Clam Chowder was really good, it tasted fresh and wasn't overwhelmingly creamy or too rich.
we split a Crab Louie, which had an equal amount of big pieces of dungeness crab to lettuce. The only complaint is that there were a lot of bits of shell still in the crab that we kept biting into.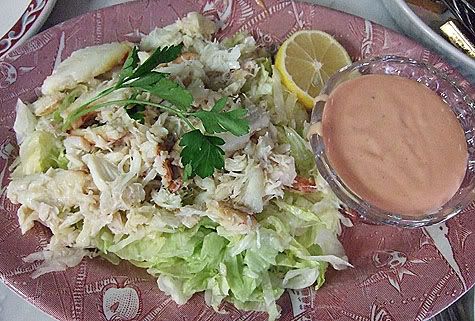 One of their specialties are Panfried Sand Dabs, which I've never ordered at a restaurant before. I have a vague recollection of catching these along the coast growing up when my father would take us beach fishing, and we mostly threw them back into the water. The filets have a delicate nutty flavor with an ethereal flakey texture. The restaurant recommends eating them with just salt and pepper, discouraging the use of lemon, which apparently overwhelms the pale muted flavors of the fish.
The back of each fillet was covered with a thin dark skin that was easily pulled off and seemed edible when I was too lazy to bother. There were bones running along the length of the body but thin as hairs so I didn't really concern myself with removing them, although I did have a scratchy feeling in the back of my throat for a couple of hours…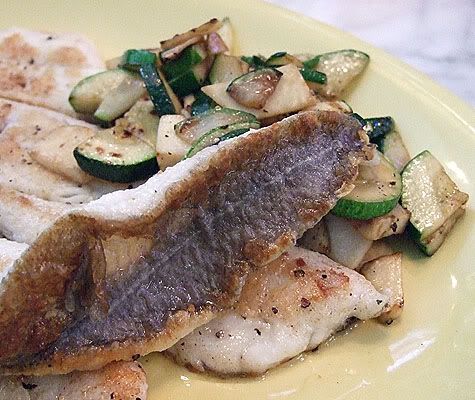 Looking at the plate I wondered aloud about the sand dab, it looked like we had a pile of many little fishes. Our waitress said that each filet was half the length of one fish, trimmed. She even went so far as to bring me a rex sole, which is similar but a larger version. It is a strange looking flat fish with both eyes on top which means that it must swim flat along the bottom.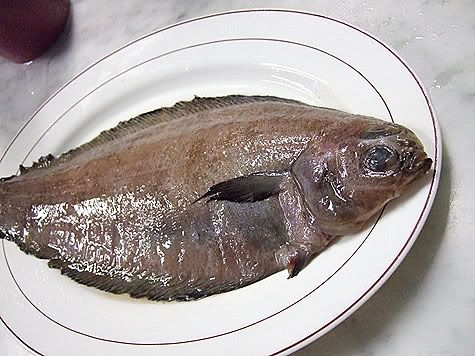 I really liked the friendly casual informal atmosphere and the food was well prepared and everything was fresh and clean tasting. I'm definitely going back for oysters and chowder for lunch. This salty dog fisherman sculpture salutes you as you enter or leave the restaurant.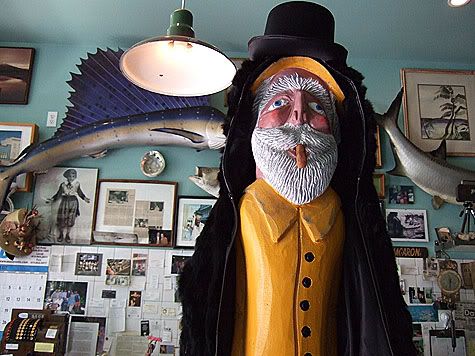 We decided to go back over the hill for a post prandial stroll to the office. It starts off with a beautiful view and there are such nice terraced gardens along the stairway down. It's much easier going in this direction…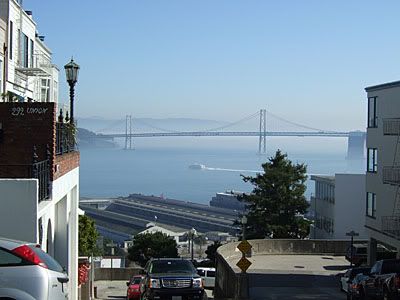 This kind of walking will get your blood circulating and help prevent food coma while back at the office for sure.