1432 Valencia Street (Between 25th and 26th St), SF CA
I admit that I spend entirely too much time surfing my favorite foodblogs, but sometimes I find the coolest little gems that way… When I was researching our trip to Thailand earlier this year I found this great blog, Austin Bush Photography, which presents a treasure trove of information written by an intrepid traveller living in Bangkok. The pictures alone are astonishing and breathtaking… We found the dish Khao Soi in Chiang Mai thanks to this post by him and then by roundabout linkage, Suriya Thai Restaurant in San Francisco. There are many Thai restaurants in San Francisco, but very few serve this delicious dish and I have had a serious craving to try it again…
I had plans to meet my chowdown pal TKC for dinner and this happened to be conveniently located for both of us. She was already seated by the time I arrived and had her eye on a few things on the menu, one of which was Mieng-Kum, an appetizer consisting of small plates of shrimp, chopped fresh shallot, ginger, lime, toasted coconut, roasted peanuts and a tart spicy sauce.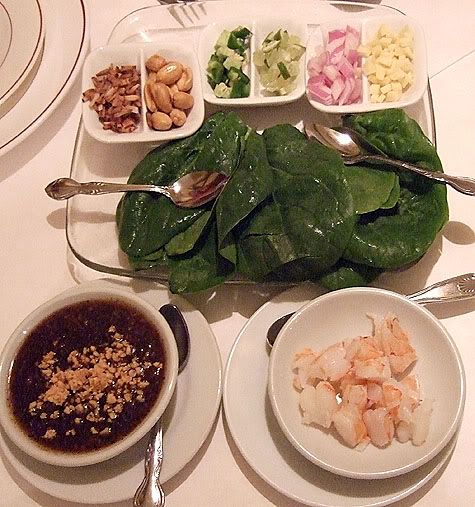 You arrange the various ingredients on the spinach leaf and then fold it into a small bundle and munch away.
The most delicious combination of crunchy textures and flavors develop as you bite down on roasted peanuts, savory bits of shallot, then into fragrantly hot lemony pieces of ginger against dense fragments of aromatic toasted coconut and all are touched with the lip-smacking gingery, tamarind sauce topped with crushed peanuts.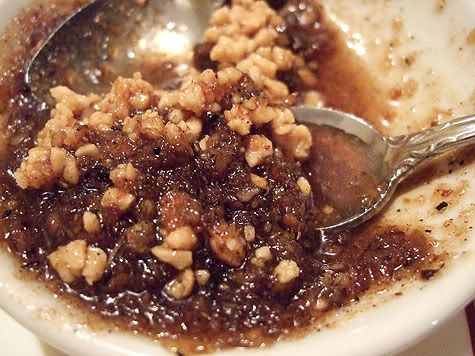 While we were still wrapping up the Mieng-Kum, the next course of Suriya Corn Cakes arrived engulfed in a cloud of delicious fried fragrance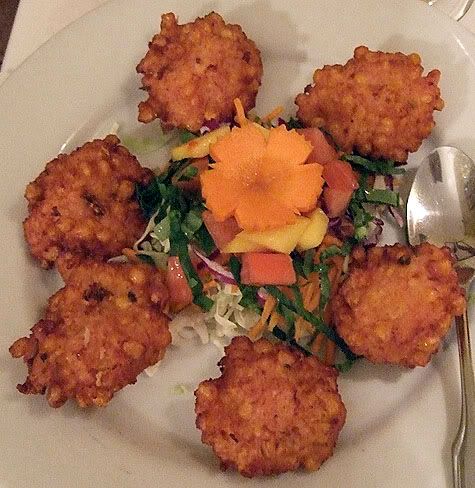 Each plump cake was stuffed full of fresh corn, ground shrimp and chicken, cilantro and shallots then pan-fried to a lovely crisped crust.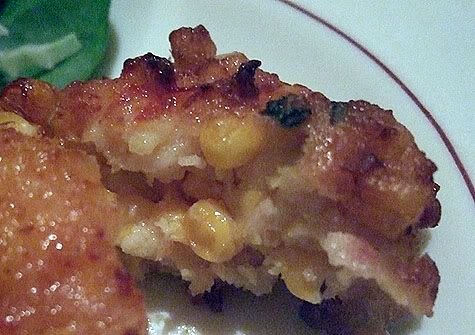 The crisp chewy texture of the corncakes was delicious and spooning the accompanying mango salad added a tartly sweet element that really perked up the dish.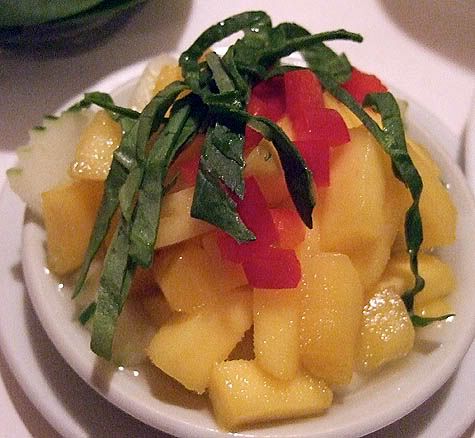 At last the long anticipated noodle dish Khao Soi appeared, steaming with the rich fragrance of coconut milk and curry topped with aromatic cilantro, fried shallots and pan crisped noodles sinking into the rich broth.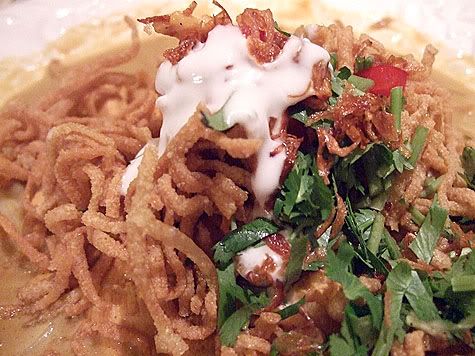 The dish was accompanied with a wedge of fresh lime, some savage looking chili sauce, minced shallot and pickled mustard greens.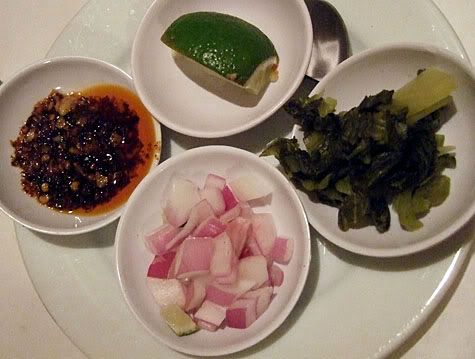 Beneath the crispy noodles were long chewy linguini-esque noodles and slices of chicken meat which created a base that was perfectly suited for the rich and crunky toppings.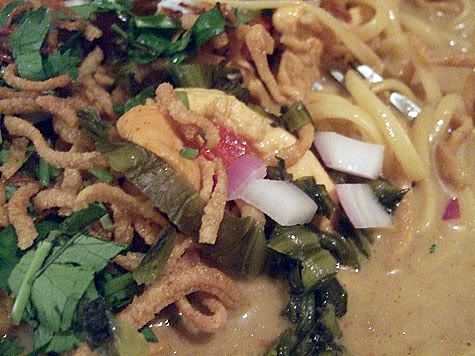 We sighed when the signature dish, Pumpkin Curry with Tofu arrived as we were both so stuffed we could not eat more than a few bites. It's a tantalizing blend of red curry paste with coconut milk that is completely absorbed into the delicate vegetal marrow of the pumpkin. The squares of tofu are soft and custardlike, and the pumpkin also melts in your mouth.
I do want to comment that the noise level at the restaurant seemed very loud, although I think it was mostly the mister wonderful at the table next to us who was holding court and pontificating in a very loud voice that carried very well in such close surroundings. He was asian with long flowing hair and his audience of one sat in cowed silence (including five or so reluctant captives by misfortune of seating arrangements) while he lectured him on the art of pleasuring women and how to better understand the female psyche, as he seemed to be some sort of published expert on the subject and perhaps thought he was doing us all a favor by spreading the gospel… I understand that he is not part of the restaurant so I can't really hold that against them, although for entertainment's sake, we sniggered and snorted at his relentless onslaught of self proclaimed wonderfulness.
Back to the food… Well indeed, we were very piggy and four dishes between two of us was beyond our best efforts, but we were able to explore many different tastes and textures. I'll definitely be back as I saw a lot of interesting looking dishes on the menu.