Previous visit feb07
Yes my friends, what exactly is Bazkuldu you might ask… and what in the world is that disgusting looking black ganglia dangling from my fork? To answer the first question, that is the Basque word to have lunch (or at least, that's what the menu says, until now, I didn't know a single word of Basque and now supposedly we all do…) The black thing is what I had for lunch, it was the daily special, Sauteed Calamari with Squid Ink txipiroa.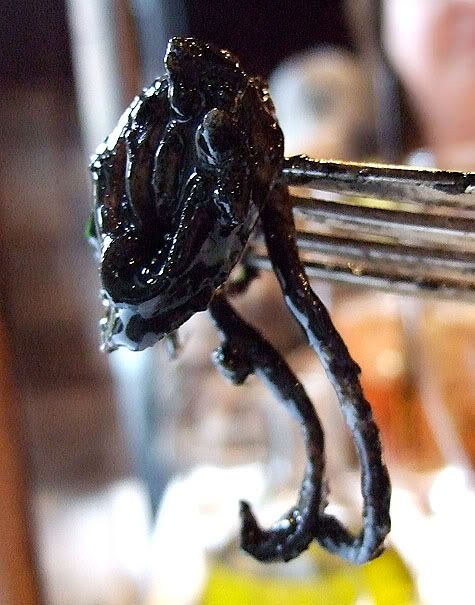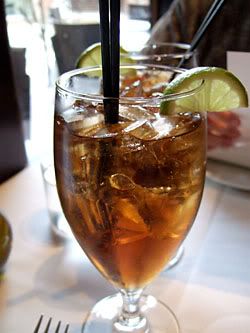 I have sampled the dishes at the restaurant before and frequent the more affordable and informal Bocadillos at lunchtime. I am also lucky to be able to enjoy their to-go food that is served from a Cafe window of the building that I work in (more on that in another post), so it seems that I am a devoted fan. My co-worker Debbie had never dined in the restaurant, and I was up for another lunch at Piperade, (the first being a business lunch, this was on my own dime). It's an obviously posh and swanky restaurant, filled with people who look like they are on an expense account and neither do they need to worry about time… We arrived at 11:30 and it would have taken 2 hours if we hadn't asked for my dessert to go. Even with our abrupt departure, it had taken over one and a half hours for lunch. The menu is divided between small plates ($10ish) and big plates ($20ish) and they also offer a $25 prix-fixe with a changing daily special.
Everything is pleasing to the eye, the bread basket, the cruet that the olive oil comes in, even the sodas look good…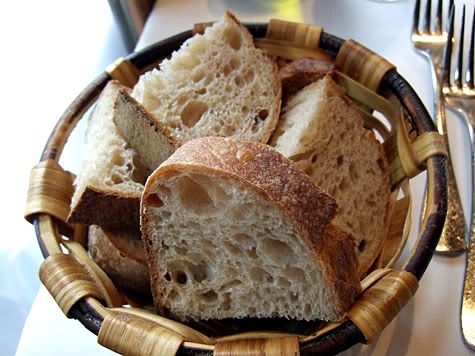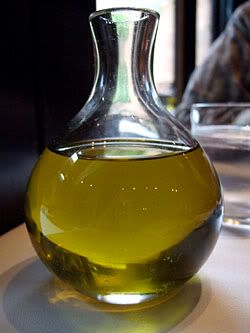 Debbie started off with Escarole and endive salad with persimmons, pomegranate and "Perfect Blondes". Since we had no idea what perfect blondes were, we had to ask, which seemed to curse us and the salad arrived without perfect blondes. Our waitress noticed this when she dropped the salad off and returned with a cup full of the perfect blond walnuts, so I sprinkled some on my salad too.
I thought the daily special sounded interesting and wanted dessert so I ordered the prix-fixe, which includes soup or salad. I had the Butter lettuce and fresh herb salad. It's strange to say, but I like their salads best of everything! The vinaigrette is aggressive and zesty and liberally tossed with chopped fresh herbs. The walnuts added a nice sweet nutty flavor.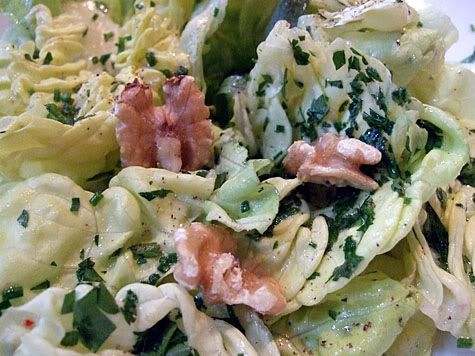 Debbie ordered a medly of Lamb that included medallions, braised shoulder and chops served with with gigante beans, and drizzled with some kind of vinaigrette and the plate was decorated with jaunty herby splashes. The gigante beans were sort of dry and the texture was not as creamy as I know they can be.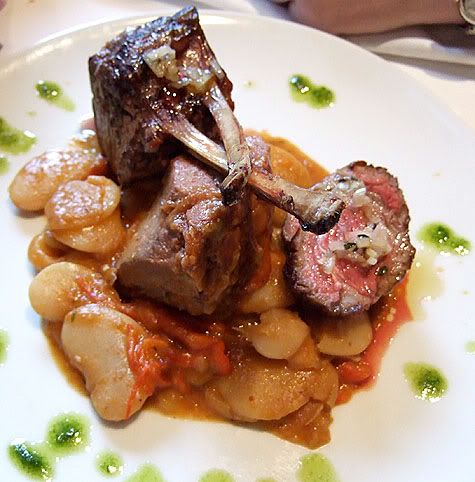 The medallions were perfectly cooked and tender, really delicious to swab up the blobs of green pesto.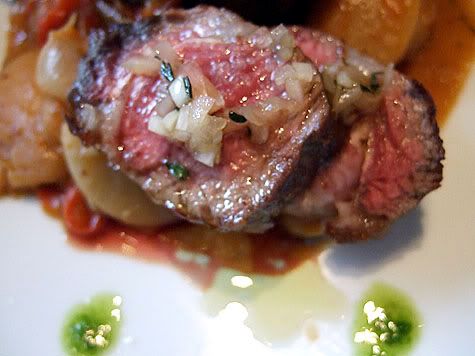 So now came my entree and my meal seemed to veer off to a strange black and white land when the server placed the Sauteed Calamari in Ink Sauce down in front of me. It was very intimidating, a starkly contrasting shiny black mound in a shiny white plate. Debbie looked doubtfully at it. I took a sniff, it smelled fresh and of the sea.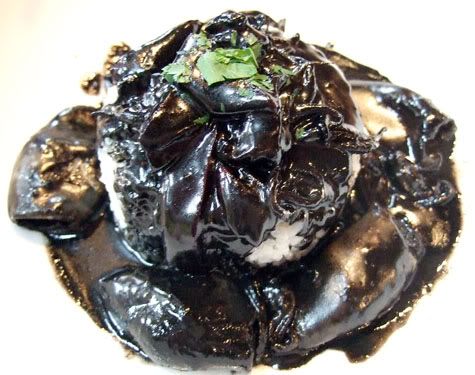 I've never had such completely opaque black colored food, and besides the fact that Debbie pointed out that my lips were ringed with a very attractive black tinge and I'm sure that my teeth were a ghastly grey, the complete lack of color seemed to mask my sense of taste. Mind you, the aroma that rose from the plate was a swirling marine cloud, like breathing a lungful of salty air, and I could see the white meat of the baby calamari when I sliced and bit into the tender sweet meat, but I couldn't say what it tasted like exactly… The calamari was filled with black stuffing, maybe bread crumbs or ground nuts, and vegetables. The sauce was viscous with a rich velvety texture.
After an hour and a half, we had certainly overstayed our alloted lunch hour, but looking around the restaurant had filled up and the servers were bustling. In fact, we hadn't seen our waitress in a while and our plates had long been cleared leaving ugly black spots where I had dribbled inky sauce while waving tentacles around taking pictures. By the time she did come around with the dessert menu, I asked for mine to go. I got the amazing Caramel custard koka. This is the stuff of dreams, the custard is rich and creamy and topped with a buttery caramel sauce that has just the perfect balance between sweetness and the bitterness from the burnt sugar.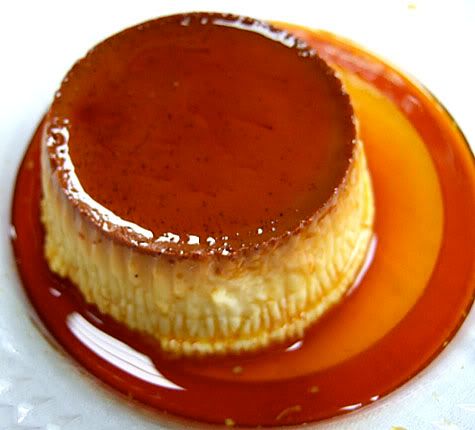 For those of us who care to count time and money at lunchtime, a 2 hour lunch that costs $41 each (we had one soda each, no refills here), is quite extravagant. I think that it's possible to dine here for a more reasonable cost if you order correctly, which I think is my next assignment when I come back…