I know, enough already with the oysters! I admit that I am just crazy for oysters… and since we have discovered how beautiful it is at Hog Island Oyster Farm and how delicious the oysters are when you shuck them yourselves (not to mention cheap), we just keep coming up with reasons to visit. Mr. K was able to secure reservations for a table at 1:00 pm last weekend and there were many unoccupied tables, so I think it is safe to say that during the winter months it is not critical to have a reservation to find a table… It was clear and sunny but with a damp chill in the air, a lovely California winter day.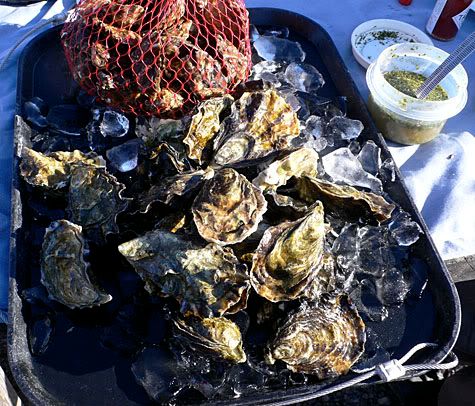 We enjoyed another bottle of the Vocoret chablis while slurping the raw oysters and I tried out some new recipes with very delicious results! Here is a picture of some small Sweetwater and Kumamoto Oysters. Words really fail to describe how plumply sweet and clean tasting these are fresh from the water and shucked. They are delicious plain, or with a squeeze of lemon and a couple of drops of tabasco or a dribble of the sublime hogwash…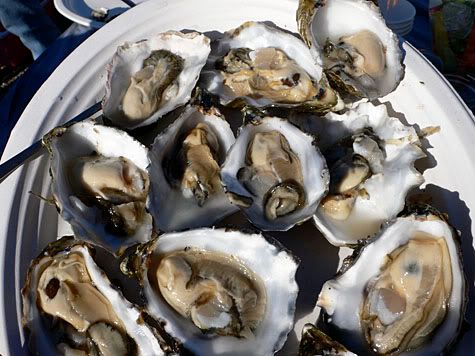 It's impossible to say that one is better than the other – the sweetwaters are just larger… Here is Mank, our fish monger fully outfitted and ready to get shucking – he and Mr. K did a fine job keeping the oysters on our plates.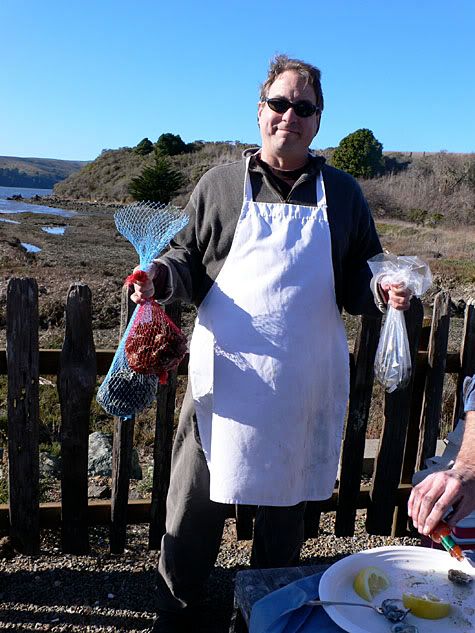 We came prepared with the ingredients for BBQ'd Oysters from the Hog Island website because these guys really know their oysters, as proven with the recipe for the hogwash. We all agree that there is nothing better on the oysters… well, it's a toss up between hogwash and just plain. The BBQ recipe is lightly cooked garlic in butter, some olive oil, lemon juice and tabasco. The title is a little misleading because the recipe does not use BBQ sauce, although they are barbecued on the grill. I made this ahead of time and brought it in the cooler, so at this point the garlicky butter was still pretty solid.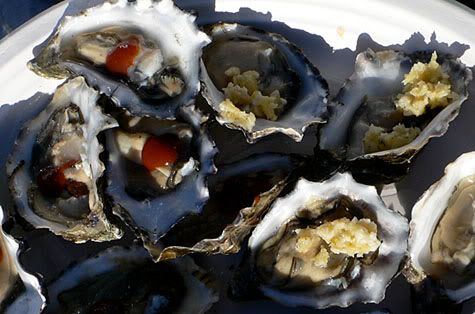 We tried an assortment of oysters with the garlic butter, and some with little dabs of bbq sauce. The butter soon melted and began to bubble, the little oysters plumped up in their garlicky bath. A delicious steam began to rise, ready for some fresh parsley to sprinkle on before eating. We put a blend of both on some, but I think that the original recipe of the garlic butter tasted best, especially if you dunk bread into the shell.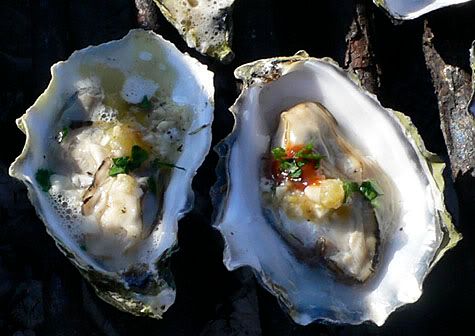 Mank liked a mix of the garlic butter with a dab of his home made mustard, which packed quite a wallop similar to wasabi. Do you have friends who show up with amazing home made things like that? He said that they ground a blend of yellow and black mustard seeds and added some spices like cumin and nutmeg. Whatever, it was amazing. I am sure that they used the freshest ingredients and hand roasted everything, because that is the way they do things… It was reallly good with slices of the Hobb's wine cured salami with a piece of the epi-loaf from Acme that they picked up on the way over.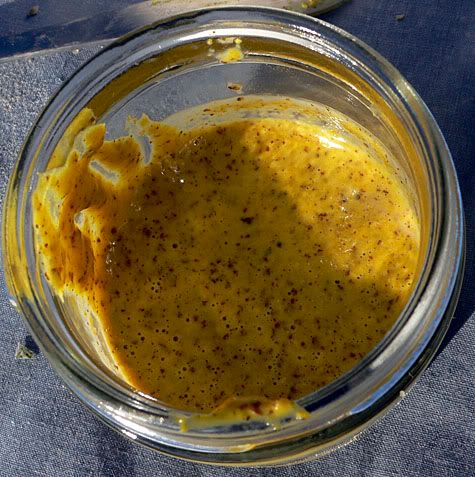 The recipe for Luc's Beer'd Clams from the website was also very good to dip the bread in…. the recipe calls for one bottle of beer (we used blue heron from mendocino brewing), chopped fennel, some butter, garlic and olive oil.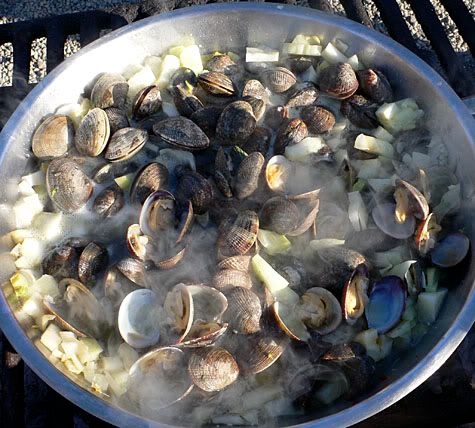 It made a delicious rich broth perfumed with the garlic and fennel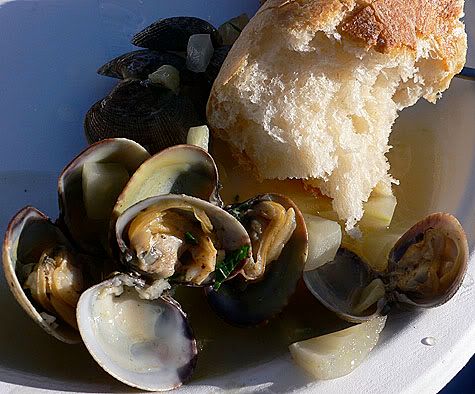 Here is the gorgeous epi-loave from Acme bakery in Berkeley, one of the best breads in the known universe to take on a picnic as far as I'm concerned.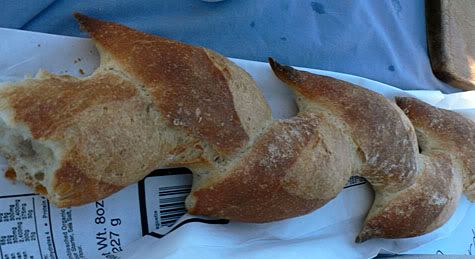 We had fresh strawberries and mandarin oranges along with some Chile Variado chocolate bar from Moonstruck Chocolates, which is a dark chocolate bar flavored with a bit of chile that leaves the tip of your tongue burning.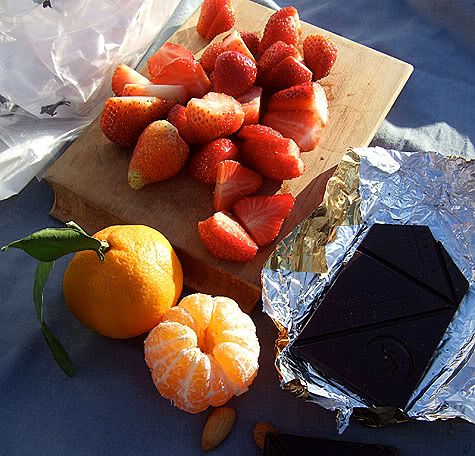 On our last visit we found this to be a dog friendly facility, so Otis and Lily came along with Mank and CDR. Awwww, these two are so adorable and polite and very well behaved company.
They dissolve into silliness when you rub their stomachs.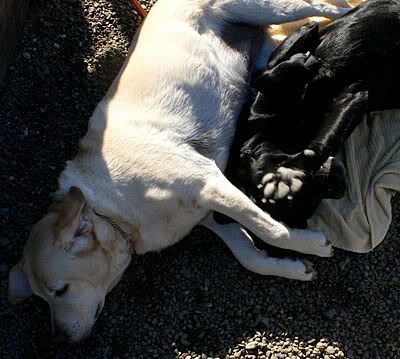 I promise that is the last one on the Hog Island Oyster Farm unless they start serving something completely different!