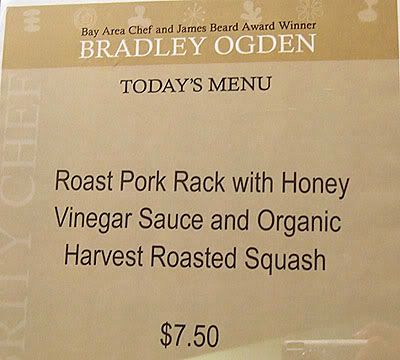 Ooh, I noticed a sign advertising that the cafeteria at Levi's would be having a celebrity chef lunch showcasing the talents of James Beard Award winning local chef Bradley Ogden. He began his California career at the Campton Place Hotel in San Francisco after graduating from the Culinary Institute of America in Hyde Park and then moved on to begin his restaurant empire. I have been to most of them: Lark Creek Inn, Lark Creek Cafe, One Market as well as a namesake at Caesars Palace in Las Vegas (which I have not been to). He known for his classic take on 'farm fresh' American cuisine. Anyways, it amounted to the cafeteria serving two dishes based on his recipes and the chef was on site signing wooden spoons that had the recipes attached. The spoons were free, but you could upgrade for $12 and get a fancy bamboo one.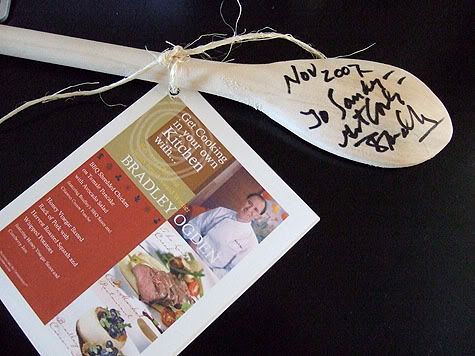 The line was much longer than usual, but then I found out that line was for the BBQ Shredded Chicken on Tamale Pancake with Avocado Salad, featuring Bradley's BBQ sauce and Cilantro Cream Fraiche. Which sounded very delicious, but the I believe that the line was long because the word salad was in the title. The sad reality is that all the skinny people were in line for that, and I ended up in the other line…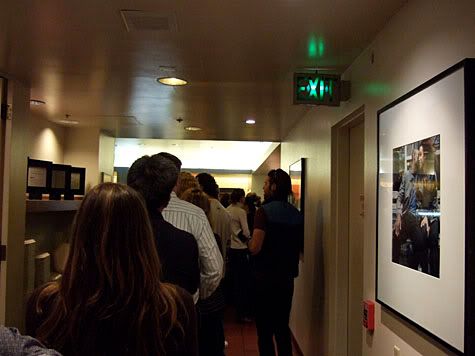 I was happy to switch to the shorter line for the Honey Vinegar Based Rack of Pork with Harvest Roasted squash and Whipped potatoes, featuring Honey Vinegar Sauce and Cranberry Jam… for $7.50. There were only two guys in line ahead of me which allowed me time to discover a basket full of wooden spoons with recipes for the dishes tied onto them with twine. How cool is that?
I'm not a fan of cafeteria dining so I got it to go then stopped to take a picture en route to find the chef. The food by the way, was much better than usual and such a deal for a very generous juicy and delicious pork chop with an abundance of mouthwatering sides.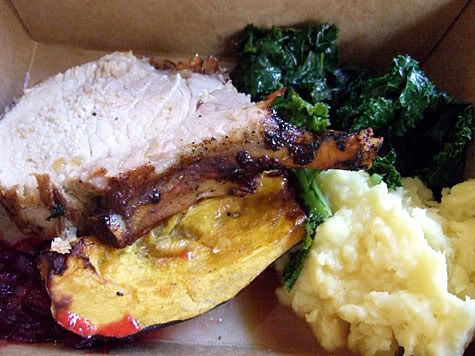 The chef was tucked away at a little folding table surrounded with more baskets of wooden spoons and a box of sharpie pens.
I was so excited to have an autographed spoon but I'm not sure that this is enough to get me cooking these recipes because they look pretty complicated… If he serves these dishes at his restaurants, I'd be happy to pay a little extra to have a professional prepare them! I hope that the cafeteria continues with the celebrity chef thing too.
p.s. I am not an employee of Levi's but am lucky to be able to eat at their cafeteria…