1273 Locust Street, Walnut Creek, CA | website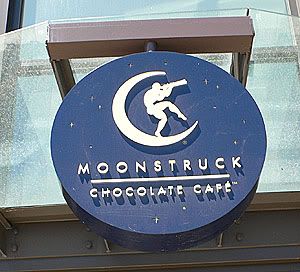 I had been driving past this for at least a year before we made a point of stopping in and am so glad we did! It's a well appointed store with friendly and courteous service, not to mention that it is a temple of chocolate, one of only a handful although they are rapidly expanding. The Cafes serve their delicious chocolates, cakes, and confections as well as hand blended chocolate based beverages. The atmosphere is inviting with little cafe tables throughout the store and cushy armchairs to relax in while you drink your beverage and eat chocolate. Against the back wall are dramatically lit shelves filled with tempting displays of their charming chocolates. Moonstruck Chocolates are based in Portland, OR and they focus on combinations that showcase the flavor of their chocolates instead of upstaging the natural flavors with excess sugar.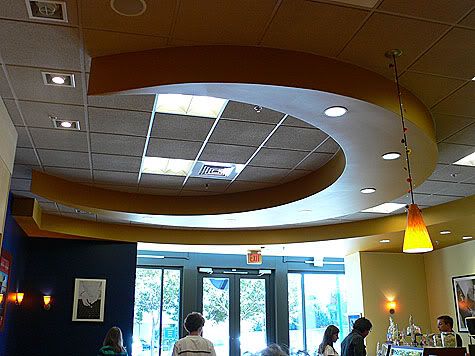 When you walk in, you gravitate to the glass fronted display cases filled with rows and rows of lovely, mouthwatering chocolates and before your eye can focus on one single item, the girl behind the counter is waving a plate under your nose asking if you would like to try a sample. Below is the Conquistador Hazelnut Praline, which has caramelized hazelnuts on top of dark chocolate hazelnut praline with bits of toasted hazelnuts. It is from the Mayan Collection which features the likes of the Theobroma Banana Cream, caramel butter mousse with cinnamon bananas flambeed in dark island rum, and my favorite is the Ocumarian, pure dark chocolate from the Ocumare valley in Venezuela with a gentle glow of chili pepper.
Things that I like combined with chocolate: honey, toffee, caramel, peanut butter, nuts (although not superfond of nut extracts), coconut (is that a nut?), and spices like cinnamon, chile, anise, licorice, vanilla, salt and pepper, oh and coffee/espresso/cappuccino. I don't like fruit fillings, liquers, mint – but I do like fresh fruit dipped in chocolate. I like milk chocolate, go crazy about darker chocolates and not so much about white chocolate…
The hand crafted artisan chocolates at Moonstruck are the perfect size. All are gorgeously embellished and some come in fanciful shapes like tiny little ice cream cones, ice cream sundaes, cupcake shaped truffles, and little critters shaped like a mouse, an ivory cat, a chocolate lab…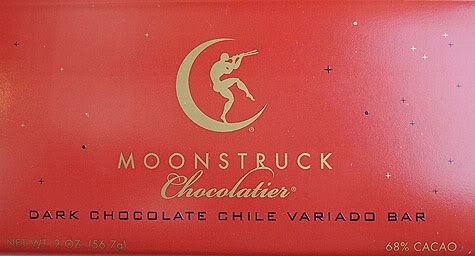 Here is the Dark Chocolate Chile Variado Bar, which is Mr. K's favorite because it has enough scovillian heat to leave the tip of your tongue tingling.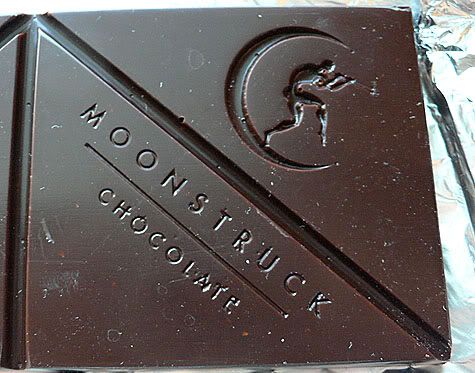 It's the perfect spot to stop in on the way to or from a movie at the theater next door and is one of my favorite places to split a treat with my Mom. We usually get a cup of coffee, which always seems freshly brewed, and share something as the cakes are too rich and decadent for one person to consider right after lunch… They throw in a couple of silky smooth dark chocolate discs along with each cup of coffee.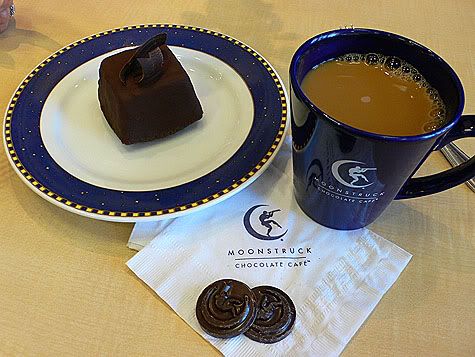 The first time we split a dark dense Devils food cake with a thick dark chocolate coating, which was served plain. It was very good, but a little dry and I would have liked it much better if it had a nice snow white cream filling like the hostess cupcake that this reminded me of…. The cakes are a bit larger than a cupcake and have extravagantly rich chocolate coatings.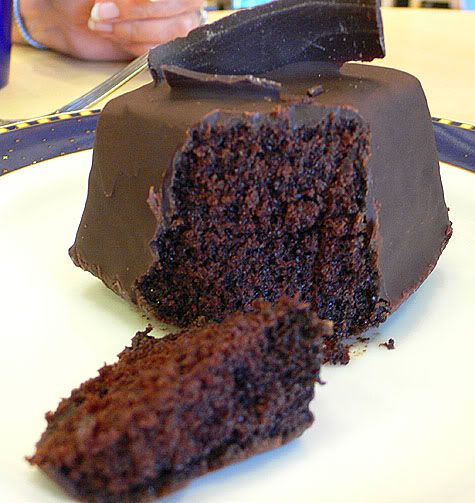 Our next visit we had a pyramid shaped Chocolate cake filled with a hazelnut mousse dipped in a dark chocolate, this was delicious and came with a nice dollop of whipped cream on the side.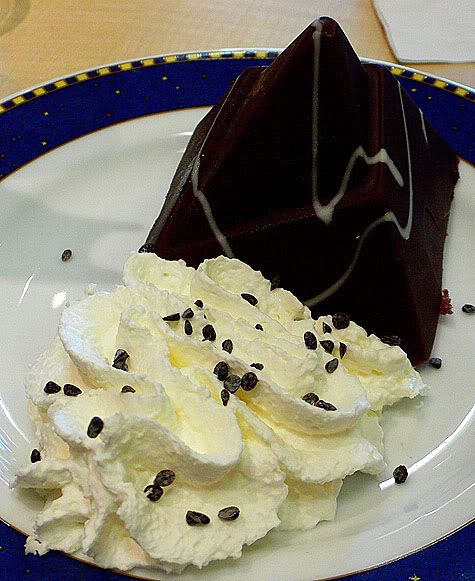 The cake was light and fluffy which went perfectly with the frothy mousse all dipped in a thick layer of luscious dark chocolate.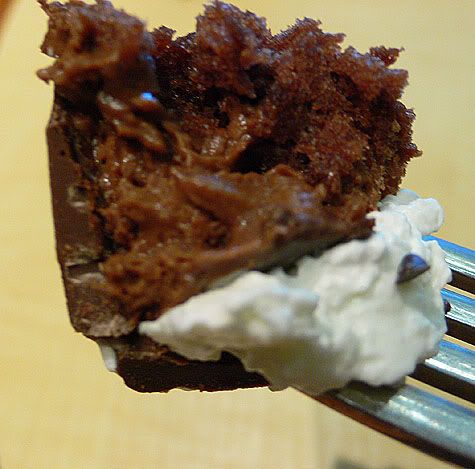 The Triple layer moussecake was light and frothy but the texture was slightly grainy. The balance of chocolate-i-ness to bland sweet creamy was distinctly off as the white chocolate shavings on the white chocolate mousse overwhelmed everything with a pallid and bland whiteness. We focused on the bottom two layers although the middle one reminded me vaguely of eating chocolate marshmallows from my youth… I think that dusting with cocoa powder and the addition of dark chocolate shavings would be a good idea.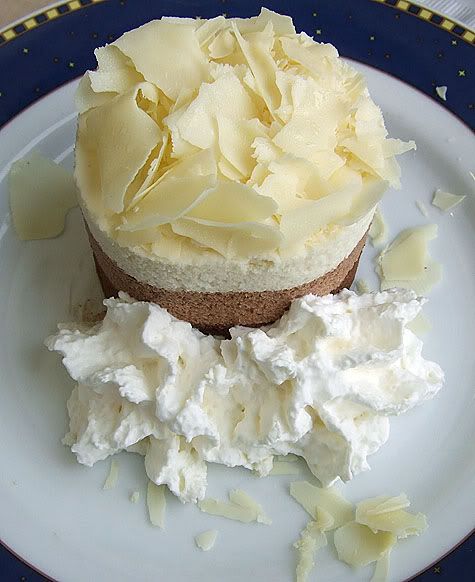 But… as you can see, I still enjoyed myself…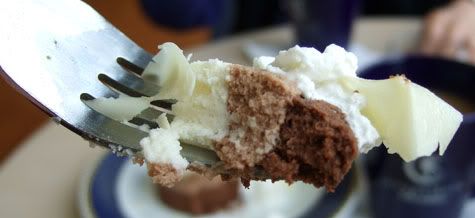 After looking at their online catalog describing their exquisite truffles, which really are like miniature works of art offering so many intriguing combinations of flavors I am already planning my next trip…