Previous visits: 5-26-07 | 4-04-07
These are actually pictures from a couple of recent visits. During the chilly winter months I crave bowls of steaming noodle soup and Golden Star is one of the few restaurants that serves a decent bowl of pho in Chinatown. Not only that but they also make some very fine imperial rolls and rice plates.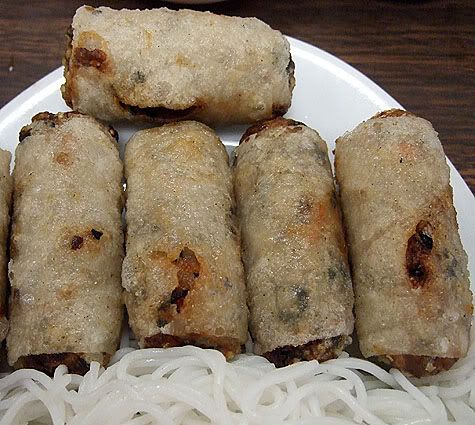 No matter that I'm craving noodles, I'm also always up for an appetizer plate of their deliciously crisp and chewy Imperial Rolls, and they are the perfect way to start your meal if your plate doesn't include them, which for me is pretty much mandatory.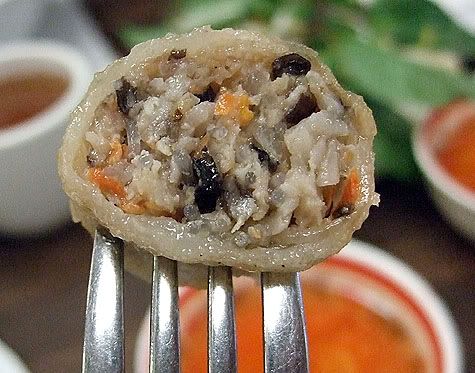 I came here most recently with DDR, Pat, Renato and Chad, who had a specific noodle combination that he is very fond of. Needless to say, when someone has a special dish, I want to know what it is about it that has captured their crave-o-meter. He described it to us while we stood in line waiting (this is one of those restaurants that has a line out the door if you don't get there early… this is always a good sign). He orders the #18 Pork Noodle Soup that comes with a plate of grilled marinated pork with crisp charred edges that lends a fantastic smoky depth to the broth, although Chad warned us not to leave the meat in the soup too long, or it gets soggy. The meat is the same barbecued pork that I adore in other dishes such as the bun/vermicelli salad, or pictured below as a rice plate (you'll need to scroll down a ways for the picture).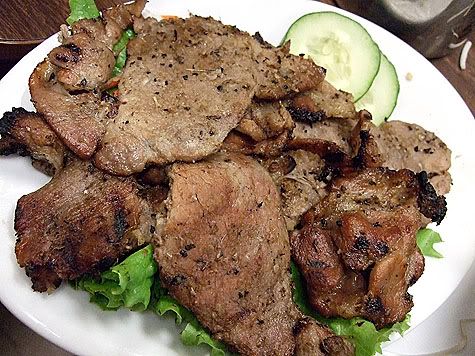 For me, this sounded like something that would work with egg noodles, which are firmer and easier to eat. Between the plate of pork and the generous bowl of noodles in soup, I was in heaven. It was so delicious especially when mixed in with some of the hoisin and sriracha chili sauces.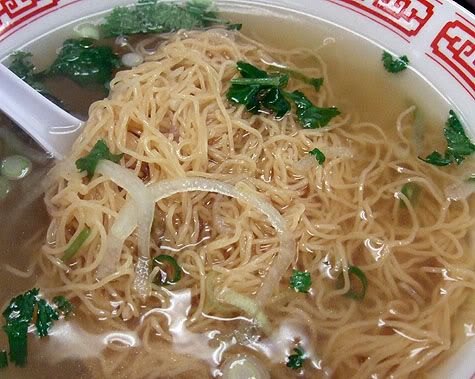 They served the noodles with the same vegetables that come with pho, fresh beansprouts, basil, lime and sliced jalapeno peppers. We all ordered #18, except Pat, who was craving regular pho.

Pat, just recovering from a cold, had the #1 Combination Beef Pho.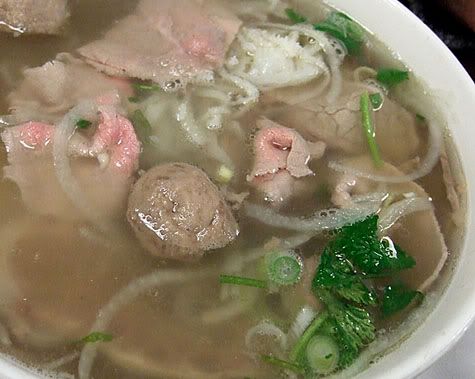 On an earlier visit a couple of weeks ago, Cody had a combination plate of the BBQ Pork with an imperial roll served with rice that is topped with a quivering fried egg.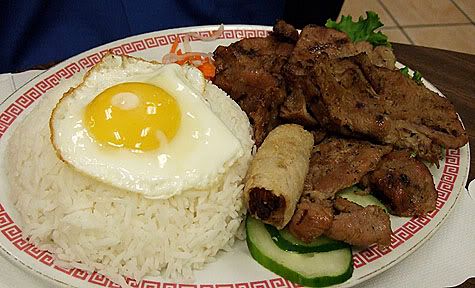 BG usually orders the Lemongrass Vermicelli bowl, that covers sliced lettuce, cucumbers, beansprouts, pickled carrots and daikon and topped with crispy fried shallots.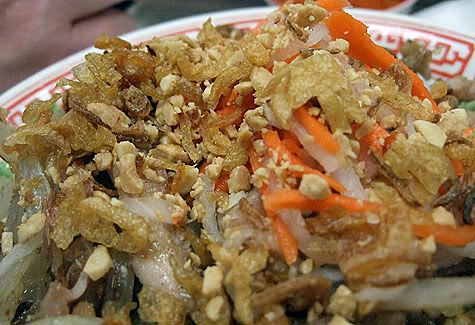 Erwin had the Spicy Beef Noodle Soup that looked almost as good as the one served at New Saigon, although it didn't appear to be quite as spicy. His bowl didn't come with the usual fresh vegetables that come with pho as in other restaurants, so he used the leftover from my plate.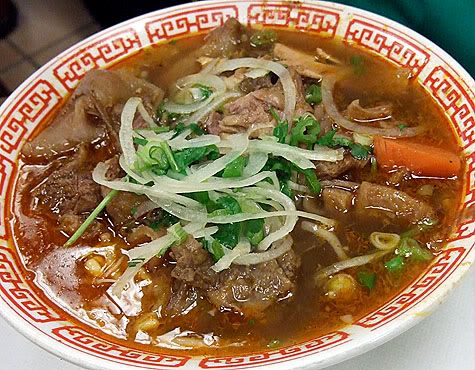 Over time, I tend to always order my favorite dishes, so I am always pleasantly surprised to discover new dishes here. I heard that the claypot dishes are also very worthy, so you can be sure I will return and continue to post about the other dishes at this fine Vietnamese restaurant…