1110 Nicolette Mall, Minneapolis, MN | website | hours: 11 am to 2 am
I am a bit behind on posting pictures from our trip to the cold country! I came down with an evil headcold that blunted my tastebuds down to the very basics and knocked me out so I haven't felt like writing about food for the past few days…
This is a great spot that is close to downtown hotels with a cozy and festive atmosphere and the kitchen is open until 12:30. It provided us the perfect spot to unwind and get a late night bite to eat after our flight from SFO.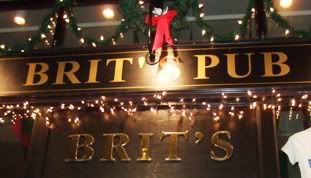 Our flight was delayed and although our trip included a meal (a small spongy hockey puck of bread with a formed breaded chicken patty), I was starving by the time we picked up our luggage, rental car and checked into the hotel. It was after 11:30 pm (which was technically 9:30 according to my stomach – very much time for dinner), so we met Mank and CDR in the lobby and walked out in search of food. We found Brit's Pub a couple of blocks over and their kitchen was still open for another 20 minutes, so we settled down and ordered some pints of Summit beer, which is the local microbrewery.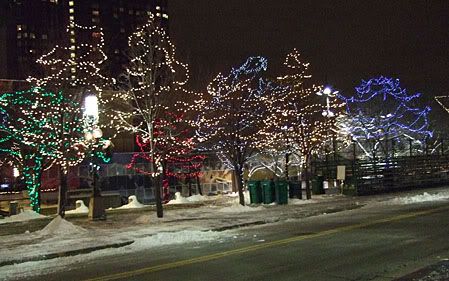 I was surprised to see some fellows out shoveling snow along the front sidewalk at midnight, but Mank pointed out that the pub probably pays somebody to keep it clear so no one slips or falls. Very interesting!
I was hungry and ordered the Chicken Pot Pie, which came in a large oval baker covered with flaky pastry dough. Inside were cubes of tender chicken breast, parsnips, potatoes and carrots covered with supreme sauce. It was decadent with a heavy rich sauce that was utterly delicious. I think it was at least three times as big as one person could possibly eat, but is perfect to share.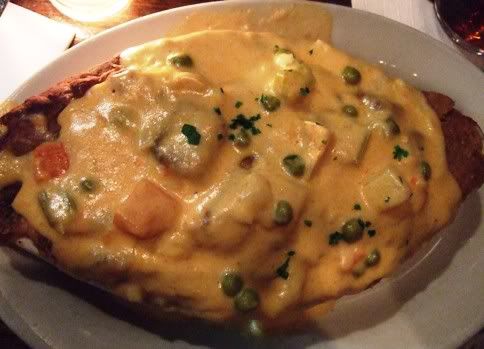 Mank got an order of Samosas, which were spicy curried potato and pea filled wontons served with plum chutney and an interesting and refreshing curried apple salad (non mayonnaisey, I am not a fan of fruits with mayonnaise). The exteriors were nicely crunchy and I was sorry that they were out of the yogurt raita.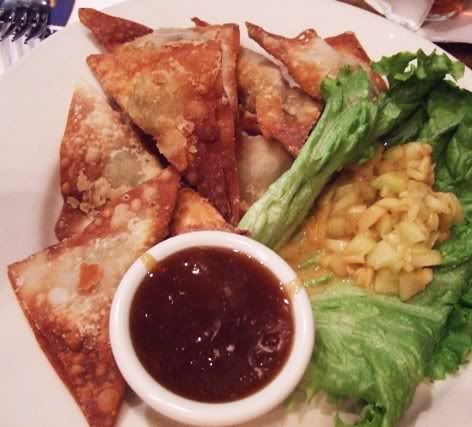 They have an outside patio with lawn bowling when the weather permits. Highly recommended, it seems like a right fine spot to hang out and spend some time. We need to come back for a visit in the spring or fall, as I have only seen MN in the wintertime, although it was nice to get out to walk a little in the snow and see a bit of the downtown area. We agreed to meet the next morning for breakfast at Hell's Kitchen.