Kearny (between Columbus & Jackson), S.F., CA | previous visits: Spicy Beef Stew 6.02.07, 5.24.2007
We've eaten here many times and I never noticed the Cambodian Noodle dish until my co-worker Jay ordered it. I was mesmerized by these intriguing noodles… thick clear strands that look like like they are made of glass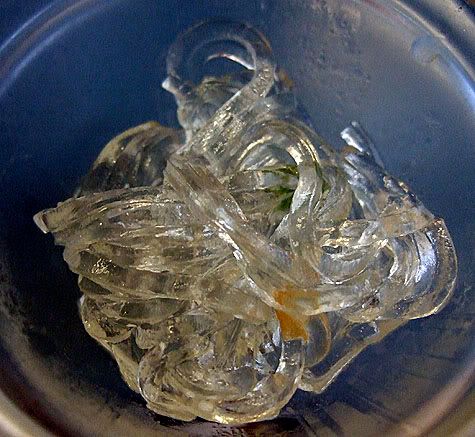 It's served in a chicken based broth with seafood, which includes a few prawns, some calamari, a handful of fish balls, surimi (which is Japanese fish paste made to look like crab), and slices of fishcake. Along with chopped green onion and fresh cilantro, it came with some fried shallots tossed on top that adds a deliciously sweet, smokey complexity to the broth.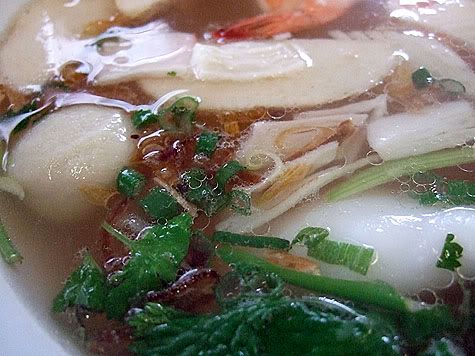 The noodles are thick and chewy with and stick together at first, so you must make sure to break them up so they don't stay clumped together in a mass.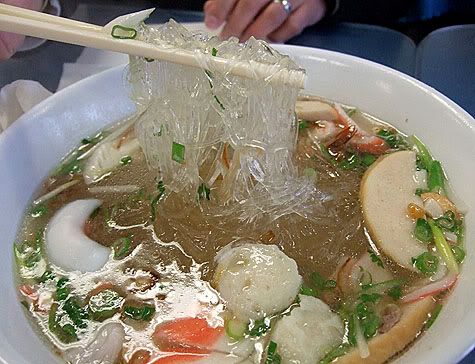 The strands are quite thick, roughly 1/4″ or the same thickeness as udon noodles but are fascinatingly clear and are much more resiliant than rice noodles.

I tried to search online about these noodles and found nothing useful, but I really liked the way they looked and especially how they kept their resiliency without getting soft or soggy. The menu listing only said cambodian noodles, and I think you can order them how you like, so I might have to see if I can get them with the variety of meat and broth like regular pho…