1658 Market (near Franklin), SF 94102 (415) 552-2522 | website | previous post 6.11.06.
This is one of my favorite restaurants in San Francisco, one of the temples where we go to worship the local food deities and throw gold in exchange for good food and drink. It has been around since 1979 and is located in a somewhat iffy neighborhood in a rambling brick and glass structure that offers warm cozy corners for Zuni devotees to gather and worship divine manifestations of tastebud heaven. I managed to squeeze this in between Chinese banquets last week where I met my friend TK for dinner and joined her at a little table for two tucked behind the piano in the bar area.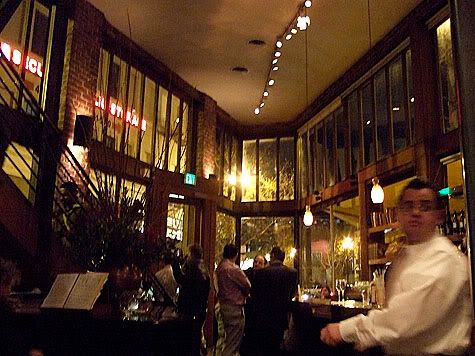 I had a feeling that we would be enjoying their signature roasted chicken and ordered a glass of beautiful rose that was golden and delectable. We decided to stay at our sheltered little table in the bar for dinner and ordered a couple of starters. We were soon enjoying Prosciutto with Crostini on a plate spread with gossamer thin slices of rich luscious prosciutto arranged like a fan around two tiny little toasts swaddled with pesto and topped with shaved curls of pungent parmesan cheese.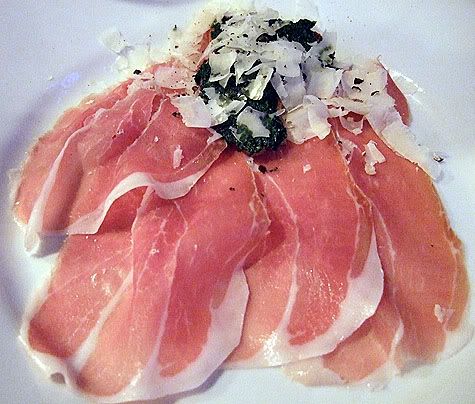 The crostini were minuscule and gem-like, sparkling with olive oil and draped with cloud-like swirls of rich opaque cheese.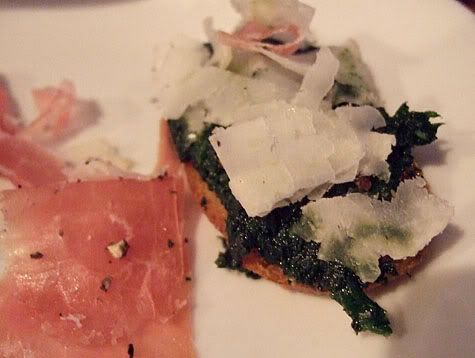 Of course we had to split the famed Cafe Zuni Caesar Salad, which is bright and lemony and rich with reggiano, fruity olive oil and the strong marine kissed flavor of anchovies. I have always loved the lightness of their dressing and the dense crunchy croutons filled my world with glorious garlicky fumes.
We split the Zuni Roast Chicken with Bread Salad which was outrageously expensive at $39, but so worth it! I cringe but really, this platter contains an entire roast chicken and the most perfect rendition of bread salad (the best stuffing in the entire universe, served with deliciously dressed bitter greens) that you could possibly imagine.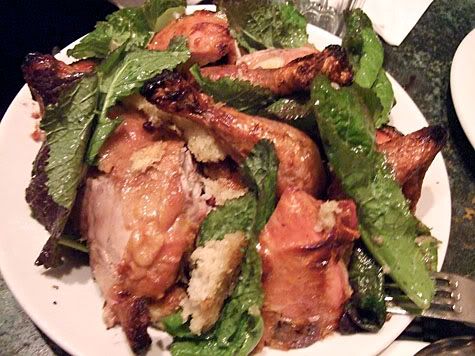 The skin is crisp, the meat is tender and juicy and the bread is infused with pan drippings from the bird and full of pine nuts, dried currents, and tossed with a champagne vinegar concoction that explodes in your mouth with zesty abandon. We agreed that while the chicken is good, the rich, chewy, even custardy, and at times toasted crispy bread is what makes the dish special. We didn't even come close to finishing the huge plate of food.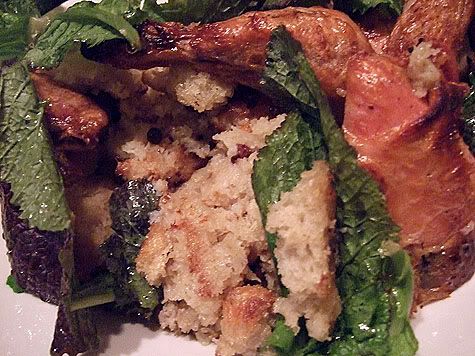 We split a Pear Tart with Vanilla Bean Ice Cream, the tart seemed so demure and dainty but it concealed a decadently rich buttery crust that complemented the sweet clean flavors of the pear along with the scoop of ice cream which was infused with the heady aromas of vanilla bean.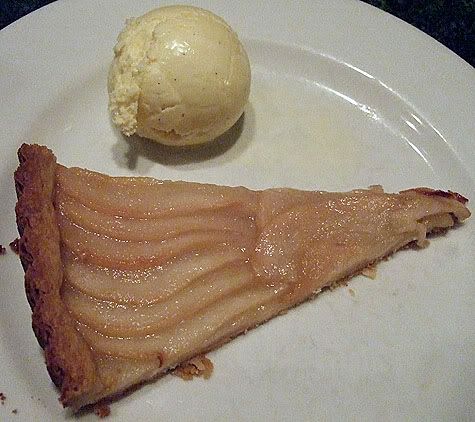 From our seat we could also watch the servers running back and forth to the kitchen or to the raw bar which is the stainless counter in the front. It was a steady controlled bustle and nosy me, I loved to watch the food coming out of the kitchen…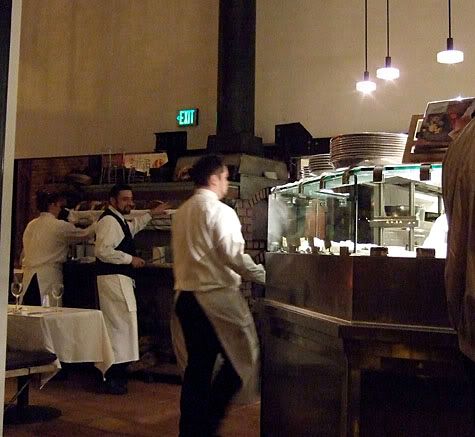 All too soon TK looked at her watch and after a flurry of activity we were rushing out the door, and as always, I left regretfully but look forward to my next pilgrimage here for another taste of divine happiness.
Mr. K and I stopped by one afternoon and has a snack of these delicious Razor Clams. They were garlicky and meaty and very good.