2534 Mission Street (betwn 21 and 22 st), San Francisco, CA (415) 648-7600 | website
Open 7 days week with varying hours dinner and brunch on Sunday

I was very happy to see Foreign Cinema on this years list of restaurants participating in Dine About Town, as nine years after it opened, I still had never been to this Mission district institution. And so I came with my frequent dining partners P, DDR and the ever enthusiastic JT. We parked in a nearby lot as we were short on time and the parking on the streets was surprisingly competitive for our 6:30 dinner. At last we finally made it to the entrance where it really feels like you are walking into a theater, complete with a red carpet and movable posts attached with red velvet rope to keep the hordes of hungry people in order.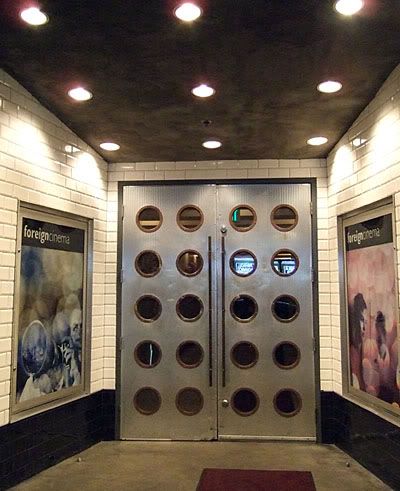 It was one of those rainy nights in the city, so we were glad to sit inside near the blazing fireplace, but that also meant we couldn't see the screen in the enclosed courtyard where the italian neo-realist film, Garden of the Finzi-Continis was playing – bummer… The soaring ceilings are expansive and the industrial concrete walls reflect the warm lights from the fire and candles, making us feel cozy and warm.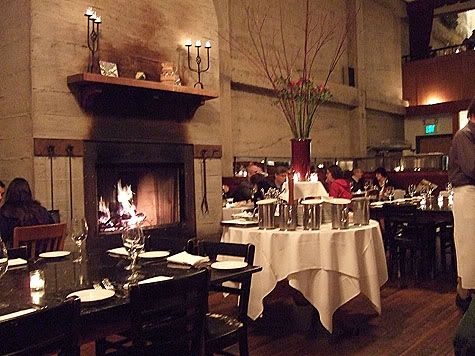 The menu changes daily and I liked that they offer only one menu, with starred items indicating the Dine About Town (DAT) selections. That way we could get a feel of the regular menu and prices, instead of just seeing the 2 or 3 selections offered for DAT. The downside is that knowledge leads to temptation… The menu starts with an extensive listing of the Oyster Bar that P and DDR were unable to resist. We all shared One Dozen Miyagi oysters from Marin, which were fresh and sweet tasting.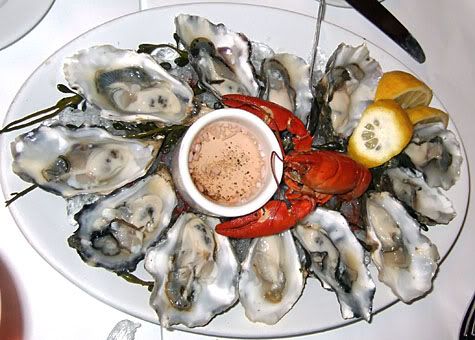 The bowl of classic mignonette was guarded by a little red crawfish that DDR ended up eating dipped in that same zesty sauce.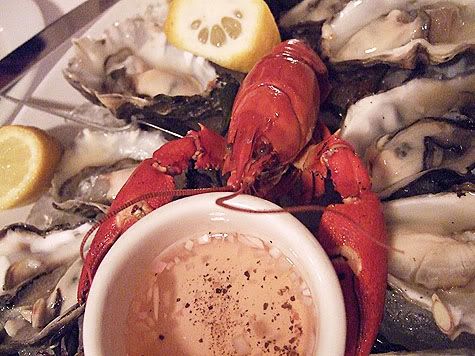 I started with the Natural beef sirloin carpaccio, drizzled with horseradish sauce, and garnished with curls of Manchego cheese and fronds of crunchy ancho cress. There were curlicues of something called winter crisps that were shavings of roasted winter vegetables. Our server warned us that they took liberties and sometimes make up their own words on the menu… The beef was shaved paper thin and laid out flat like flower petals decorated with exuberant squiggles of creamy sauce that had a penetrating sharp kick. It was hard to peel the slices up from the plate without tearing the delicate pieces, so I ended up scooping up the meat into a fleshy fanlike shape, along with the cheese making luscious and rich meaty bundles infused with the sinus clearing horseradish sauce.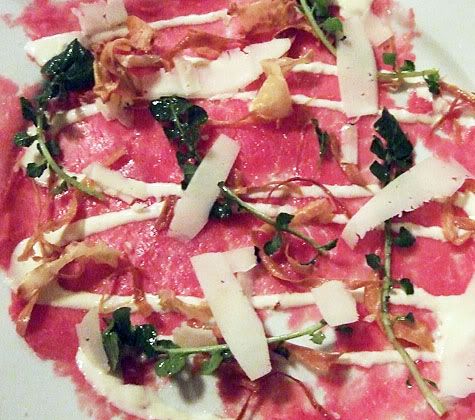 JT had the Baked fromage d'affinois that included winter crudite (fennel, cauliflower and pear), olivada and potatoes (which were served in slices just like the pear). The cheese had a soft rind and looked similar to brie but had a fresher nutty flavor.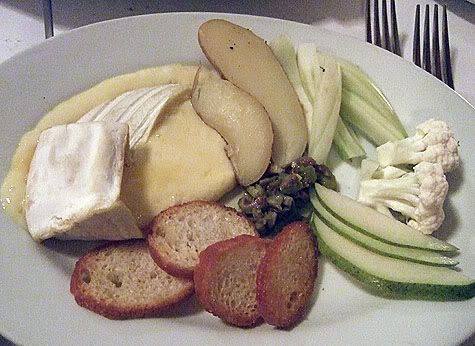 Mmm, buttery soft and delicious cheese on the little crostini and topped with a bit of briny chopped olives or scooned up with the crudite…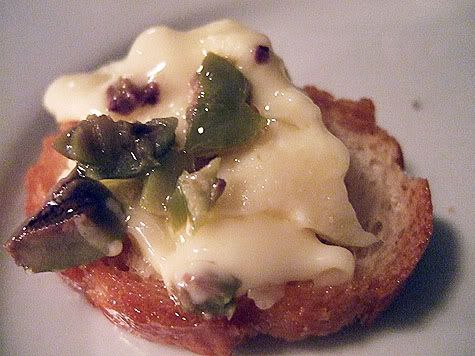 DDR had the most amazing Seared local calamari which was swimming in a bright and lively sauce of chorizo, tomato, roasted peppers, chickpeas, and garnished with aioli. This was one of my favorite dishes of the evening and I do remember hearing her mention that she could use more bread to mop her plate with.
This had to be the cutest little set of tentacles I have ever eaten, less than an inch long… consider the gorgeous palette of warm red tomato sauce merging with the orange drops of glistening fat rendered from the chorizo against the purple tinged flowerlike appendages of the little squidling…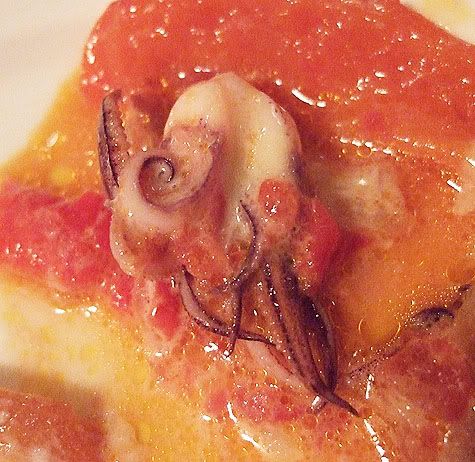 P strayed from the DAT menu and enjoyed a Grilled bavette steak, with Tuscan farro, cranberry beans, brococoli rabe and argentine sauce. The meat was well seasoned, extravagantly juicy and we all wished we had ordered it.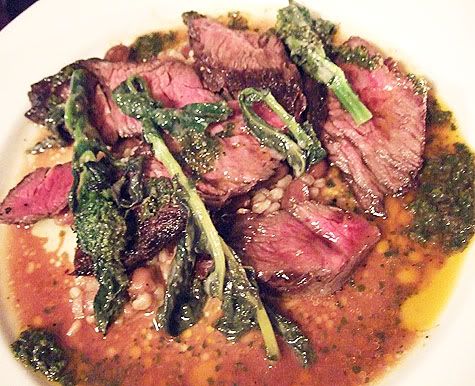 JT's Grilled paprika-curry Chicken wafted celestial aromas, served over soft onion polenta, tender artichoke hearts, chasseur sauce which looked like a demiglaze.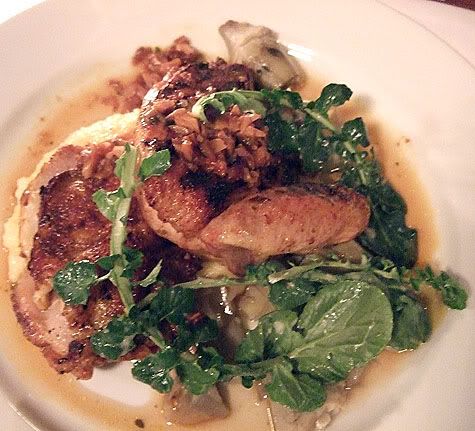 Here's my dish, Loch Duart Salmon, warm frisee that tasted like cabbage, fingerling potatoes, tapanade, aioli, citrus vinaigrette. (Dang, I looked up Loch Duart and found out they are farmed, raised in pens off the coast of Scotland – I must pay better attention of what I am ordering). There was a lot going on, but it was a fine combination of taste and texture although in retrospect, the aioli was very unnecessary. The poached salmon had a silky texture and was bursting with juice, and I found myself wishing for some lemon to squeeze over the dish… not rich mayonnaisey sauce!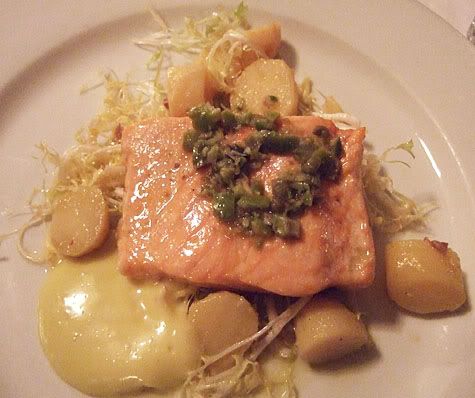 On to the desserts, JT had the Gateau au chocolat with orange whipped cream and amareno cherries. The cake was of the dense flourless variety and the combination of flavors reminded me of a childhood dessert. I have to say that the meaty texture of the cherries and the intensely sweet floral syrup reminded me of maraschino cherries (how trashy is that?)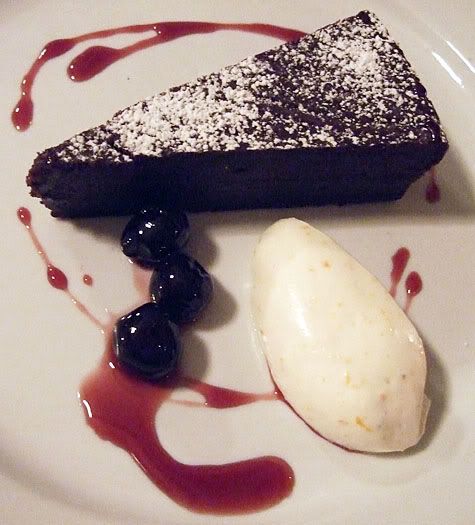 Affogato: Vanilla and Chocolate Ice Creams with a shot of espresso and cardamom and garnished with mint. The espresso was harsh and bitter which I blame on the fact that I asked for decaf… but the scoops of ice cream were rich and delicious.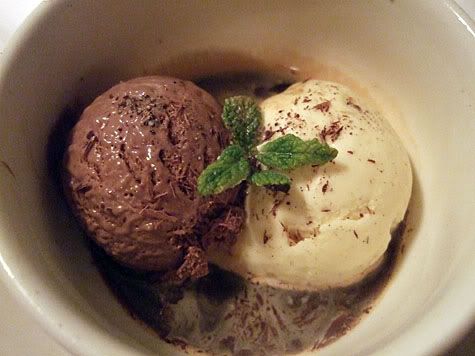 DDR and P split the Cheese Selection Wisconsin Roth Kase with marinated olives. Roth Kase is made from alpine style raw cow's milk and has a firm, creamy texture. The thin slices of sourdough wheat bread with dried fruits and nuts made a very savory and palatable pairing with the cheese and olives.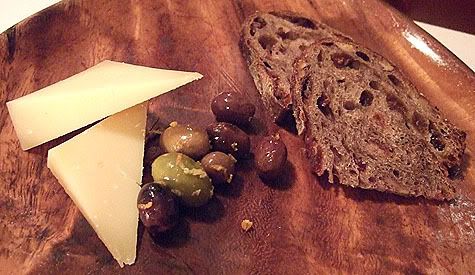 At the end of the dining area is a dramatically lit bar that also opens up into the main hallway, which also opens up into an art gallery and separate bar/lounge.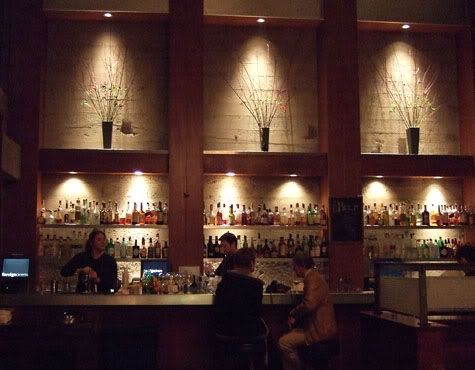 It was a very fine meal and I really want to come back for dinner and a movie in the courtyard, which looked like a lot of fun… Their brunch menu looks very interesting, especially the Fried eggs deglazed with balsamic, Baguette French Toast, or Dungeness crab Croque Monsieur. The chef/owners Gayle Pirie and John Clark have many years experience working at Chef Panisse and Cafe Zuni where they developed the integrity and quality of their cuisine. I'm glad to have finally made it and highly recommend a visit!